< PREV PAGE
NEXT PAGE >
K 1500 Truck 4WD V8-350 5.7L (1986)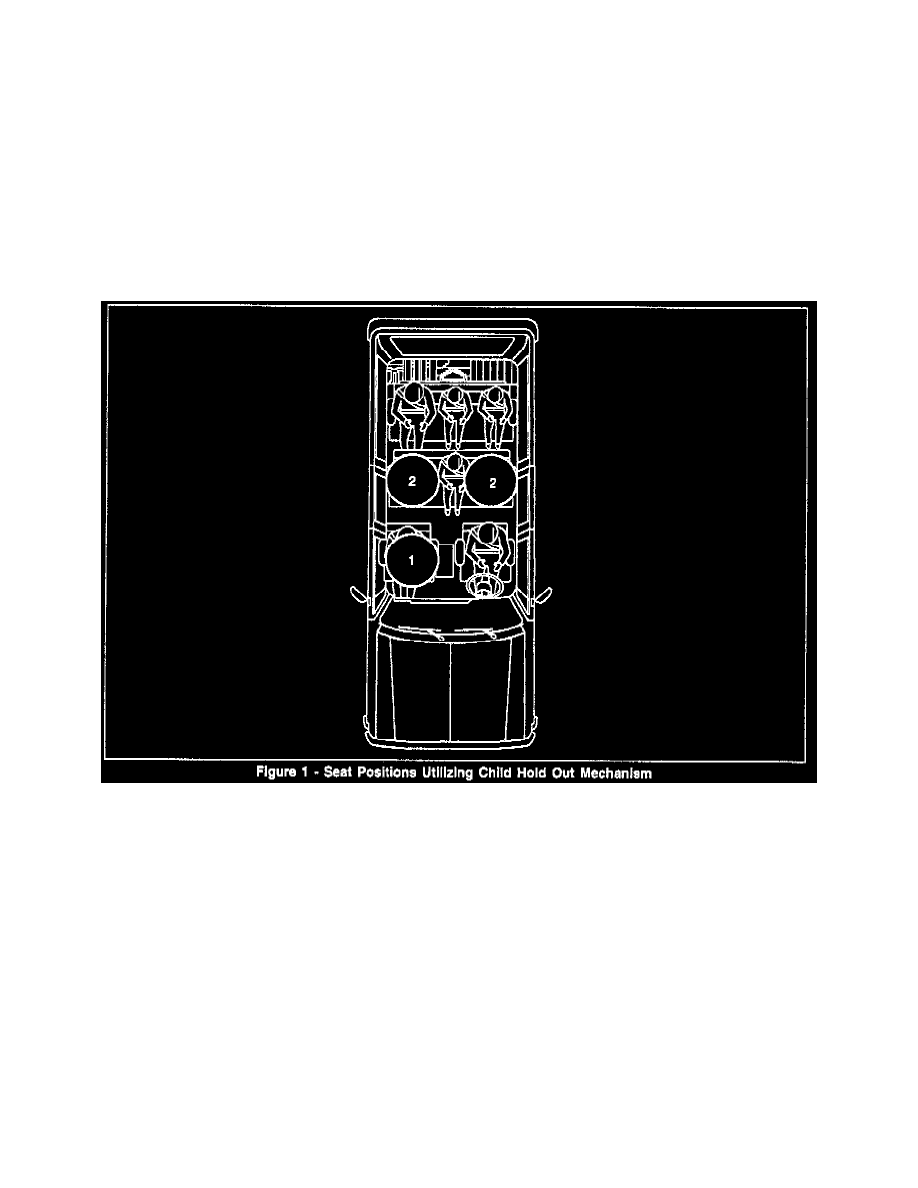 Seat Belt: Technical Service Bulletins
Seat Belt - Operations/Features and Location
FILE IN SECTION: 10 - Body
BULLETIN NO.: 56-16-01
DATE: April, 1995
SUBJECT:Seat Belt Operation, Features and Location
MODELS: 1988-95 Chevrolet and GMC Truck C/K Pickups
1983-95 Chevrolet and GMC Truck S/T Models
The following passenger seat belts operate differently from the comparable driver's seat belt.
1. Right front passenger seat belts (Figure 1, Position 1) on:
1988-95 C/K Pickups
1992-95 C/K Crew Cabs
1983-95 S/T Pickups and Utilities
2. Left and right rear second seat outboard belts (Figure 1, Position 2) on:
1992-95 C/K Crew Cabs
1995 S/T Utilities
The reason for the difference is to allow a child restraint (child seat) to be used in these passenger positions. Child restraints require the lap portion of the
seat belt to firmly tighten around the restraint. To accommodate this requirement, belts in the aforementioned positions are equipped with a ratcheting
feature activated by pulling the lap belt all the way out. Once the belt has been pulled all the way out, it becomes a one way mechanism that will retract
until it contacts a solid object like a child restraint or person, but will not extend again until it has been fully retracted all the way back to the stop button
attached to the belt. This feature is often referred to as a child hold out mechanism.
If a passenger finds that the belt becomes tight and uncomfortable while riding, it may indicate that the belt was pulled all the way out during the
buckling process, thus activating the racheting feature. This condition can be avoided by taking care not to pull the belt to its very end when buckling up.
< PREV PAGE
NEXT PAGE >