Campaign - Ball Joints/Alignment|Page 5750 >
< Campaign - Ball Joints/Alignment
K 2500 Truck 4WD V8-379 6.2L DSL VIN C FI (1989)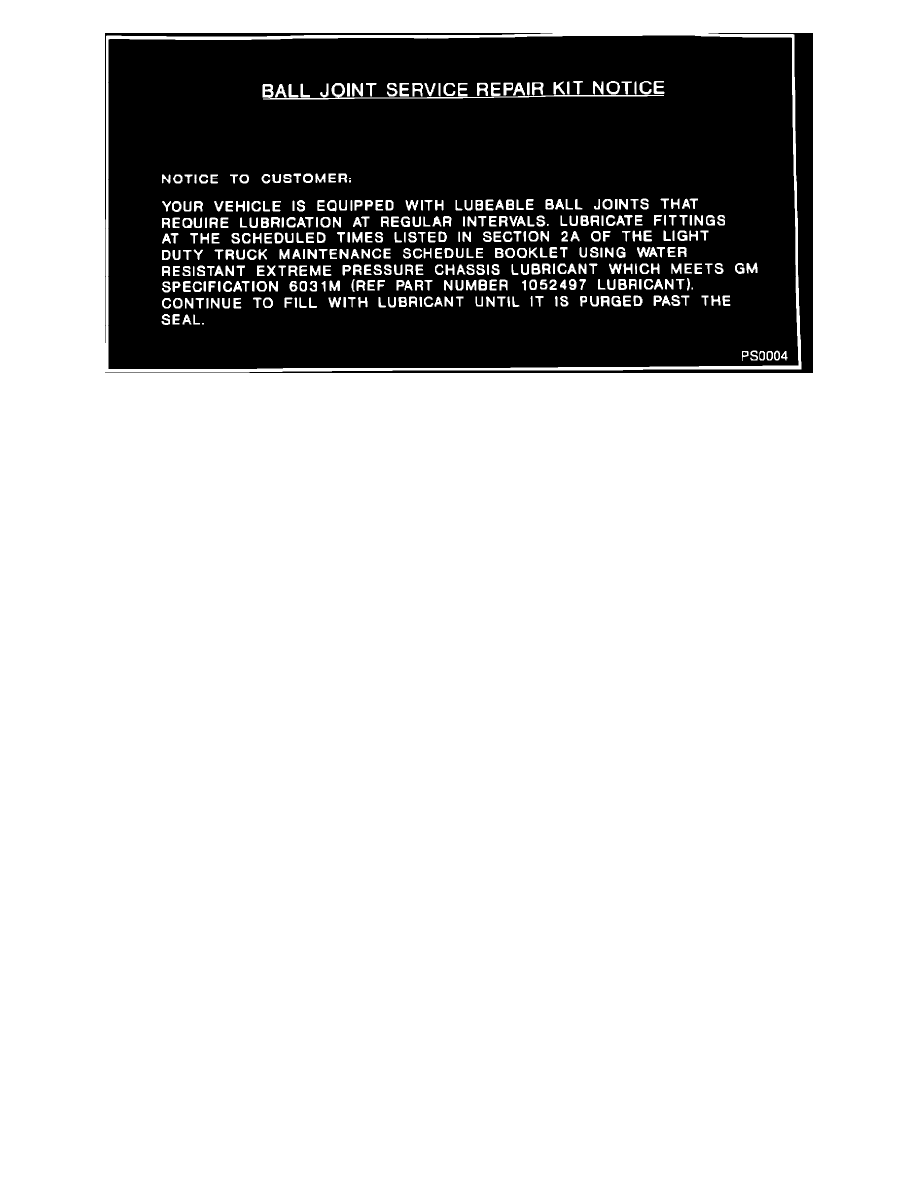 Figure 1
Replacement Ball Joints
Greaseable ball joints should be used as replacements for contaminated maintenance-free ball joints. Since it is important to lubricate the greaseable ball
joint, customers must be given the information slip, shown in figure 1, which explains the greaseable ball joint maintenance requirements.  This slip is
packaged ineach service ball joint kit.
Front Wheel Caster/Camber Alignment Parts Kit:
The 1988-90 C/K trucks incorporate a front suspension feature designed to improve the vehicle's ability to maintain front wheel caster/camber alignment.
The front wheel alignment set by the assembly plant will not change and should not need adjustment except in cases where accident or road hazard
damage has occurred. Through the listed VIN breakpoints, in customer pay situations if caster/camber alignment was performed, the customer was also
charged for the required alignment parts kit. Due to the cost of the parts kit, the charge for a wheel alignment would not be competitive in today's
marketplace. In view of this, GMC Truck has issued a special policy to cover the cost of the caster/camber alignment parts kit but not the installation
cost. This kit is included in vehicles currently being produced.
VEHICLES INVOLVED - BALL JOINTS
YEAR
MODEL
PLANT
FROM
THROUGH
COMPONENTS INVOLVED
1988
C/K
Ft. Wayne (Z)
SOP
EOP
All Ball Joints
1988
C/K
Oshawa (1)
SOP
EOP
All Ball Joints
1988
C/K
Pontiac (E)
SOP
EOP
All Ball Joints
1989
C/K
Ft. Wayne (Z)
SOP
EOP
All Ball Joints
1989
C/K
Oshawa (1)
SOP
EOP
All Ball Joints
1989
C/K
Pontiac (E)
SOP
EOP
All Ball Joints
1990
C
Ft. Wayne (Z)
SOP
LZ531411
Upper Ball Joints
1990
K
Ft. Wayne (Z)
SOP
LZ532770
All Ball Joints
1990
C
Oshawa (1)
SOP
L1539478
Upper Ball Joints
1990
K
Oshawa (1)
SOP
L1539477
All Ball Joints
1990
C
Pontiac (E)
SOP
LE530629
Upper Ball Joints
1990
K
Pontiac (E)
SOP
LE530628
All Ball Joints
VEHICLES INVOLVED - ALIGNMENT PARTS KIT
YEAR
MODEL
PLANT
FROM
THROUGH
1988
C/K
Ft. Wayne (Z)
SOP
EOP
1988
C/K
Oshawa (1)
SOP
EOP
1988
C/K
Pontiac (E)
SOP
EOP
1989
C/K
Ft. Wayne (Z)
SOP
EOP
1989
C/K
Oshawa (1)
SOP
EOP
1989
C/K
Pontiac (E)
SOP
EOP
Campaign - Ball Joints/Alignment|Page 5750 >
< Campaign - Ball Joints/Alignment