< PREV PAGE
NEXT PAGE >
S15/T15 Jimmy 2WD L4-119 1.9L VIN A 2-BBL (1983)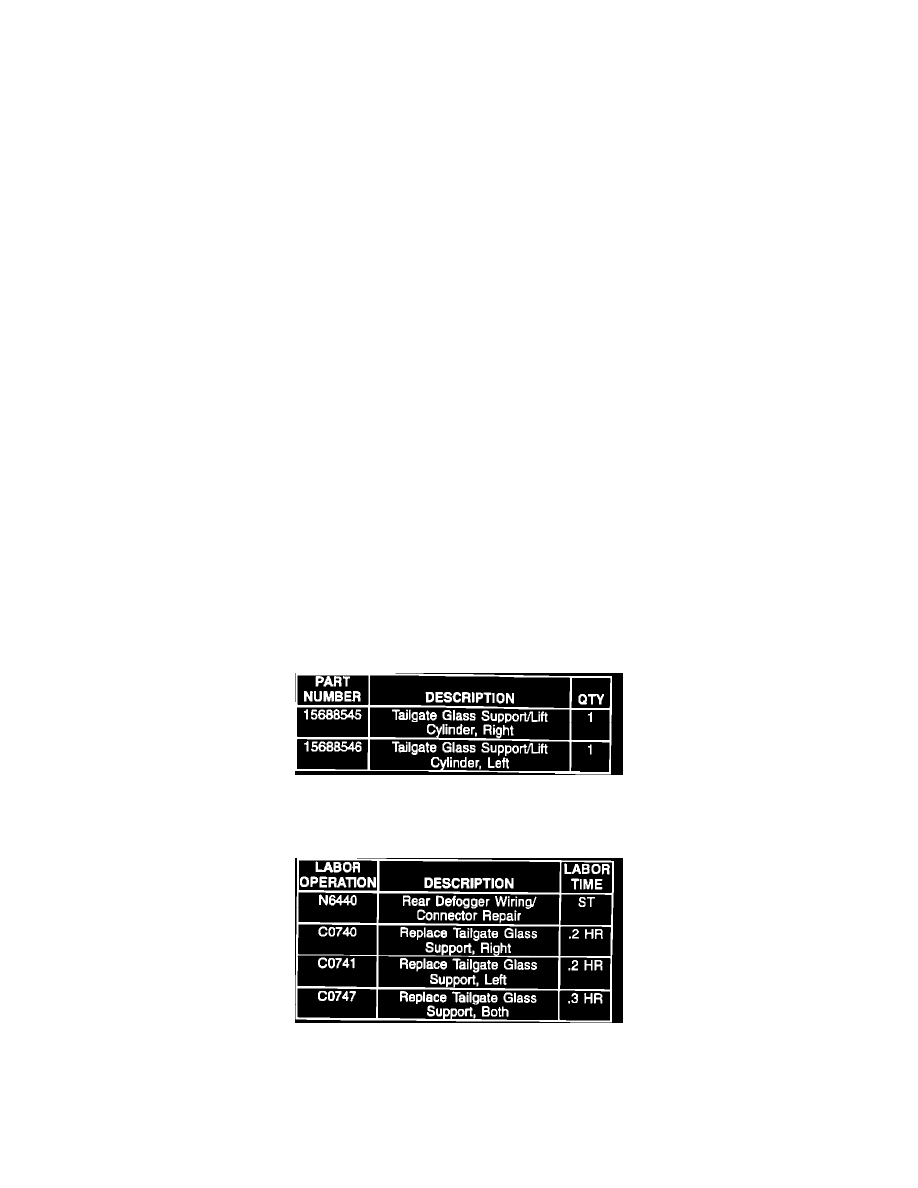 Rear Defogger: All Technical Service Bulletins
Tailgate Window Defogger - Will Not Function
BULLETIN NUMBER: 91-10-194
SECTION: 10
NUMBER: 1
CORPORATE
REFERENCE NUMBER: 261008
DATE: November 1992
SUBJECT:
TAILGATE WINDOW DEFOGGER WILL NOT FUNCTION (REPLACE TAILGATE GLASS LIFT/SUPPORT CYLINDERS)
MODELS:
1983-91 S/T UTILITY WITH RPO ZM8
Owners of some 1983-91 S/T Jimmys may comment that the tailgate window defogger will not function.
This condition may be caused by an electrical failure at the tailgate glass support/lift cylinder connection caused by the improper orientation of the
wiring male connector to the tailgate glass lift cylinder. A redesigned glass lift cylinder has been released to eliminate this condition. Previously only one
cylinder was released for both sides of the glass. To insure proper orientation of the male connector, separate part numbers are now required for the fight
and left cylinders.
SERVICE PROCEDURE
1.
Inspect the wiring for breaks at or near the glass lift cylinder connections.
2.
Repair the wiring using procedures outlined in section 8A of the 1992 S/T Service Manual.
3.
Replace the glass lift cylinder(s) with the redesigned cylinder(s) using correct part number(s) for the right and left cylinders.
4.
Close the tailgate glass and verify that the wiring is not trapped between the glass and the weatherstrip. Reposition the wiring if required to prevent
water intrusion.
SERVICE PARTS INFORMATION
Parts are currently available from GMSPO.
WARRANTY INFORMATION 
For vehicles repaired under warranty use:
< PREV PAGE
NEXT PAGE >