< PREV PAGE
NEXT PAGE >
Savana 3500 V8-4.8L (2009)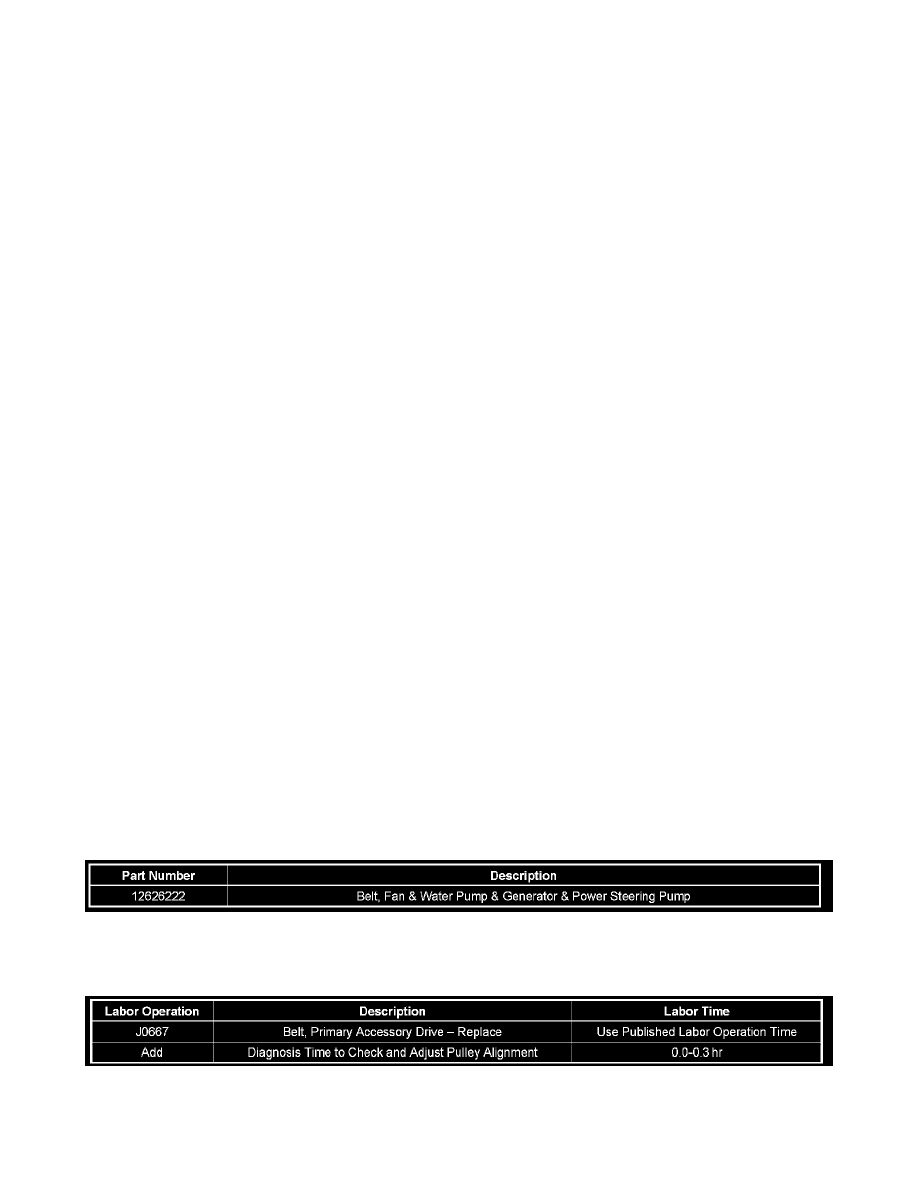 Drive Belt: Customer Interest
Engine - Drive Belt Chirping Noise
TECHNICAL
Bulletin No.: 08-06-01-015
Date: July 14, 2008
Subject:  
Accessory Drive Belt / Serpentine Belt Noise, Chirp, Squeal or Squeak (Check Pulley Alignment and Replace Belt, If Necessary)
Models:
2008-2009 Cadillac Escalade, Escalade ESV, Escalade EXT
2008-2009 Chevrolet Avalanche, Silverado, Silverado HD, Suburban, Tahoe, TrailBlazer, TrailBlazer SS
2009 Chevrolet Colorado, Express
2008-2009 GMC Envoy, Envoy Denali, Sierra, Sierra HD, Sierra Denali, Yukon, Yukon XL, Yukon Denali XL
2009 GMC Canyon, Savana
2008-2009 HUMMER H2, H3
2008-2009 Saab 9-7X V8
with Vortec(R) GEN IV V8 4.8L, 5.3L, 6.0L, 6.2L or Engine (VINs 3, 4, M, L, 0, C, J, H, U, Y, K, 8, 2 - RPOs LY2, LC9, LMF, LH6, LH8, LMG,
LY5, LS2, L76, LY6, L92, L9H)
with or without Active Fuel Management System
Condition
Some customers may comment on an accessory drive belt / serpentine belt chirp, squeal or squeak noise from the engine compartment at idle or while
driving.
Cause
This condition may be caused by a misaligned pulley and/or the accessory drive belt creating the noise.
Correction
Notice:
Do not use belt dressing or silicone on the drive belt. Belt dressing may cause the composition of the drive belt to break down. Failure to follow this
recommendation will damage the drive belt.
Tip
Several aftermarket companies offer laser alignment tools for accessory drive systems that can be very helpful in eliminating drive belt noise as a result
of misaligned pulleys. Refer to Service Bulletin 08-06-01-008. Additional information on EN-49228 Laser Belt Alignment Tool can also be found in
GM TECH LINK Publication, June 2008 Volume 10, No 6.
Check and/or adjust pulley alignment, then replace the accessory drive belt, if necessary. Refer to Drive Belt Replacement-Accessory in SI.
Parts Information
Warranty Information (excluding Saab U.S. Models)
For vehicles repaired under warranty, use the table.
Warranty Information (Saab U.S. Models)
< PREV PAGE
NEXT PAGE >