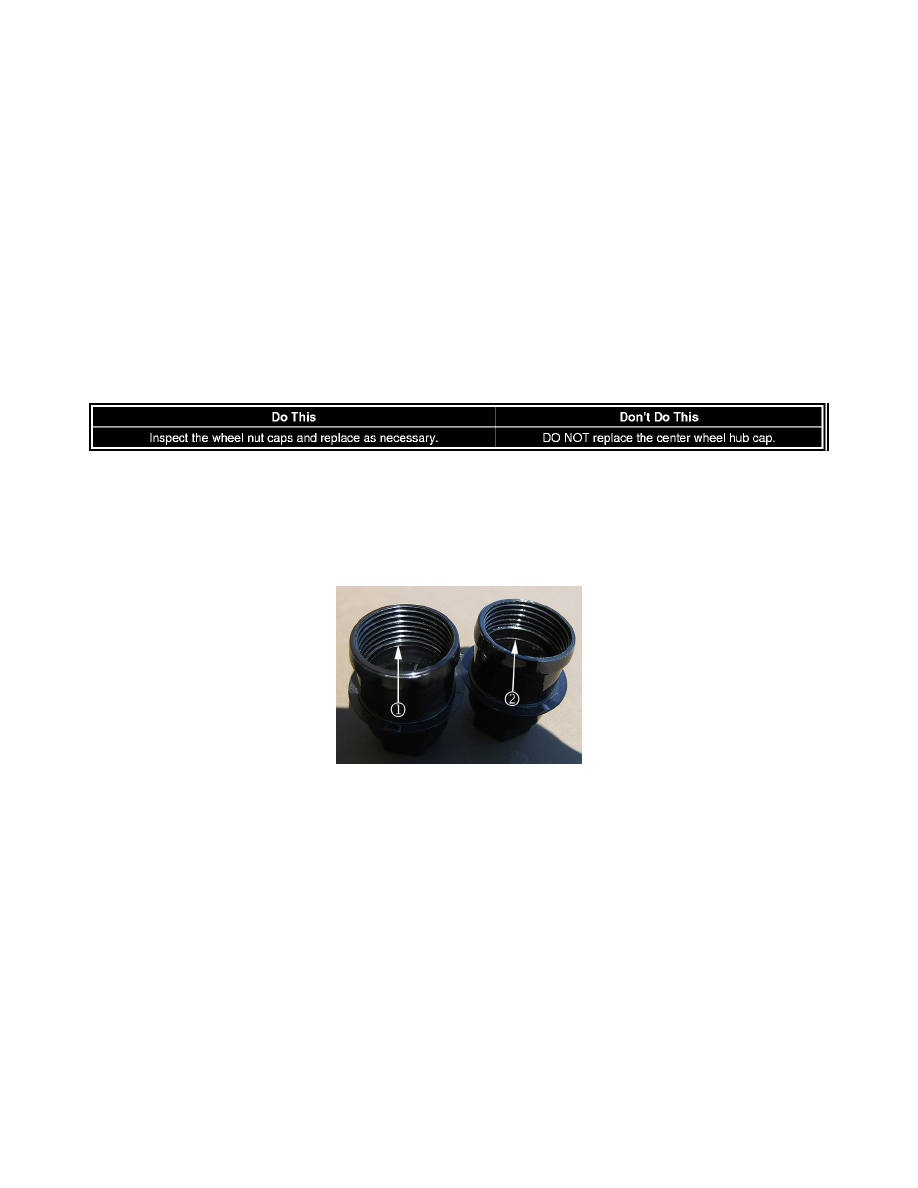 Wheels: All Technical Service Bulletins
Tires/Wheels - Rattle Noise from Wheel Or Hub Cap
TECHNICAL
Bulletin No.: 07-03-10-012D
Date: April 12, 2011
Subject: Rattle Noise from Wheel or Hub Cap While Driving, Loose Wheel Nut Caps or Wheel Nut Caps May Not Tighten on Wheel Nuts
(Inspect/Replace Wheel Nut Caps As Necessary)
Models:
2007-2012 Chevrolet Express, Silverado, Suburban 1500, 2500 and 3500 Series
2007-2012 GMC Savana, Sierra, Yukon XL 1500, 2500 and 3500 Series
with 8 Lug Wheel Nut Center Caps (RPOs NX7, NZ7, PY0, PY2, PY9, P03, P25, QB5, QC1, QR5, Q9A)
Supercede:
This bulletin is being revised to update the model year information. Please discard Corporate Bulletin Number 07-03-10-012C (Section 03 -
Suspension).
Condition
Some customers may comment on a rattle noise from the wheel or hub cap while driving. Other customers may comment on loose wheel nut caps or caps
that may not tighten on the wheel nuts.
Cause
Depending on the generation of the wheel caps, the issue may be overtorqued wheel nut caps or may be caused by the lack of internal threads inside the
wheel nut caps. The wheel nut cap (1) is correctly threaded. The wheel nut cap (2) shows the insufficient threads.
Correction
Important
The wheel nut caps are serviced separately from the center wheel hub cap for most hub caps. Refer to the GM electronic parts catalog (EPC)
for details.
Inspect each wheel nut cap and replace as necessary using the steps below. 
1. Remove the wheel hub cap from the vehicle.
2. Place the front of the wheel hub cap down on a protected clean work bench being careful not to scratch or damage the hub cap surface.
3. Inspect all the wheel nut caps, marking any bad wheel nut caps.