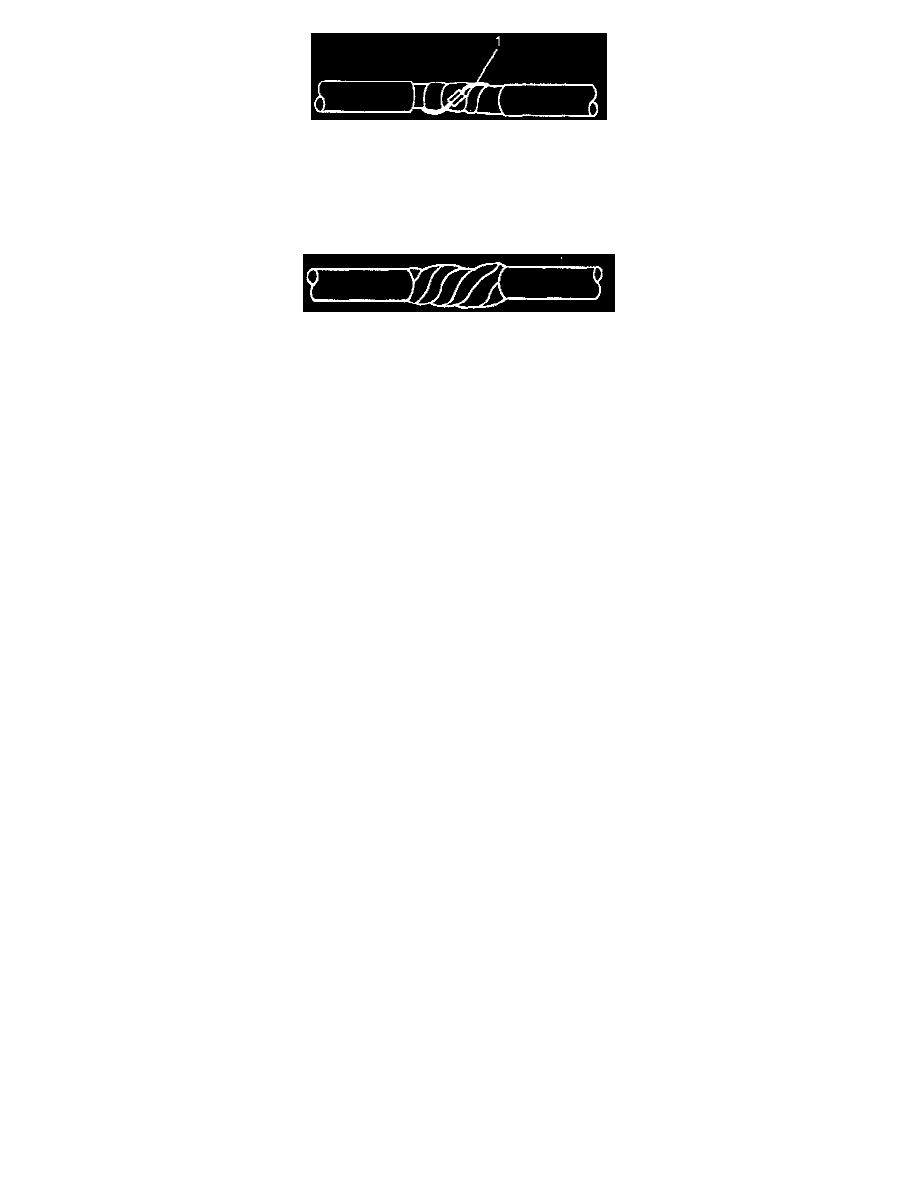 4. Re-assemble the cable.
*
Rewrap the conductors with the mylar tape. If the mylar tape is damaged, use 3M product AL-36FR to replace the damaged mylar tape.
*
Use caution not to wrap the drain wire in the tape (1).
*
Follow the splicing instructions for copper wire and splice the drain wire.
*
Wrap the drain wire around the conductors and tape with electrical tape to replace the outer insulation.
5. Tape over the entire cable. Use a winding motion when you apply the tape.
Wiring Repairs
Wiring Repairs
The Wiring Repairs section contains the following types of wiring repair information. Using these elements together will make wiring repair faster and
easier:
*
Testing for Intermittent Conditions and Poor Connections   (See: Testing and Inspection/Component Tests and General Diagnostics)
*
Flat Wire Repairs   (See: Testing and Inspection/Component Tests and General Diagnostics)
*
GMLAN Wiring Repairs   (See: Testing and Inspection/Component Tests and General Diagnostics)
*
High Temperature Wiring Repairs   (See: Testing and Inspection/Component Tests and General Diagnostics)
*
Heated Oxygen Sensor Wiring Repairs   (See: Testing and Inspection/Component Tests and General Diagnostics)
*
Splicing Copper Wire Using Splice Sleeves   (See: Testing and Inspection/Component Tests and General Diagnostics)
*
Splicing Twisted or Shielded Cable   (See: Testing and Inspection/Component Tests and General Diagnostics)
*
Splicing Inline Harness Diodes   (See: Testing and Inspection/Component Tests and General Diagnostics)
*
SIR/SRS Wiring Repairs   (See: Testing and Inspection/Component Tests and General Diagnostics)
US English/Metric Conversion
US English/Metric Conversion