< PREV PAGE
NEXT PAGE >
Savana 3500 V8-6.6L DSL Turbo VIN 6 (2007)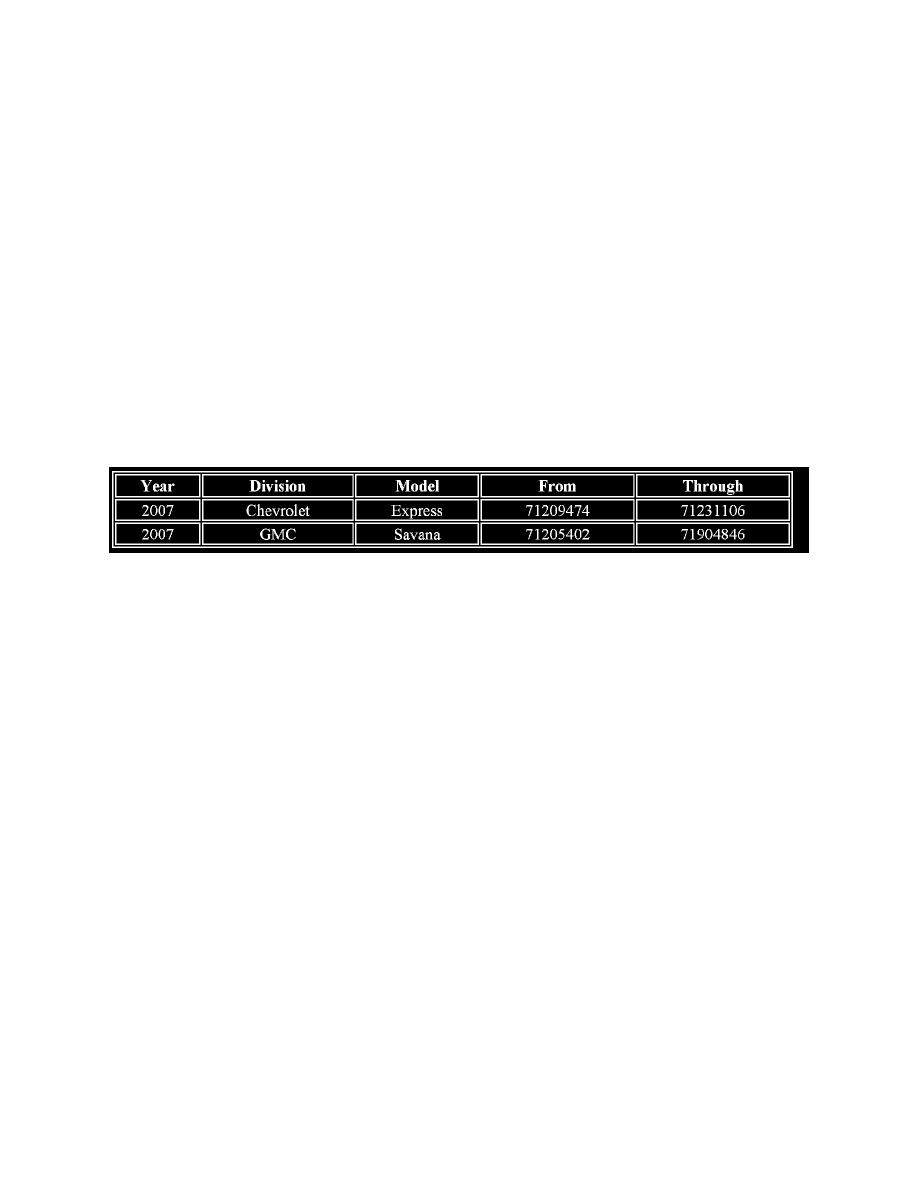 Technical Service Bulletin # 07177
Date: 070921
Recall - ABS Module Reprogramming
Subject: 
F/CMVSS Noncompliance-Rear Brakes May Not Fully Release-Reprogram ABS Computer Module 
# 07177 - (09/21/2007)
Models: 
2007 Chevrolet Express 
2007 GMC Savana
Condition 
General Motors has decided that certain 2007 Chevrolet Express and GMC Savana vehicles fail to conform to Federal/Canada Motor Vehicle Safety
Standard 108, requiring the illumination of the stop lamps whenever the brakes are applied. When the brakes are applied on these vehicles, the stop
lamps will illuminate. When the brake pedal is released, the stop lamps are no longer illuminated but the rear brakes may still be applied. The brake may
release after a few seconds or after the next firm brake pedal application. If the rear brakes are still applied after release of the brake pedal, the driver
may notice a substantial drag when driving and may need to depress the gas pedal further than usual to continue vehicle movement. A vehicle driven with
the brakes applied can cause overheating of the brakes, resulting in increased stopping distance, which could result in a vehicle crash.
Correction 
Dealers are to reprogram the anti-lock brake system (ABS) module.
Vehicles Involved 
Involved are certain 2007 Chevrolet Express and GMC Savana vehicles built within the VIN breakpoints shown.
IMPORTANT:
Dealers are to confirm vehicle eligibility prior to beginning repairs by using the GM Vehicle Inquiry System (GMVIS). not all vehicles within the
above breakpoints may be involved.
For dealers with involved vehicles, a listing with involved vehicles containing the complete vehicle identification number, customer name, and address
information has been prepared and will be provided through the applicable system listed below. Dealers will not have a report available if they have no
involved vehicles currently assigned.
-- US dealers - GM DealerWorld Recall Information
-- Canadian dealers - GMinfoNet Recall Reports
-- Export dealers - sent directly to dealers
The listing may contain customer names and addresses obtained from Motor Vehicle Registration Records. The use of such motor vehicle registration
data for any purpose other than follow-up necessary to complete this recall is a violation of law in several states/provinces/countries. Accordingly, you
are urged to limit the use of this report to the follow-up necessary to complete this recall.
Parts Information
No parts are required for this recall.
Service Procedure
Important:
Carefully read all of the instructions in this service procedure To reprogram the anti-lock brake system module (ABS), select EBCM Electronic
Brake Control Module from the Supported Controller screen in TIS 2 Web. Follow TIS 2 Web instructions. Brake RPO information may be
required. Refer to SI and Service Programming System (SPS) documentation for ABS programming instructions, if required.
Tech 2 Legacy or J2534 Pass-Thru Programming Method for the ABS Module
IMPORTANT:
< PREV PAGE
NEXT PAGE >