< PREV PAGE
NEXT PAGE >
Suburban 3/4 Ton 4WD V8-305 5.0L (1986)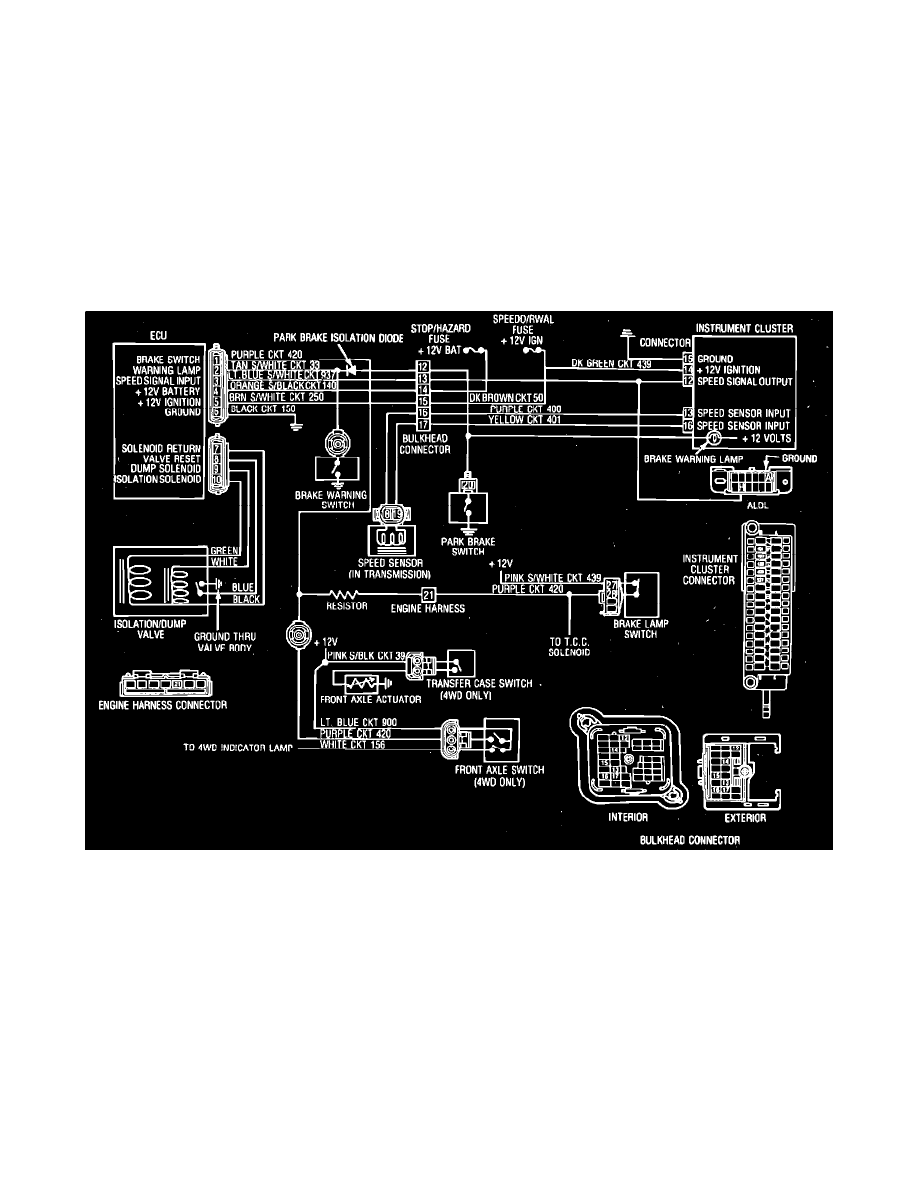 Antilock Brakes / Traction Control Systems: Symptom Related Diagnostic Procedures
    System diagnosis is performed by referring to the system schematic, Fig. 6, and following the Diagnostic Circuit Check Fig. 7. Malfunctions are
indicated as trouble codes which are stored in the ECU memory, and following the Diagnostic Circuit Check will allow access to stored trouble codes. A
diagnosis chart for each trouble code,  Figs. 8 through 18, is used to determine the cause of the malfunction.
READING TROUBLE CODES
    Trouble codes are accessed by connecting a jumper wire between terminals A and H of the underdash ALDL connector, Fig. 6, and observing the
flashes of the brake warning lamp. Note the following when performing the Diagnostic Circuit Check to access trouble codes.
1.
When the terminals are jumped, count the number of short flashes starting from the initial long flash and including the long flash in the count.
2.
The count sequence will repeat as long as the ALDL connector terminals are jumped with the ignition on.
3.
Sometimes the first count sequence will be short. However, subsequent counts will be accurate.
4.
If more than one failure has occurred, only the first recognized failure code will be stored and flashed by the ECU.
5.
After determining the stored failure code, perform steps indicated by the diagnostic circuit check and follow the indicated failure code chart. After
performing all indicated repairs, road test vehicle to check system operation, then recheck system for stored trouble codes.
Fig. 6
Rear Wheel Anti-Lock (RWAL) Brake System wiring schematic
< PREV PAGE
NEXT PAGE >