< PREV PAGE
NEXT PAGE >
Suburban 3/4 Ton 4WD V8-305 5.0L (1986)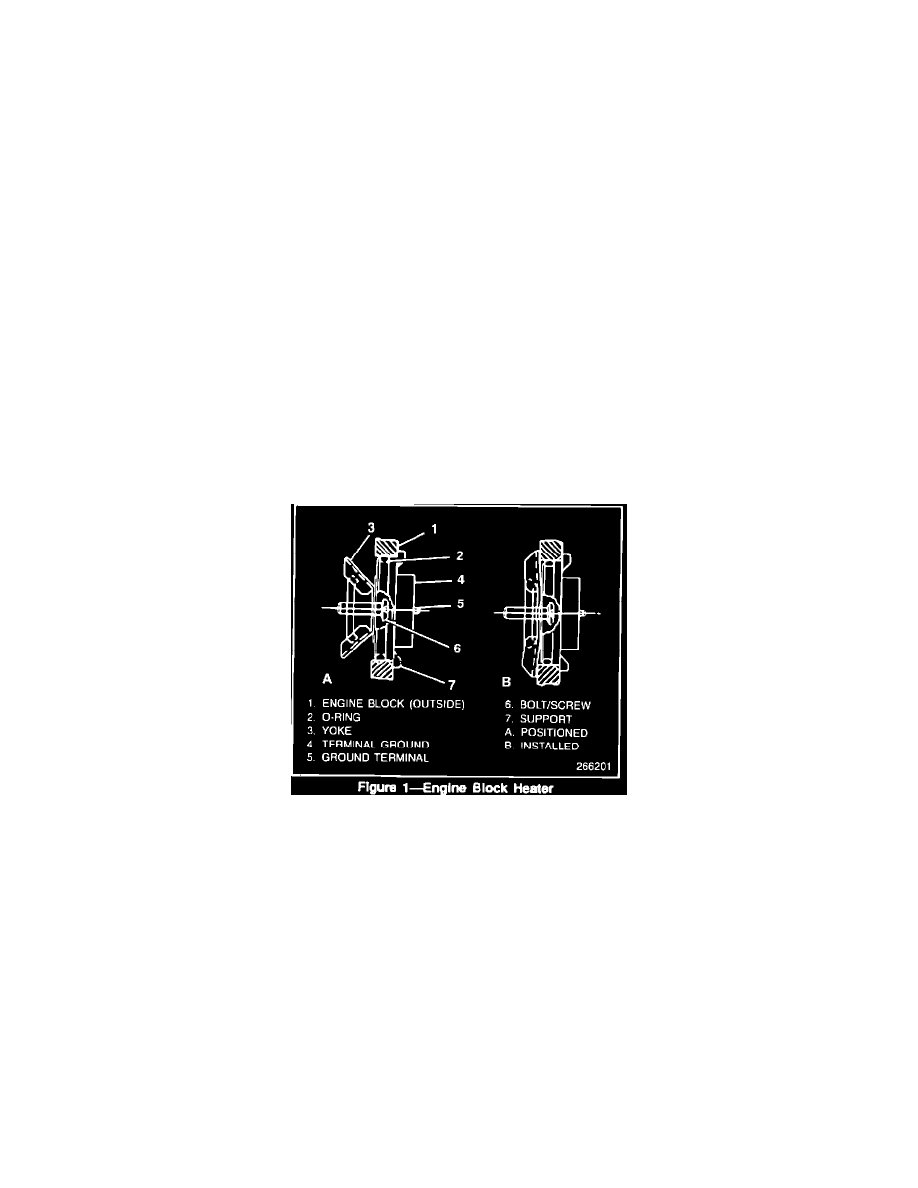 Engine Block Heater: All Technical Service Bulletins
Engine - Block Heater Leaks
GMC NUMBER: 92-6B-71(A)
GROUP: 6B Engine Cooling
DATE: April 1992
CORPORATE
NUMBER: 266201
SUBJECT:
ENGINE BLOCK HEATER LEAKS
MODELS:
1976-92 ALL TRUCKS WITH ENGINE BLOCK HEATER (RPO K05)
THIS BULLETIN CANCELS AND REPLACES GMC TRUCK SERVICE
BULLETIN 92-6B-71, DATED APRIL 1992 TO CORRECT THE BULLETIN SUBJECT. ALL COPIES OF 92-6B-71 SHOULD BE DESTROYED.
Some owners of 1976-92 light duty truck engines may experience a leaking condition from the engine block heater. This condition may be caused by the
block heater losing torque because the yoke, which secures the block heater, has cracked. This could cause a loss of engine coolant.
The block heater brass yoke may crack due to stress corrosion where it contacts the stainless steel crossbar. The yoke is stressed or cracked from over
torquing the hold down screw (Figure 1, "6"). Corrosion in the stressed area is accelerated due to the dissimilar metals.
To correct this condition, a redesigned block heater should be installed. The yoke material (Figure 1 "3") of the block heater was changed from brass to
stainless steel. The stainless steel is a higher strength material which reduces the possibility of stress corrosion and galvanic potential.
SERVICE PROCEDURE
Follow the "ENGINE BLOCK HEATER REPLACEMENT" instructions in section 9E ENGINE BLOCK HEATER of the appropriate Service Manual.
CAUTION:
The gasket "O" ring seals between the block heater and the block. Excessive tightening is not necessary. The torque specification is 1.6 - 2.2 N-m . (15.0
- 20.0 lbs.in.)
The revised engine block heater (P/N 10154624) can be used in any light duty truck, gas or diesel engine, where an engine block heater is used.
SERVICE PARTS INFORMATION
PART NUMBER DESCRIPTION
QTY/VEHICLE
10154624
Engine Block
1
Heater
Parts are currently available from GMSPO.
< PREV PAGE
NEXT PAGE >