< PREV PAGE
NEXT PAGE >
Terrain FWD L4-2.4L (2010)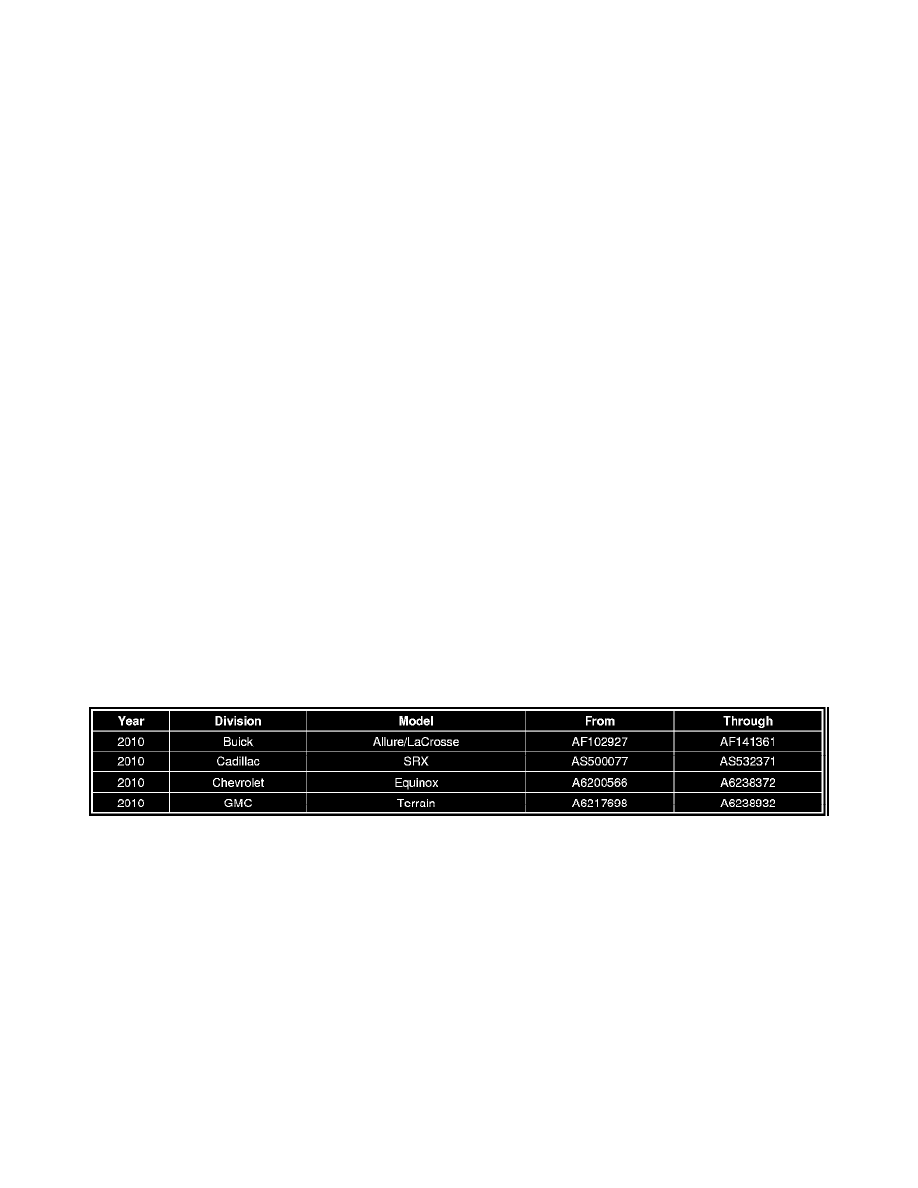 Navigation Module: Recalls
Campaign - Navigation System Update
SERVICE UPDATE
Bulletin No.: 09221C
Date: January 27, 2011
Subject: 09221C - Service Update for Inventory and Customer Vehicles - Navigation System Update - Expires with Base Warranty
Models:
2010 Buick Allure, LaCrosse
2010 Cadillac SRX 
2010 Chevrolet Equinox 
2010 GMC Terrain
Supercede:
The Service Procedure in this bulletin has been revised. Please discard all copies of bulletin 09221B, issued November 2009.
THIS SERVICE UPDATE INCLUDES VEHICLES IN DEALER INVENTORY AND CUSTOMER VEHICLES THAT RETURN TO THE
DEALERSHIP FOR ANY REASON. IT WILL EXPIRE AT THE END OF THE INVOLVED VEHICLE'S NEW VEHICLE LIMITED
WARRANTY PERIOD. 
Purpose
This bulletin provides a service procedure to program the radio module on certain 2010 Buick Allure, LaCrosse; Cadillac SRX; Chevrolet Equinox; and
GMC Terrain vehicles. This program will address multiple concerns with the navigation system. 
This service procedure should be completed as soon as possible on involved vehicles currently in dealer inventory and customer vehicles that
return to the dealer for any type of service during the New Vehicle Limited Warranty coverage period. 
Vehicles Involved
A list of involved vehicles currently in dealer inventory is available on the "Service Update Bulletin Information" link under the "Service" tab in GM
GlobalConnect (US), or attached to the Dealer Communication (Canada), used to release this bulletin. Customer vehicles that return for service, for any
reason, and are still covered under the vehicle's base warranty, and are within the VIN breakpoints provided below, should be checked for vehicle
eligibility in the appropriate system listed below.
Important
Dealers are to confirm vehicle eligibility prior to beginning repairs by using the Investigate Vehicle History link on the Global Warranty
Management application within GlobalConnect. Not all vehicles within the above breakpoints may be involved.
Parts Information
For US: Flash drives were shipped from the Warranty Parts Center (WPC) at no charge via UPS Ground Delivery-Attention: Parts Manager, to dealers
with involved vehicles.
If your USB Flash Drive has been misplaced, dealers are to obtain a USB 2.0 Flash Drive locally at their expense. The minimum USB Flash Drive
capacity requirement is 512 MB. Follow the service procedure titled, FOR CANADIAN DEALERS, AND US DEALERS WHO NEED TO
DOWNLOAD A CALIBRATION TO A NEW USB FLASH DRIVE. The calibration downloaded to the USB Flash Drive can be used to program all
vehicles involved in the field action. After completing the programming event for all vehicles involved in the field action, remove (delete) the calibration
from the USB Flash Drive. Save the USB Flash Drive for future USB programming events. Do NOT contact the WPC for a USB Flash Drive.
For Canada: Dealers are to obtain a USB 2.0 Flash Drive locally. The minimum USB Flash Drive capacity requirement is 512 MB. A one-time
allowance is provided for the purchase of a USB 2.0. Flash Drive. The calibration downloaded to the USB Flash Drive can be used to program all
vehicles involved in the field action. After completing the programming event for all vehicles involved in the field action, remove (delete) the calibration
< PREV PAGE
NEXT PAGE >