< PREV PAGE
NEXT PAGE >
Terrain FWD L4-2.4L (2010)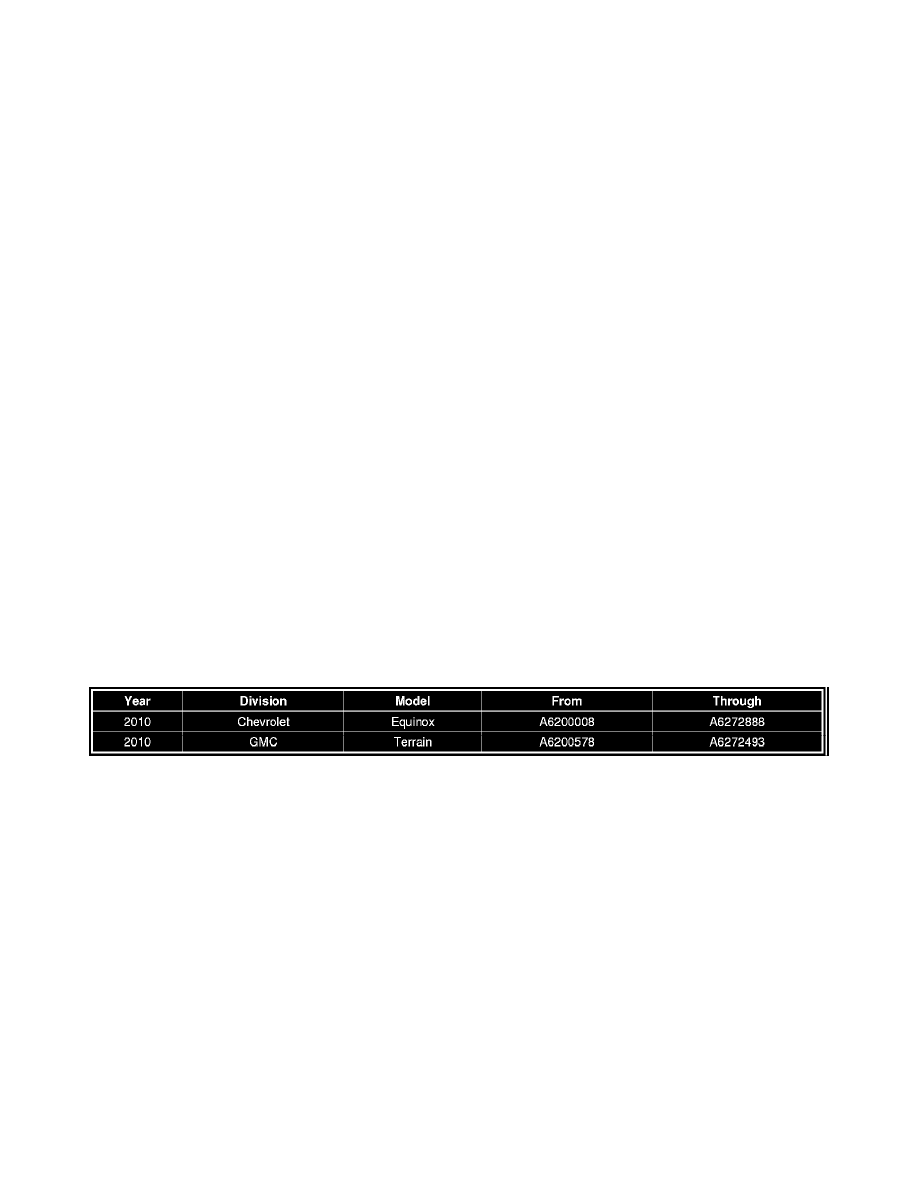 Technical Service Bulletin # 09298D
Date: 101122
Recall - Defroster/Defogger Inoperative
FMVSS NONCOMPLIANCE
Bulletin No.: 09298D
Date: November 22, 2010
Subject: 09298D - Heating and Windshield Defrost Inoperative - Replace Computer Module
Models:
2010 Chevrolet Equinox 
2010 GMC Terrain
Supercede:
The Parts Information section in this bulletin has been revised for Canadian dealers. Mass Comp is no longer an Authorized GM Electronics Service
Center. Canadian dealers are to begin contacting York Electronics for all exchanges.Discard all copies of bulletin 09298C, issued March 2010.
Customers are being instructed to provide their VIN when calling to schedule a service appointment. If the vehicle will not be programmed at
the dealership, please provide the VIN to the Parts Manager so parts can be ordered and received in time for the service appointment. Parts
will be shipped overnight to dealers so please do not order more than 2 days prior to the scheduled service appointment date.
Condition
General Motors has decided that certain 2010 model year Chevrolet Equinox and GMC Terrain vehicles fail to conform to Federal/Canada Motor
Vehicle Safety Standard 103, "Windshield Defrosting and Defogging Systems", and Standard 101, "Controls and Displays". On these vehicles, software
in the center instrument panel can cause the heating, air conditioning, defrost, and radio controls, as well as the panel illumination to become inoperative.
Driving without a functioning defrost system can decrease the driver's visibility under certain driving conditions and could result in a crash without
warning. Driving without panel illumination can divert the driver's attention while looking for a control.
Correction
Dealers are to replace the computer module in the center instrument panel. 
Vehicles Involved
Involved are certain 2010 model year Chevrolet Equinox and GMC Terrain vehicles built within these VIN breakpoints:
Important
Dealers are to confirm vehicle eligibility prior to beginning repairs by using the Required Field Actions section in the Global Warranty system.
Not all vehicles within the above breakpoints may be involved.
For dealers with involved vehicles, a listing with involved vehicles containing the complete vehicle identification number, customer name, and address
information has been prepared and will be provided to US and Canadian dealers through the GM GlobalConnect Recall Reports, or sent directly to
export dealers. Dealers will not have a report available if they have no involved vehicles currently assigned. 
The listing may contain customer names and addresses obtained from Motor Vehicle Registration Records. The use of such motor vehicle registration
data for any purpose other than follow-up necessary to complete this recall is a violation of law in several states/provinces/countries. Accordingly, you
are urged to limit the use of this report to the follow-up necessary to complete this recall.
Parts Information
For dealers using the programming tool:  Most repairs require no parts. There are a small number of vehicles that will not be able to be
reprogrammed; for these vehicles, please follow the parts information below. If you have parts currently in your inventory, please return them to Specmo
(U.S.) or York Electronics (Canada).
For dealers that did not receive a programming tool: A center instrument panel will be required.
Note
< PREV PAGE
NEXT PAGE >