< PREV PAGE
NEXT PAGE >
Yukon Denali AWD V8-6.2L (2007)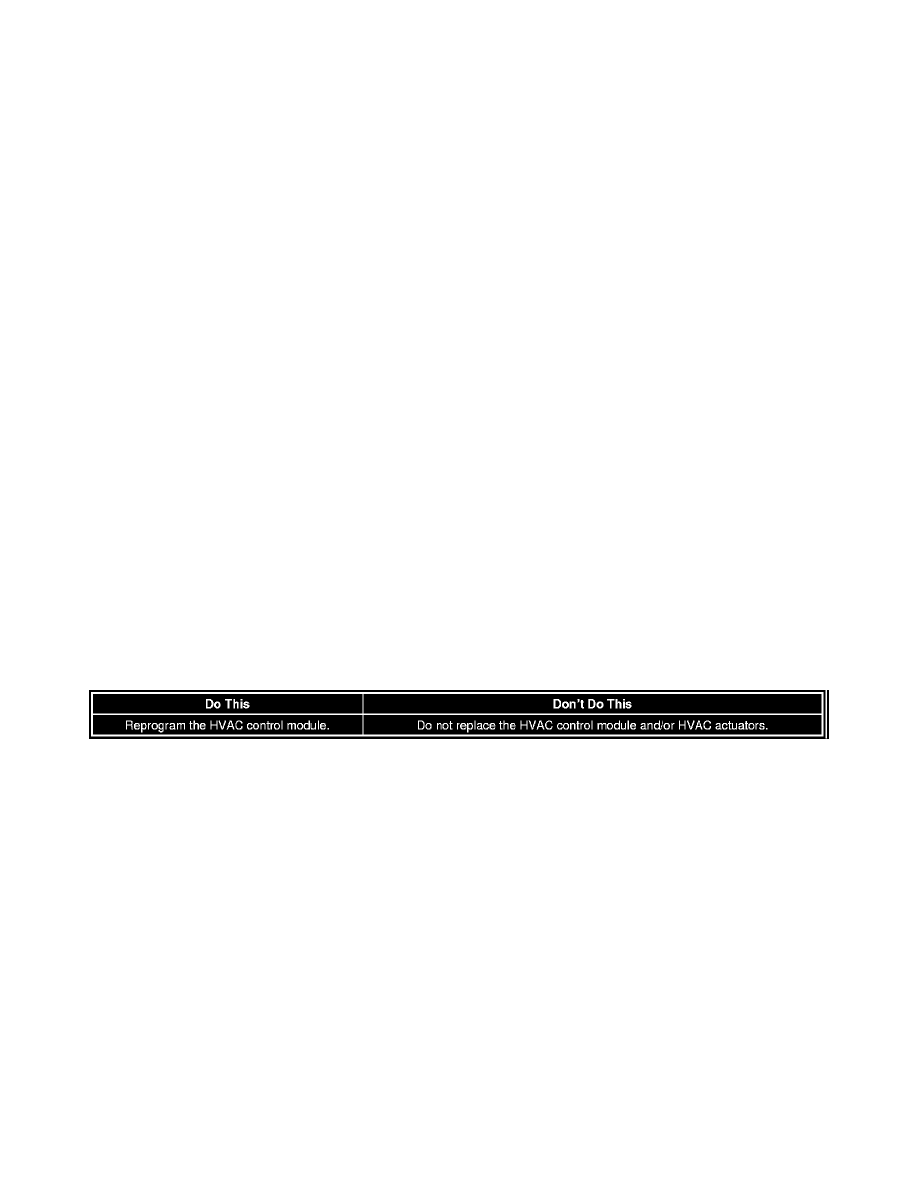 Control Module HVAC: Customer Interest
A/C - Defaults To Full Hot/Full Cold/DTC's Set
TECHNICAL
Bulletin No.: 08-01-39-009B
Date: September 24, 2010
Subject: HVAC Automatic Climate Control Defaults to Full Cold or Full Hot Despite Controls Being Set to Other Parameters, DTCs B0228, B0413,
B0423, B0433, B3779 or B3782 Set (Reprogram HVAC Control Module)
Models:
2008-2009 Buick Enclave
2007-2008 Cadillac Escalade Models
2007-2008 Chevrolet Avalanche, Silverado, Suburban, Tahoe
2007-2009 GMC Acadia, Sierra, Yukon Models
2008 HUMMER H2 Models
2007-2009 Saturn OUTLOOK
with Automatic Climate Control System (RPO CJ2)
Supercede:
This bulletin is being revised to add model years. Please discard Corporate Bulletin Number 08-01-39-009A (Section 01 - HVAC). 
Condition
Some customers may comment that the Heating, Ventilation and Air Conditioning (HVAC) automatic climate control system defaults to full hot and/or
full cold, despite the HVAC controls being set to other parameters. This condition may not exist during the next ignition cycle and the system may
operate normally.
Technicians may find DTCs B0228, B0413, B0423, B0433, B3779 or B3782 set as Current or in History.
Cause
This condition may be caused by a software anomaly.
Correction
Important
If the vehicle is a 2007-2009 GMC Acadia or Saturn OUTLOOK with an additional customer concern of an inaccurate ambient temperature
display, then it may be necessary to reprogram the HVAC control module AND relocate the ambient air temperature (AAT) sensor. Refer to
Corporate Bulletin Number 08-01-39-008A - HVAC Ambient Temperature Sensor Display In Instrument Panel Cluster (IPC) Inaccurate Or Too High
for more information. 
Note
The first step applies to the following vehicles: Avalanche, Escalade, Suburban, Tahoe, Yukon.
1. Inspect for an open HVAC-IGN Fuse in the underhood fuse block.
‹› If the fuse is open, repair the short to ground.
2. A revised calibration has been released to address this condition. Reprogram the HVAC control module using the Service Programming System
(SPS) with the latest calibration available on TIS2WEB. Refer to the HVAC Control Module Programming and Setup procedure in SI. 
3. When using a multiple diagnostic interface (MDI) for reprogramming, ensure that it is updated with the latest software version.
4. When using a Tech 2(R) for reprogramming, ensure that it is updated with the latest software version. 
5. During programming, the battery voltage must be maintained within the proper range of 12-15 Volts. Only use the approved Midtronics(R) PSC
550 Battery Maintainer (SPS Programming Support Tool EL-49642) or equivalent during programming. 
6. After reprogramming clear all DTCs. Operate the vehicle within the Conditions for Running the DTC and verify that DTCs B0228, B0413,
B0423, B0433, B3779 or B3782 do not reset as Current. 
‹› If DTCs B0228, B0413, B0423, B0433, B3779, or B3782 are set as Current, refer to the DTC diagnostic procedures in SI.
< PREV PAGE
NEXT PAGE >