< PREV PAGE
NEXT PAGE >
Yukon Denali AWD V8-6.2L (2007)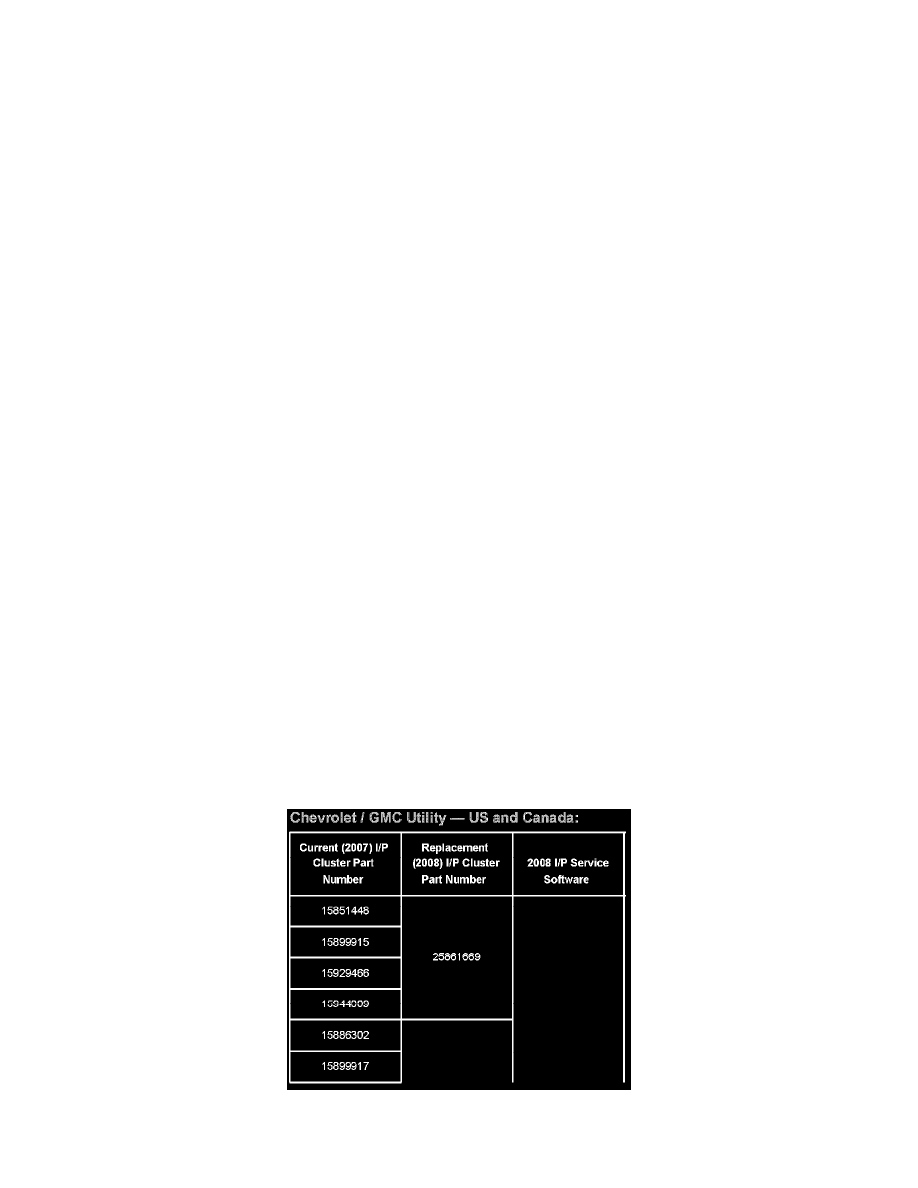 Instrument Panel Control Module: Customer Interest
Instruments - Hard to See/Poor Backlighting
Bulletin No.: 07-08-49-029A
Date: January 25, 2008
TECHNICAL
Subject:
Instrument Panel (IP) Gauges/Gages Difficult to Read or See Poor Backlighting (Replace IP and Program)
Models:
2007 Chevrolet Avalanche Silverado Suburban Tahoe
2007 GMC Sierra Sierra Denali Yukon Yukon Denali Yukon XL Yukon Denali XL
Supercede:
This bulletin is being revised to reflect the latest Utility software part number. Please discard Corporate Bulletin Number 07-08-49-029 (Section 08 -
Body and Accessories).
Condition
Some customers may comment that the instrument panel (IP) gauges are difficult to read due to poor backlighting. This condition does not affect the IP
cluster operation.
Correction
DO NOT program the service software into existing 2007 clusters. The service software is designed to work only with the 2008 cluster hardware, which
includes a new microprocessor.
For IP clusters replaced/programmed due to a customer concern of poor backlighting, warranty claims must be submitted using the labor operation listed
in this bulletin. Refer to the Warranty Section for more information.
Program the replacement IPC using TIS2WEB Pass-Thru Programming. Select "I/PC" from the Supported Controllers table in TIS2WEB to complete
the programming. DO NOT select I/PC Set-up. Mileage and/or Engine Hours must be set by the ESC's prior to installing the IP in the vehicle.
DENALI CUSTOMER'S ONLY - Please advise the customer that 2008 Denali clusters are not available. In order to correct this condition, a 2008
Yukon or Sierra cluster will have to be installed in the vehicle. The customer must advise the dealer whether they wish to keep the current 2007 Denali
cluster or replace it with a 2008 Yukon or Sierra cluster (which will correct the condition).
Programming a 2007 cluster with the 2008 service software can drain the battery and potentially cause a "no start" condition.
If the customer is dissatisfied with the IP cluster visibility the current (2007) cluster should be replaced with the 2008 hardware/software. Refer to the
charts listed in the Parts Information section of this bulletin to determine the new IP cluster and software part numbers.
< PREV PAGE
NEXT PAGE >