< PREV PAGE
NEXT PAGE >
CR-V LX 4WD L4-2.4L (2002)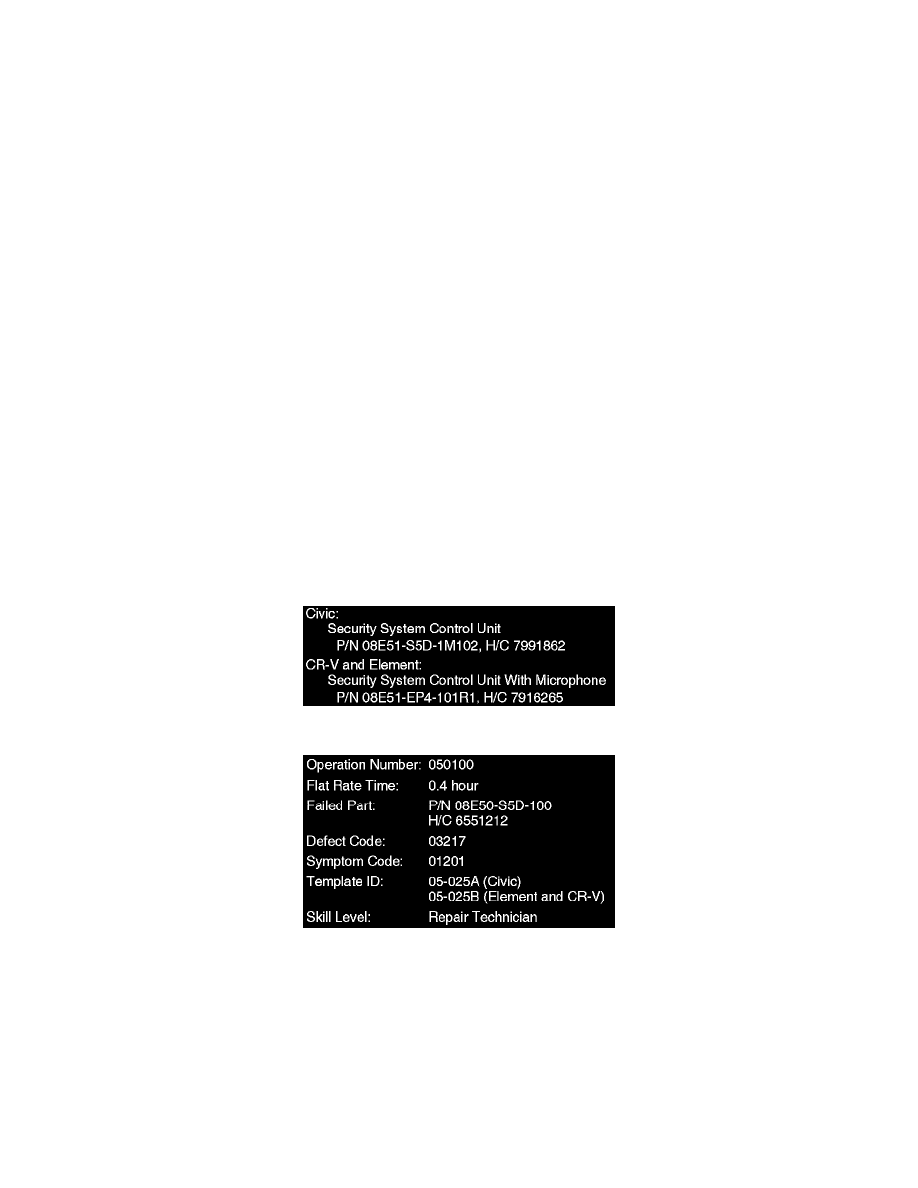 Alarm Module: All Technical Service Bulletins
Antitheft System - Alarm Will Not Arm/Arms By Itself
05-025
July 1, 2005
Applies To: 
2001-05 Civic - ALL
2002-05 CR-V - ALL
2003-04 Element - ALL
Accessory Security System Changes Modes By Itself
(Supersedes 05-025, dated June 10, 2005, to update the information indicated by black bars and asterisks.)
SYMPTOM
The security system will not arm or it arms by itself.
PROBABLE CAUSE
Key switch contact chatter causes the control unit to change modes.
CORRECTIVE ACTION
* Civic: Replace the security control unit, and reprogram the remote(s).*
* CR-V and Element: Replace the security control unit and the microphone, then reprogram the remote(s).*
* NOTE:
You must replace the microphone on the CR-V and Element because the security control units are matched to their microphones when they are
manufactured. Using the original microphone may result in security system problems.*
PARTS INFORMATION
WARRANTY CLAIM INFORMATION
In warranty: The normal warranty applies.
Out of warranty: 
Any repair performed after warranty expiration may be eligible for goodwill consideration by the District Parts and Service Manager or your Zone
Office. You must request consideration, and get a decision, before starting work.
REPAIR PROCEDURE
NOTE:
Before starting, make sure you have all of the remotes (three maximum) the customer wishes to use.
< PREV PAGE
NEXT PAGE >