< PREV PAGE
NEXT PAGE >
XK-8 Convertible (X100) V8-4.0L (AJ27) (2001)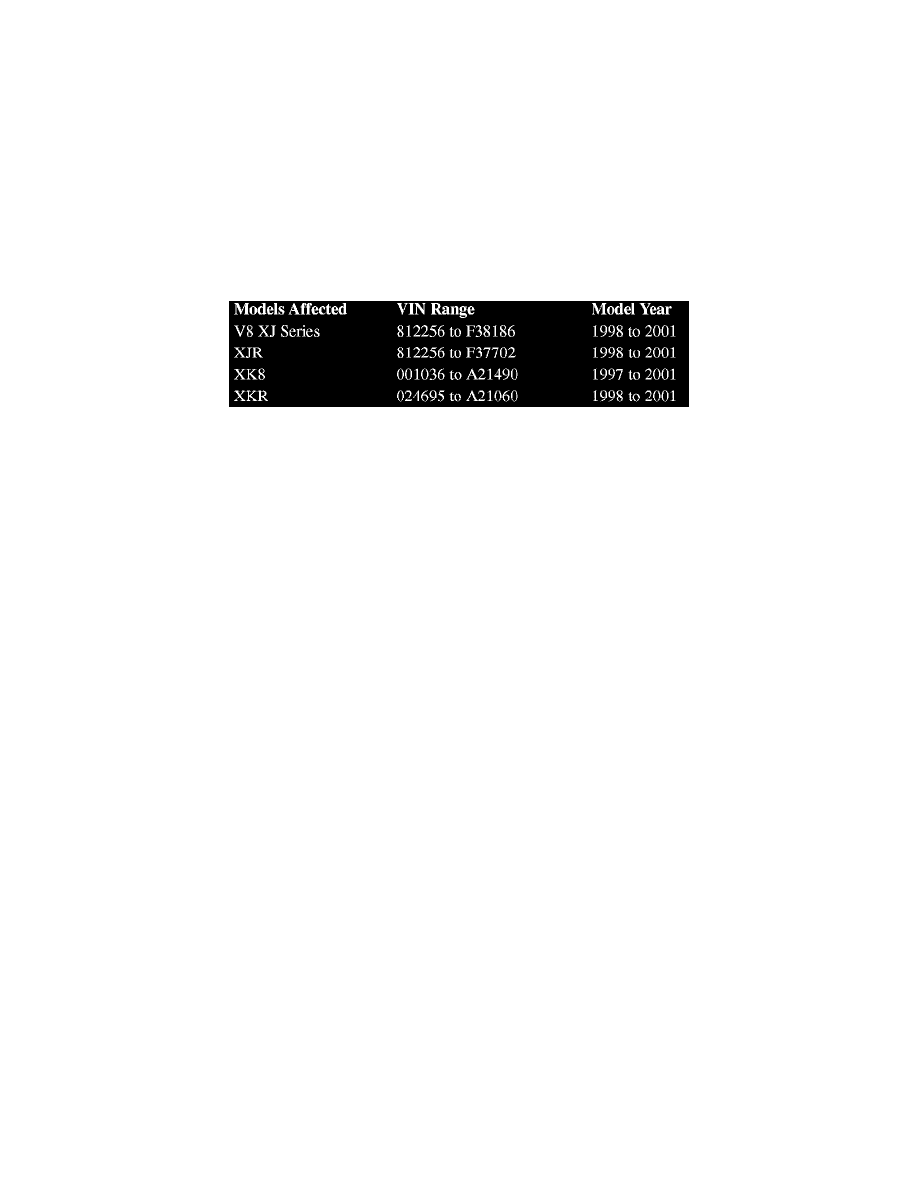 Transmission Mode Indicator - A/T: Technical Service Bulletins
A/T - Illumination Module J-gate Gasket Available
307-07
DATE 06/98
Amended 08/01
V8 XJ Series/XK
MODEL
1997-2001 MY XK Range
1998-2001 MY V8 XJ Series
VIN
Refer to bulletin chart
Damaged J-gate Gasket - Available Separately - Repair Procedure
Remove and destroy Bulletin 307-07, dated 6/98. Replace with this Bulletin
The procedure has been rewritten
Issue:
To address customer complaints of the Illumination Module Gasket deterioration, a new gasket has been introduced. The new gasket part number LNC
6197AA, was introduced immediately after the above VIN ranges. The new gasket, should be used when replacing the old gasket
Action:
On vehicles within the above VIN range, remove and replace Illumination Module Gasket as follows:
REPLACING J-GATE ILLUMINATION MODULE GASKET
1.
Open the luggage compartment.
2.
Remove battery cover and disconnect battery.
3.
Open the hood and place covers over the fenders.
4.
Remove range selector illumination module (JTIS CD-ROM, section: 307-05A, SRO 44.15.14).
5.
Remove the access screw for the selector interlock emergency release, from the front face of the module.
6.
Turn the module over and remove the brush disc.
7.
Remove illumination module top cover securing screws.
8.
Unclip and remove top cover.
9.
On supercharged vehicles, remove the circuit board by lifting it clear of the mounting lugs tilting it and sliding it out of the body. Use care with the
blue rubber covered bulbs as these are easily damaged.
Note: 
On NA units, the microswitch holds the circuit board in. Leave the microswitch in place using care not to damage it.
< PREV PAGE
NEXT PAGE >