< PREV PAGE
NEXT PAGE >
XK (X150) V8-4.2L (2008)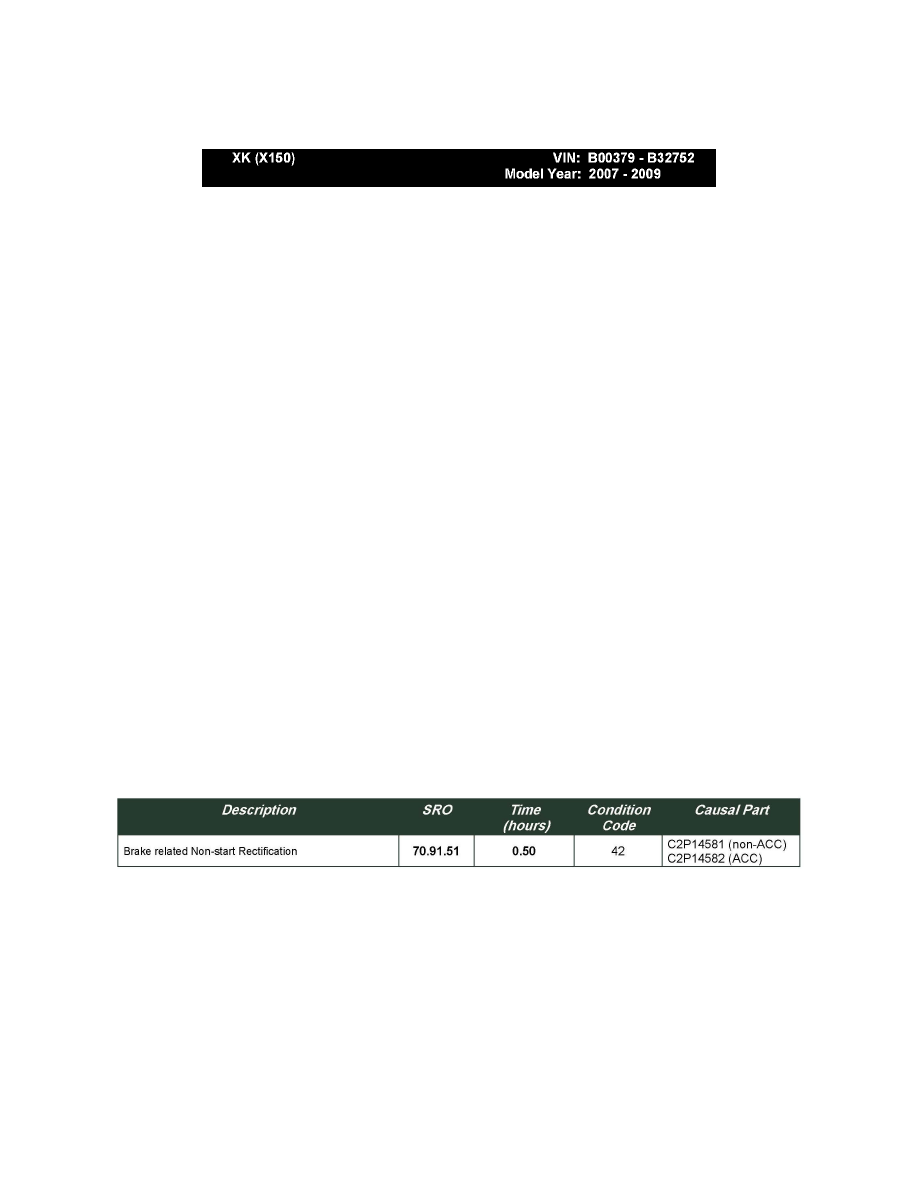 Electronic Brake Control Module: All Technical Service Bulletins
ABS/Starting - Hard To Press Brake Pedal To Start Engine
No: JTB00197
Issue: 1
Date: 20 MAY 2010
SECTION: 206
High Brake Pedal Effort Required to Start Engine
AFFECTED VEHICLE RANGE:
CONDITION SUMMARY:
Situation:
The brake pedal may require a high effort when attempting to start the engine; the engine may not start; or the DSC System Disabled warning message
may be displayed in the message center. These symptoms may be accompanied by Diagnostic Trouble Code (DTC) C0044-28 stored. These may be
caused by the brake light switch being incorrectly set accompanied with Anti-lock Brake System (ABS) Modulator pressure sensor zero offset drift.
NOTE:
Warranty returns analysis has shown that ABS Modulators are being changed for this issue; this is the wrong action to take.
Action:
In the event of a customer concern of the above, refer to the Repair Procedure outlined below to check for stored DTCs, verify the brake booster vacuum
system, verify that the brake switch is adjusted correctly, and calibrate the ABS modulator pressure sensor.
PARTS:
No parts necessary
TOOLS:
IDS with latest IDS-DVD and Calibration File; first available on IDS-DVD120_V6.08 Calibration File 29 Jaguar-approved Midtronics Vehicle Power
Supply
WARRANTY:
NOTE:
Repair procedures are under constant review, and therefore times are subject to change; those quoted here must be taken as guidance only. Always
refer to DDW to obtain the latest repair time.
DDW requires the use of causal part numbers. Labor only claims must show the causal part number with a quantity of zero.
Normal warranty policy and procedures apply.
REPAIR PROCEDURE
READ AND CLEAR DIAGNOSTIC TROUBLE CODES
CAUTION:
Ensure all ignition 'ON' / ignition 'OFF' requests are carried out; failure to perform these steps may cause damage to control modules in the vehicle.
CAUTION:
A Jaguar-approved Midtronics Vehicle Power Supply must be connected to the vehicle battery during IDS diagnosis / module programming.
1. Connect a Jaguar-approved Midtronics Vehicle Power Supply to the vehicle battery.
< PREV PAGE
NEXT PAGE >