< PREV PAGE
NEXT PAGE >
XK (X150) V8-4.2L (2008)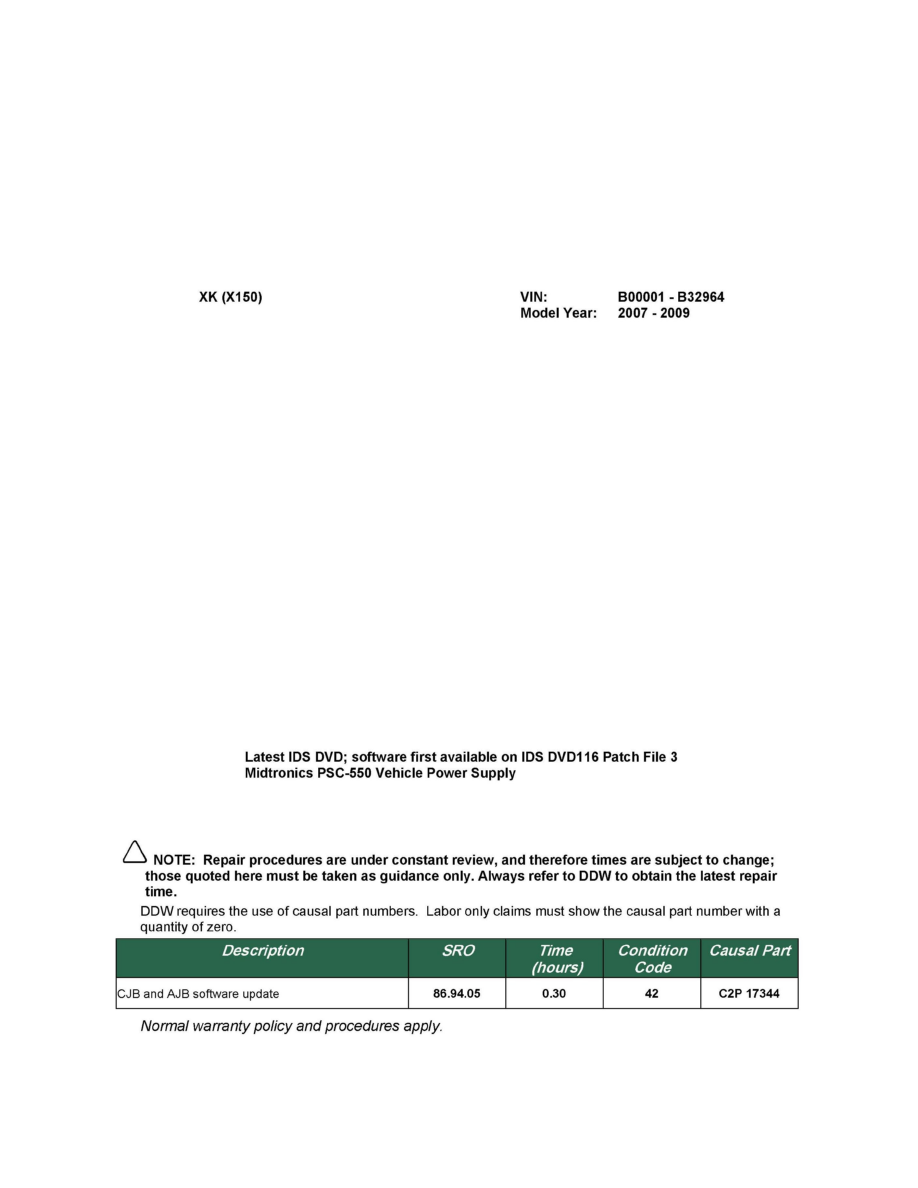 Power Distribution Module: All Technical Service Bulletins
Electrical - Can't Unlock Vehicle With Remote/No Start
NUMBER: JTB00147
(ISSUE 1)
MODEL:
XK
DATE: 02 FEB 2009
SECTION: 418
Unable to Unlock Vehicle / No Electrical Power - Repair Procedure
AFFECTED VEHICLE RANGE
CONDITION SUMMARY:
Situation: 
An issue has been identified where after returning to the vehicle less than 10 minutes after locking, the customer is unable to unlock the vehicle with the
remote handset and, after using the mechanical key to enter the vehicle, the engine will not crank. After 10 minutes the vehicle will recover and operate
normally. This may be caused by a software issue with the Central Junction Box (CJB) and Auxiliary Junction Box (AJB).
NOTE:
If the vehicle is eligible for Service Action K013: XK Enhancement Program, the CJB and AJB will be updated to the latest software as part of that
Repair Procedure and the SRO in this Technical Bulletin may not be claimed.
Action: 
In the event of a customer concern of the above, refer to the Repair Procedure outlined below to reconfigure the Central Junction Box and Auxiliary
Junction Box.
PARTS:
No parts required; information only
TOOLS
WARRANTY
REPAIR PROCEDURE
RECONFIGURE THE CENTRAL JUNCTION BOX AND AUXILIARY JUNCTION BOX
< PREV PAGE
NEXT PAGE >