< PREV PAGE
NEXT PAGE >
XKR Convertible (X100) V8-4.0L SC (AJ27) (2001)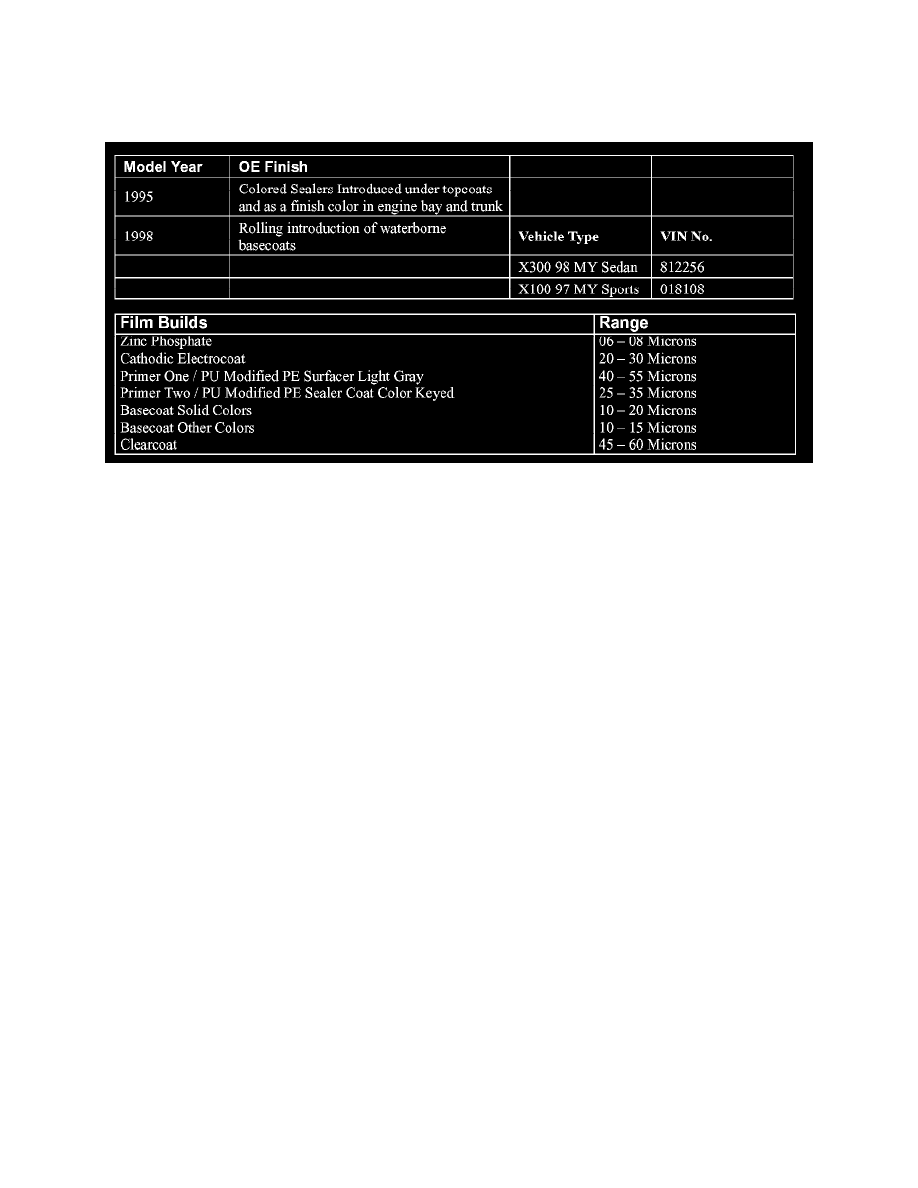 Paint: Specifications
Paintwork Repair
Service Data
In practice, total film builds of 170 Microns is normal.
Some allowances should be made for increased film builds on horizontal surfaces.
All figures are approximate. Areas where rectification work has been carried out may show increases in total film builds if tested with paint thickness
gauge.
Note:  Film builds after rectification repairs should not exceed 500 microns. This is especially important in areas prone to the effects of stone chipping.
The repairer should therefore consult the preferred paint Manufacturer's technical data for application film builds before making the decision to sand
back the substrate.
Water base color base coat paints were introduced as a running change in production during 1998 Model Year.
To comply with UK and EEC Environmental Protection, Industry Environmental Protection Act (EPA) legislation regarding Volatile Organic
Compound (VOC) emissions, Jaguar has introduced a water base paint system. This system commenced at the introduction of the 1998 Model Year
vehicle range i.e.
XK8 VIN No 018108
V8 XJ Series VIN No 812256
To distinguish between solvent and water base paint finishes, a new body color paint code prefixed by the figure '1' has been devised.
The following example shows how the new paint code works in practice.
CURRENT SOLVENT BASE PAINT - JBC: 753 - ALPHA CODE: HFB
NEW WATER BASE PAINT - JBC 1753 - ALPHA CODE HGD-
(British Racing Green codes are shown as an example).
Unlike solvent based paint, water based paint combines a solution of solvent and water to suspend the paint solids.
Water base paint solutions follow:
Solid Colors
i.e. British Racing Green, Westminster Blue, etc.: 12 % solvent + 28 % solids + 60 % water
White Solid only:
12 % solvent + 38 % solids + 50 % water
Mica/Metallic:
< PREV PAGE
NEXT PAGE >