NEXT PAGE >
Commander 2WD V6-3.7L VIN K (2006)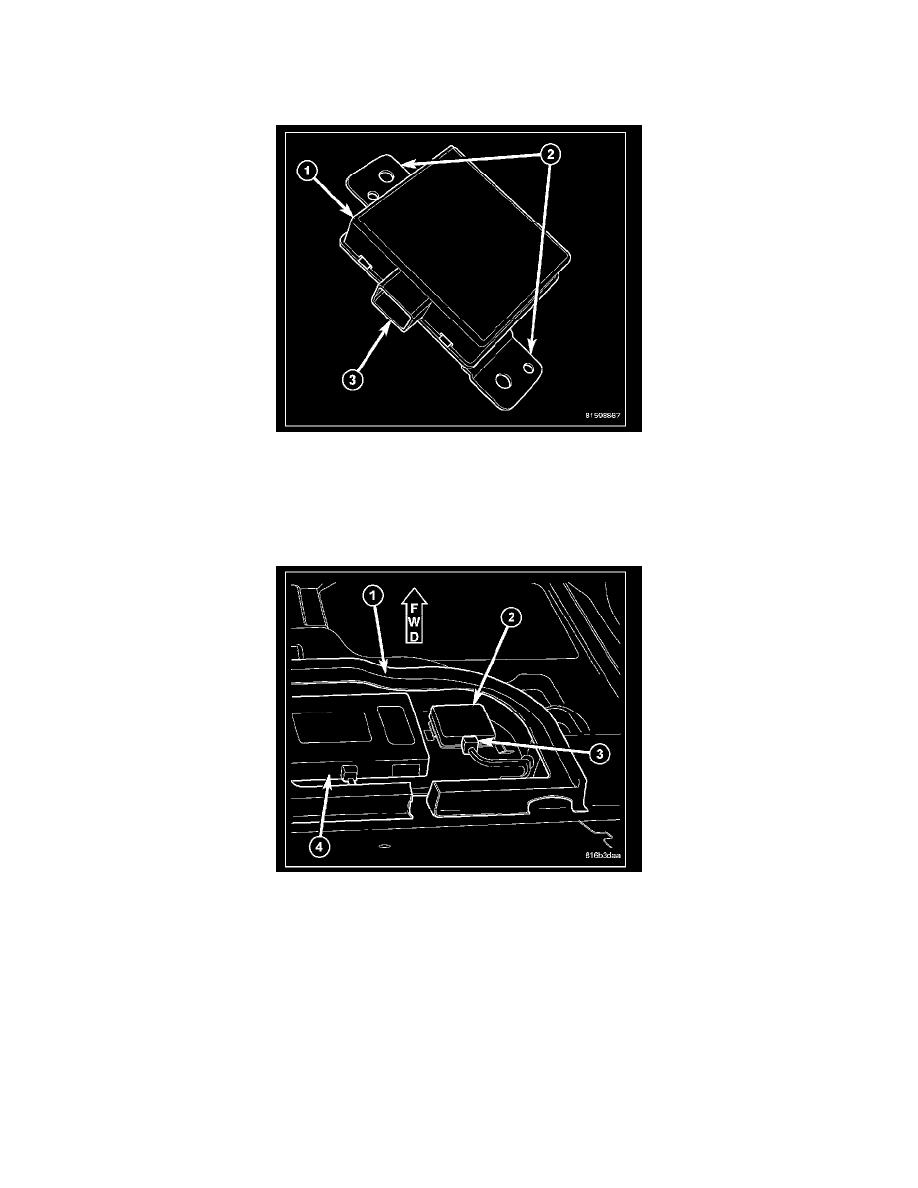 Alarm Module: Description and Operation
INTRUSION MODULE
DESCRIPTION
An intrusion module (1) is part of the premium version of the Vehicle Theft Alarm (VTA) in the Vehicle Theft Security System (VTSS). The premium
version of the VTA is only available in vehicles built for certain markets, where the additional features offered by this system are required. This unit is
designed to work in conjunction with the intrusion sensor transmitter and intrusion sensor receiver to provide interior motion detection and serves as the
interface between the Forward Control Module (FCM), the Electromechanical Instrument Cluster (EMIC) and the alarm siren. The intrusion module has
two integral mounts (2) that secure the module. Concealed within the molded plastic housing is the circuitry of the module, which includes a
microprocessor.
The intrusion module (2) is secured within a cavity on the right side of a molded plastic intermediate step assembly (1) located on the rear floor panel
under the second row seat cushion by two slots and two latch features integral to the floor of the step cavity The module is concealed beneath a carpeted
trim cover secured by hook and loop fasteners over the step cavity. The inboard side of this step cavity also contains the satellite radio receiver (4) on
vehicles that are so equipped. The module is connected through an integral connector receptacle to the vehicle electrical system by a take out and
connector of the body wire harness (3).
The intrusion module unit cannot be adjusted or repaired and, if ineffective or damaged, it must be replaced.
OPERATION
The microprocessor in the intrusion module contains the motion detection logic circuits and controls all of the features of the premium version of the
Vehicle Theft Alarm (VTA). The module uses On-Board Diagnostics (OBD) and can communicate with other modules in the vehicle as well as with a
diagnostic scan tool using the Controller Area Network (CAN) data bus. This method of communication is used by the module to communicate with the
Forward Control Module (FCM) and the Electromechanical Instrument Cluster (EMIC). The module also communicates with the alarm siren over a
dedicated serial bus circuit.
NEXT PAGE >