< PREV PAGE
NEXT PAGE >
Commander 4WD V8-4.7L VIN N (2006)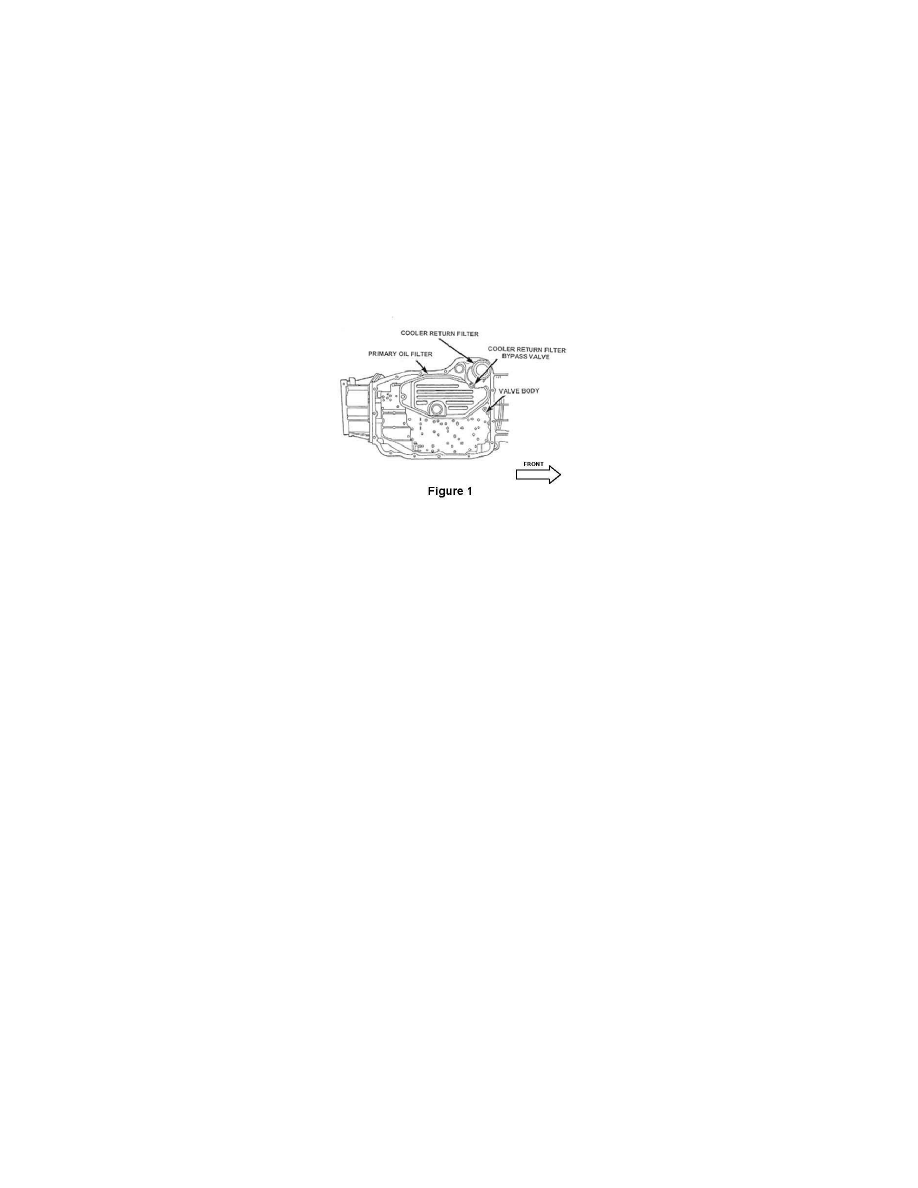 1.
Raise vehicle on a hoist.
2.
Remove transmission skid plate (if so equipped).
3.
Place a drain container with a large opening, under transmission oil pan.
4.
Loosen pan bolts and using a thin wide blade putty knife, separate the pan from the transmission housing at one corner to break it loose. Allow the
fluid to drain, and then remove the oil pan. 
5.
Clean the oil pan and wipe the magnet with a clean dry lint-free cloth.
6.
Clean transmission case oil pan surface using a plastic scraper.
Caution: 
Be careful not to scratch the sealing surface.
7.
Remove the round transmission cooler filter using an oil filter wrench (special tool 8321). (Figure 1) Remove the filter connector nipple from the
transmission  if necessary. Discard both parts.
8.
Install new cooler return filter to the transmission and tighten the filter to 125 in lbs (14 N.m) (Fig. 1).
9.
Apply a 1/8" bead of Mopar ATF-RTV Silicone Adhesive sealant to the transmission oil pan.
10.
Install transmission oil pan and tighten oil pan bolts to 105 in lbs (12 N.m).
11.
Install transmission skid plate (if so equipped).
12.
Pour seven quarts of Mopar ATF+4 Automatic Transmission Fluid into the fill tube opening.
13.
Start engine and allow it to idle for at least one minute. Then, with parking and service brakes applied, move selector lever momentarily to each
position, ending in the neutral position.
14.
Check the transmission fluid level and add an appropriate amount to bring the transmission fluid level to second hole from the tip of the dipstick
(full  cold transmission). The transmission temperature should be at about 70°F.
CAUTION: 
DO NOT OVERFILL.
15.
Recheck the fluid level after the transmission has reached normal operating temperature (180°F.). Adjust fluid level as needed.
< PREV PAGE
NEXT PAGE >