< PREV PAGE
NEXT PAGE >
Commander 4WD V8-4.7L VIN N (2006)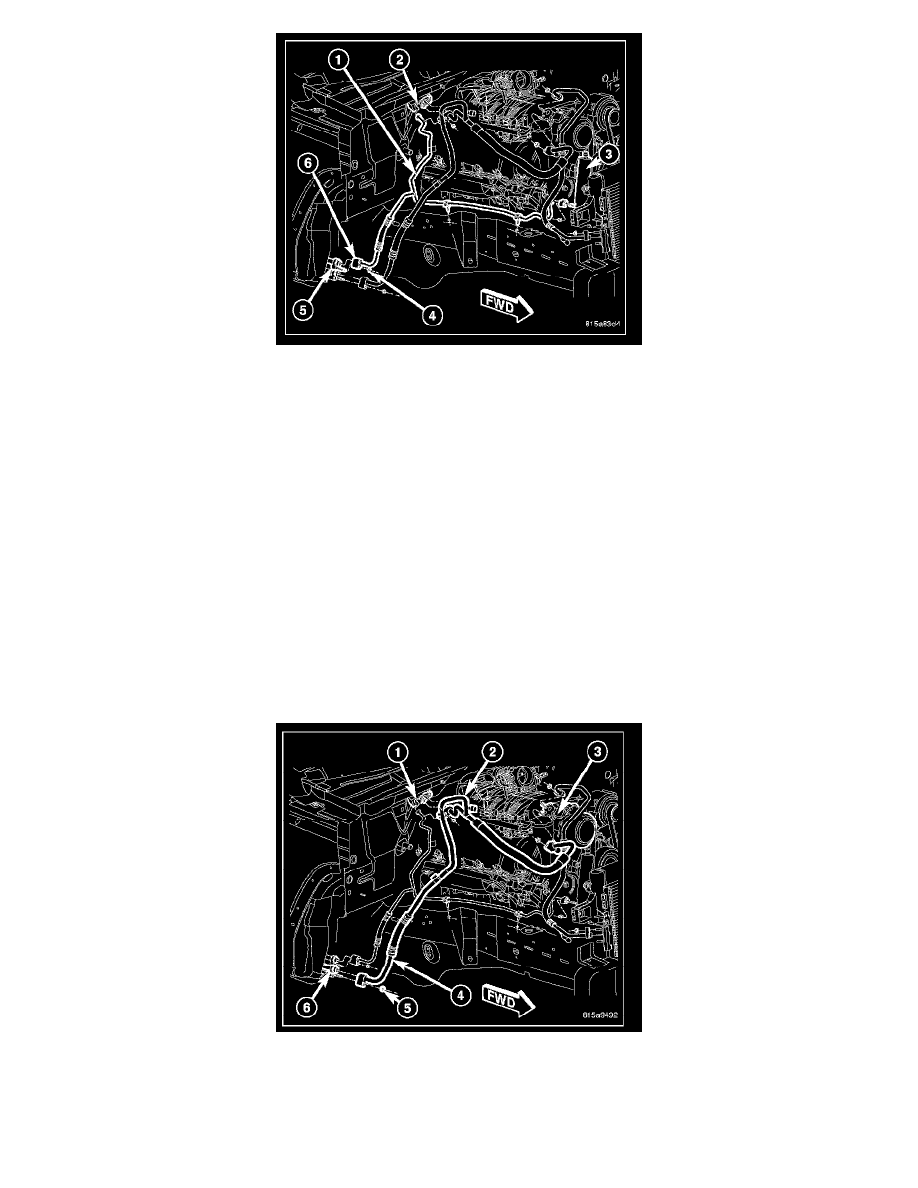 1. Remove the tape or plugs from the opened refrigerant line fittings and expansion valve and receiver/ drier ports.
2. Position the A/C liquid line (1) into the engine compartment and install it to the front A/C expansion valve (2) and the receiver/drier (3).
3. Raise and support the vehicle.
4. Lubricate a new rubber O-ring seal with clean refrigerant oil and install it onto the underbody liquid line fitting. Use only the specified O-ring as it
is made of a special material for the R-134a system. Use only refrigerant oil of the type recommended for the A/C compressor in the vehicle.
5. Connect the liquid line extension tube (6) to the underbody liquid line (5) and install the nut (4). Tighten the nut to 20 N.m (15 ft. lbs.).
6. Lower the vehicle.
7. Reconnect the negative battery cable.
8. Evacuate the refrigerant system.
9. Charge the refrigerant system.
Line-A/C Suction
LINE-A/C SUCTION
NOTE:  4.7L engine shown in illustration. 3.7L and 5.7L engines similar.
REMOVAL
WARNING:  REFER TO THE APPLICABLE WARNINGS AND CAUTIONS FOR THIS SYSTEM BEFORE PERFORMING THE
FOLLOWING OPERATION. FAILURE TO FOLLOW THE WARNINGS AND CAUTIONS COULD RESULT IN POSSIBLE PERSONAL
INJURY OR DEATH.
1. Recover the refrigerant from the refrigerant system.
2. Disconnect and isolate the negative battery cable.
3. Raise and support the vehicle.
4. Remove the nut (5) that secures the tapping block of the suction line extension tube (4) to the underbody suction line (6).
5. Disconnect the suction line extension tube from the underbody suction line and remove and discard the O-ring seal.
6. Lower the vehicle.
< PREV PAGE
NEXT PAGE >