< PREV PAGE
NEXT PAGE >
Commander 4WD V8-4.7L VIN N (2006)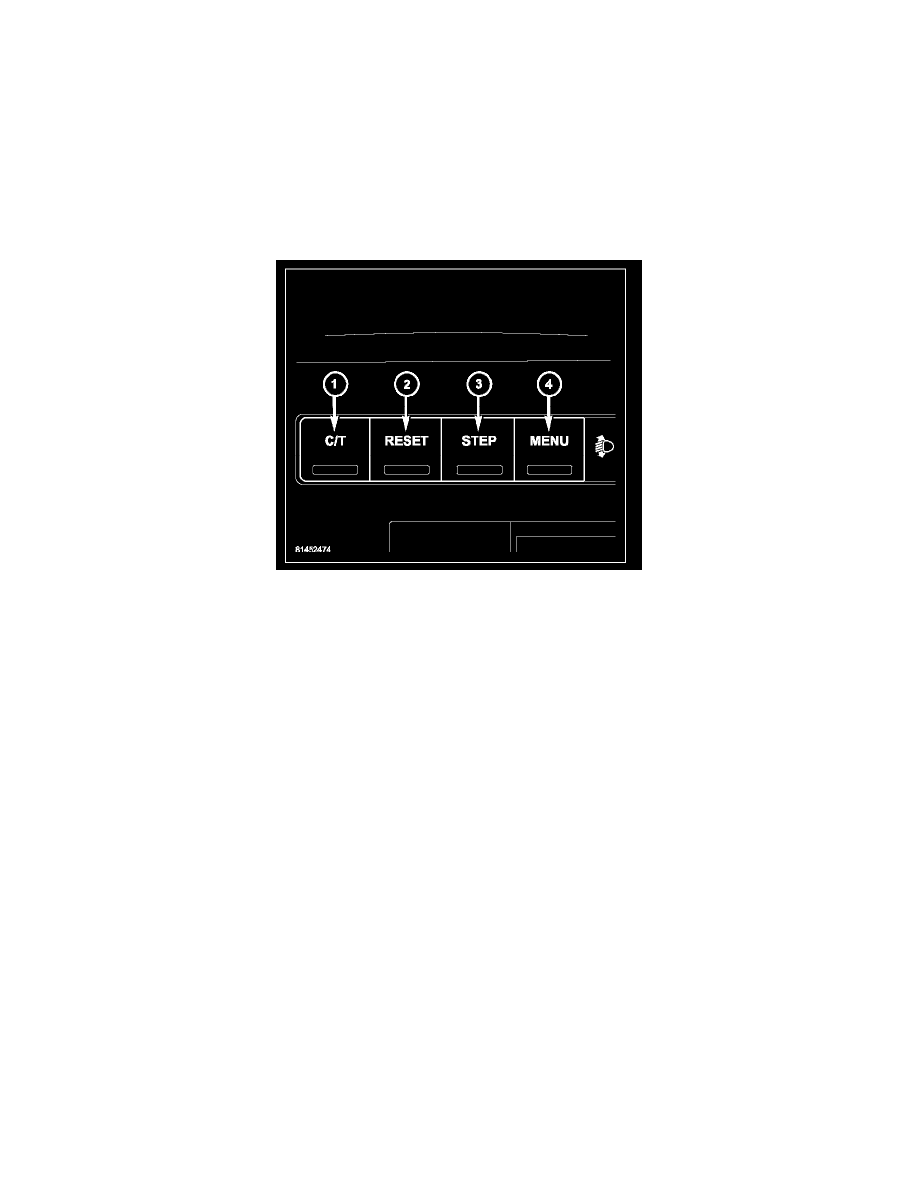 Oil Change Reminder Lamp: Service and Repair
ELECTRONIC VEHICLE INFORMATION CENTER
OPERATION
The Electronic Vehicle Information Center (EVIC) uses both non-switched and ignition switched sources of battery current so that some of its features
remain operational at any time, while others may only operate with the ignition switch in the On position. When the ignition switch is turned to the On
position, the EVIC display will return to the last function being displayed before the ignition was turned to the Off position.
The EVIC system is comprised of several different components that communicate over the Controller Area Network (CAN) Data Bus. If the system is
inoperative a scan tool and the appropriate diagnostic information must be used to diagnose the system.
The EVIC control switches are used to operate the different functions of the EVIC system. Pressing and releasing the MENU button (4) will change the
mode displayed to one of the Personal Settings. The STEP button (3) is used to make a selection from the Personal Setting displayed at that time.
Pressing and releasing the C/T (compass/thermometer) button (1) will cause the EVIC to return to the compass/thermometer/ trip computer display mode
from any other mode. From the compass/thermometer/trip computer display mode the STEP button (3) is used to scroll through and make selections in
the Trip Functions. Pressing and releasing the RESET button (2) resets the trip computer screen displayed at that time.
EVIC DISPLAY MODES
SYSTEM STATUS MODE
Displays warnings and user interaction messages. Initial warnings will be displayed accompanied by a series of audible beeps. Critical text warnings will
be displayed until the failure is corrected. Non-critical text warnings will be displayed for 
60 seconds. The driver can scroll to view multiple messages
by using the STEP button.
When the appropriate conditions exist, the EVIC displays the following messages:
-
TURN SIGNAL ON
-
PERFORM SERVICE
-
KEY NOT PROGRAMMED - DAMAGED KEY
-
KEY NOT PROGRAMMED - INVALID KEY
-
KEY NOT PROGRAMMED - EXCEEDED KEY PROGRAM LIMIT
-
PROGRAMMING ACTIVE - NEW KEY PROGRAMMED
-
SERVICE SECURITY KEY
-
INVALID KEY - TRY ALTERNATE KEY
-
DRIVER/PASSENGER DOOR OPEN (with graphic)
-
LEFT/RIGHT REAR DOOR OPEN (with graphic)
-
X DOORS OPEN (with graphic)
-
LIFTGATE OPEN (with graphic)
-
LIFTGATE/DOOR OPEN (with graphic)
-
LIFTGATE/DOORS OPEN (with graphic)
-
LIFTGLASS OPEN (with graphic)
-
HOOD OPEN (with graphic)
-
HOOD/DOOR OPEN (with graphic)
-
HOOD/DOORS OPEN (with graphic)
< PREV PAGE
NEXT PAGE >