< PREV PAGE
NEXT PAGE >
Commander 4WD V8-4.7L VIN N (2006)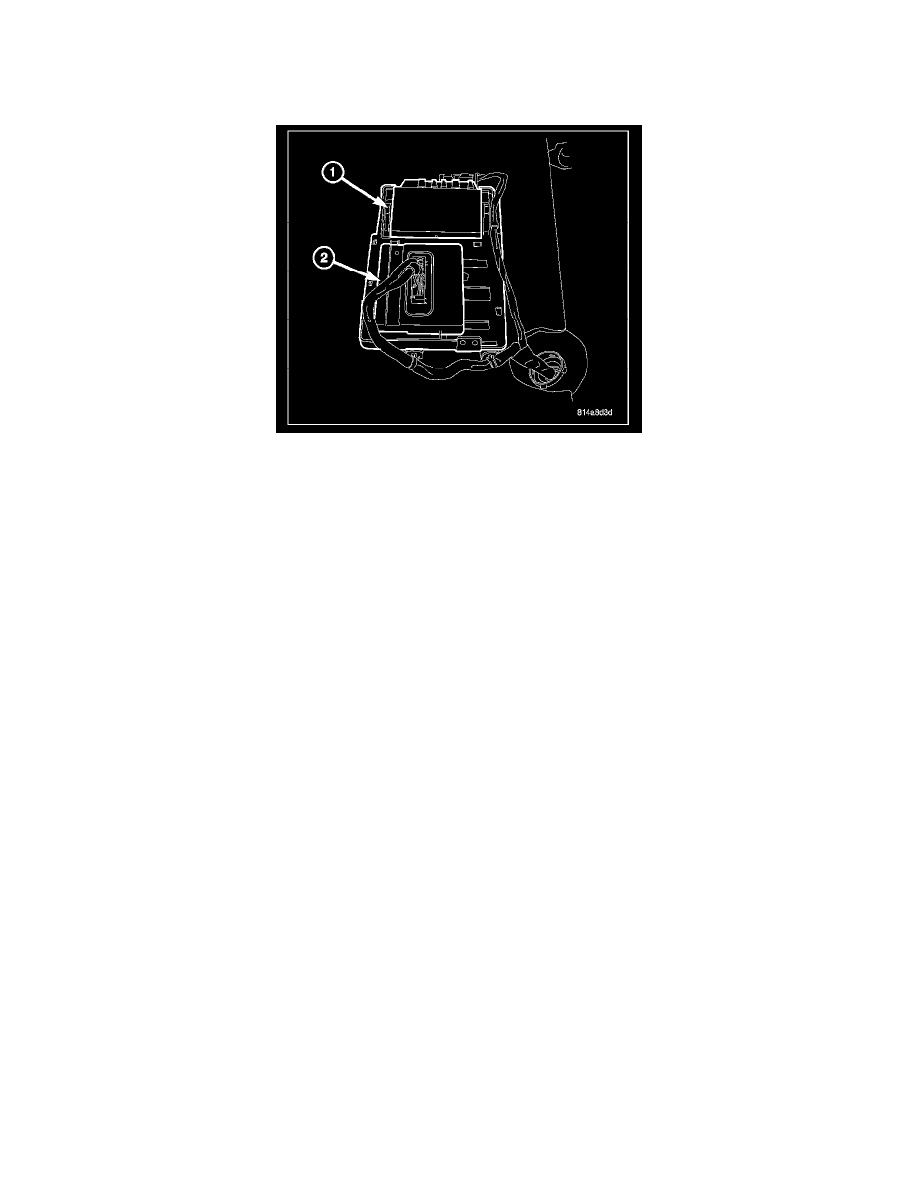 Control Module: Description and Operation
MODULE-FINAL DRIVE CONTROL
DESCRIPTION
The Final Drive Control Module (FDCM) (2) is a microprocessor-based assembly, controlling a 4X4 Transfer Case and Front and Rear Electronic
Limited Slip Differentials (ELSD's). Communication is via the CAN serial bus. Inputs include user selectable 4X4 modes that include 4WD Full Time
(4HI), 4LO, Neutral. The logic and driver circuitry is contained in aluminum housing base and a stamped steel housing cover with an embedded heat
sink.
The FDCM is installed inside the passenger compartment underneath the driver side of the rear seat.
OPERATION
POWER UP/DOWN
The Final Drive Control Module (FDCM) will power up with an OFF/ON transition of the hardwired ignition switch input, or with the presence of active
CAN C communications.
The FDCM will power down when the vehicle ignition switch transitions from ON to OFF, or there are no CAN C messages, or there are no system
requirements that dictate the controller to remain active
START-UP DIAGNOSTICS
When the FDCM is activated, the internal circuitry will undergo a diagnostic procedure. The controller will examine all inputs and outputs for short
circuits to ground, short circuits to battery and open circuits and will also verify proper CPU and memory operation. If a fault is detected, a message will
be sent out over the CAN C bus to the Cluster based Electronic Vehicle Information Center EVIC indicating that service is recommended.
After passing all diagnostic tests, the controller will receive and process inputs and produce the appropriate outputs. Proper monitoring of the controller
inputs and outputs performance will continue.
INPUTS/OUTPUTS
The following are inputs to the FDCM:
-
Lateral Accelerometer
-
Transfer Case Range Select Switch
-
Transfer Case Mode Sensor Signal
-
Front Differential Temperature Sensor
-
Rear Differential Temperature Sensor
-
3 Direct Battery Feeds
-
Ignition RUN Sense
-
Sensor Grounds
-
Module Grounds
-
CAN C Bus
The following are outputs of the FDCM:
< PREV PAGE
NEXT PAGE >