< PREV PAGE
NEXT PAGE >
Commander 4WD V8-4.7L VIN N (2006)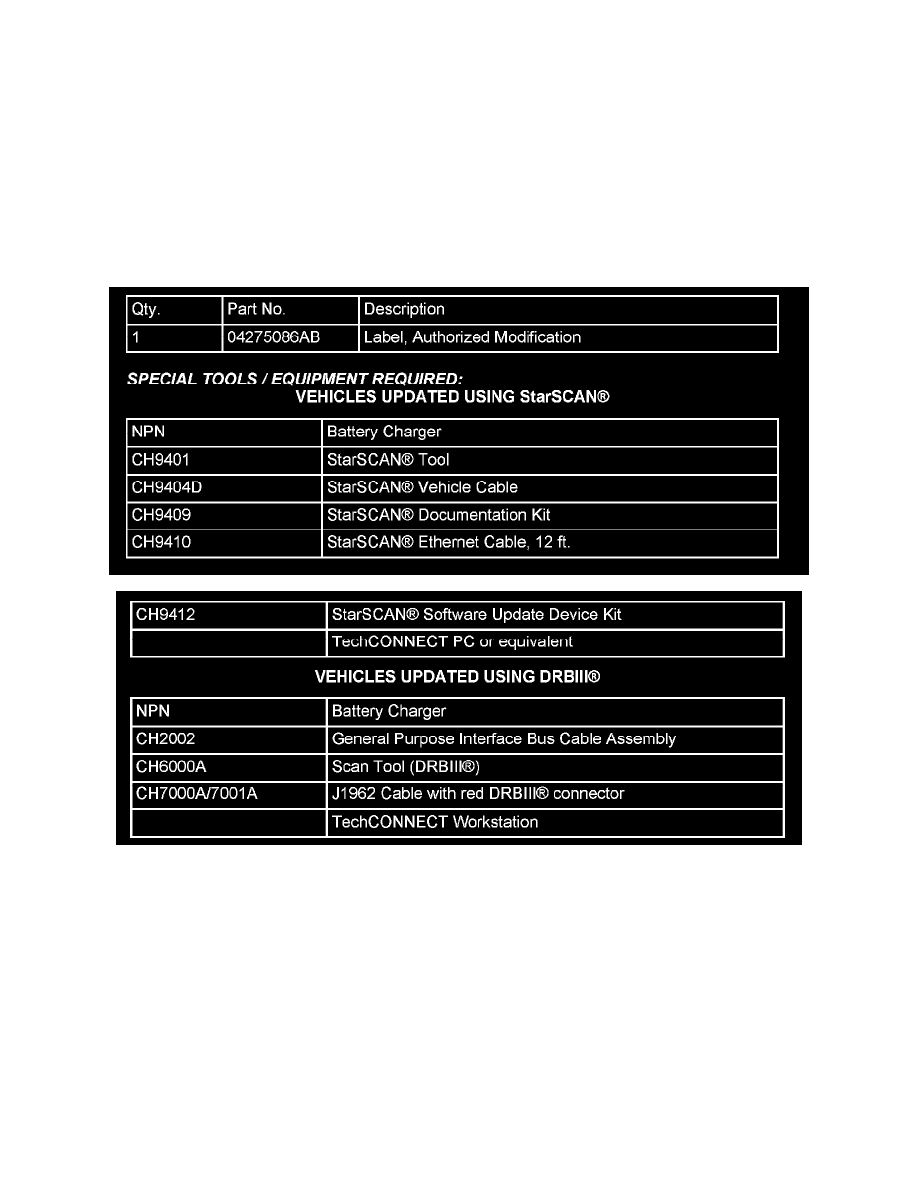 I.
P0340 - Camshaft Position Sensor Circuit - Bank 1 Sensor 1
ii.
P0344 - Camshaft Position Sensor Intermittent - Bank 1 Sensor 1
iii.
P0116 - Engine Coolant Temperature Sensor Performance
DIAGNOSIS:
Using a Scan Tool (StarSCAN(R) or DRBIII(R)) with the appropriate Diagnostic Procedures available in TechCONNECT, verify all engine systems are
functioning as designed. If other DTC's are present record them on the repair order and repair as necessary before proceeding further with this bulletin.
If the vehicle operator describes or experiences the Symptom/Condition, perform the Repair Procedure. If the PCM software is up to date and the above
mentioned DTC's are present then further diagnosis is required.
PARTS REQUIRED:
REPAIR PROCEDURE - USING StarSCAN Or wiTech:
NOTE:
If this flash process is interrupted/aborted, the flash should be restarted.
1. Reprogram the PCM with the latest software. Follow the detailed service procedures available in DealerCONNECT/TechCONNECT, Refer To
Group 8 - Electrical > Electronic Control Modules - Service Information > Module - Powertrain Control > Standard Procedures > PCM/ECM
Programming - Gas. After PCM reprogramming, the following must be performed:
a. Clear any DTC's that may have been set in other modules due to reprogramming. The wiTECH application will automatically present all DTCs
after the flash and allow the tech to clear them.
2. Type the necessary information on the "Authorized Modification Label" and attach it near the VECI label.
REPAIR PROCEDURE FOR DOMESTIC VEHICLES USING DRBIII(R) AND DOWNLOADING THE FLASH FILE FROM DealerCONNECT:
< PREV PAGE
NEXT PAGE >