NEXT PAGE >
< PREV PAGE
Commander 4WD V8-4.7L VIN N (2006)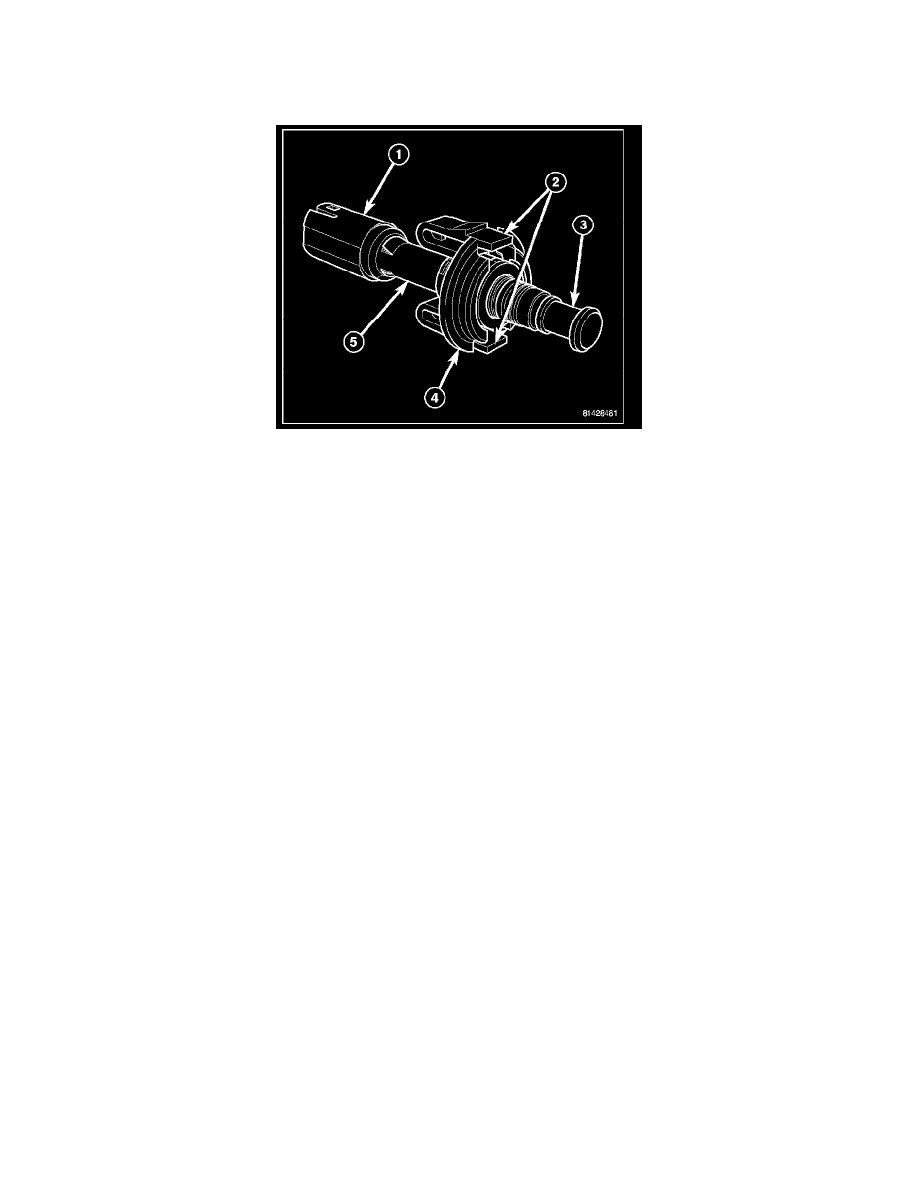 Hood Sensor/Switch (For Alarm): Description and Operation
HOOD AJAR SWITCH
DESCRIPTION
The hood ajar switch is a normally closed, single pole, spring-loaded plunger actuated switch that is used only on vehicles equipped with the Vehicle
Theft Security System (VTSS) for sale in certain markets where it is required equipment. The molded plastic switch body (5) has an integral molded
connector receptacle (1) on the lower end containing two terminal pins. The switch is connected to the vehicle electrical system through a dedicated take
out of the headlamp and dash wire harness.
The switch plunger (3) extends through a mounting collar (4) and sleeve on the upper end of the switch body. The sleeve has a one-time, self-adjustment
feature that is activated after the switch is installed by closing the hood. Two integral latches (2) lock the switch into a keyed mounting hole in the
stamped steel switch mounting bracket. The mounting bracket is secured with screws to the left inner fender shield near the fender ledge in the engine
compartment. The underside of the hood panel inner reinforcement actuates the switch plunger as the hood panel is closed.
An installed hood ajar switch cannot be readjusted or repaired. If the switch is damaged, ineffective, or requires readjustment, it must be replaced with a
new unit.
OPERATION
The hood ajar switch is a normally closed switch that is held open as the spring-loaded switch plunger is depressed by the inner hood panel
reinforcement when the hood panel is closed and latched. When the hood is opened, the spring-loaded switch plunger extends from the switch body and
the switch contacts are closed. The switch is connected in series between ground and the hood ajar switch sense input of the Front Control Module
(FCM). The FCM uses an internal resistor pull up to monitor the state of the hood ajar switch contacts.
The components of the switch self-adjustment feature include an integral stop on the shaft of the plunger and a ribbed, ratcheting sleeve at the top of the
switch body from which the plunger extends. With the switch mounting collar secured in its mounting bracket, the plunger is depressed by the hood inner
reinforcement as the hood is closed. As the plunger is depressed, the plunger stop contacts the top of the sleeve and the sleeve is driven downward,
ratcheting through the switch mounting collar until the hood is fully closed and latched. The ribs on the sleeve are engaged within the mounting collar to
maintain this adjusted position.
The hood ajar switch and circuits may be diagnosed using conventional diagnostic tools and methods. Refer to the appropriate wiring information.
However, conventional diagnostic methods may not prove conclusive in the diagnosis of the FCM or its responses to the hood ajar switch input. The
most reliable, efficient, and accurate means to diagnose the hood ajar switch, the FCM, and both the hard wired and electronic message inputs and
outputs affected by the hood ajar switch input requires the use of a diagnostic scan tool.
NEXT PAGE >
< PREV PAGE