< PREV PAGE
NEXT PAGE >
Commander 4WD V8-4.7L VIN N (2006)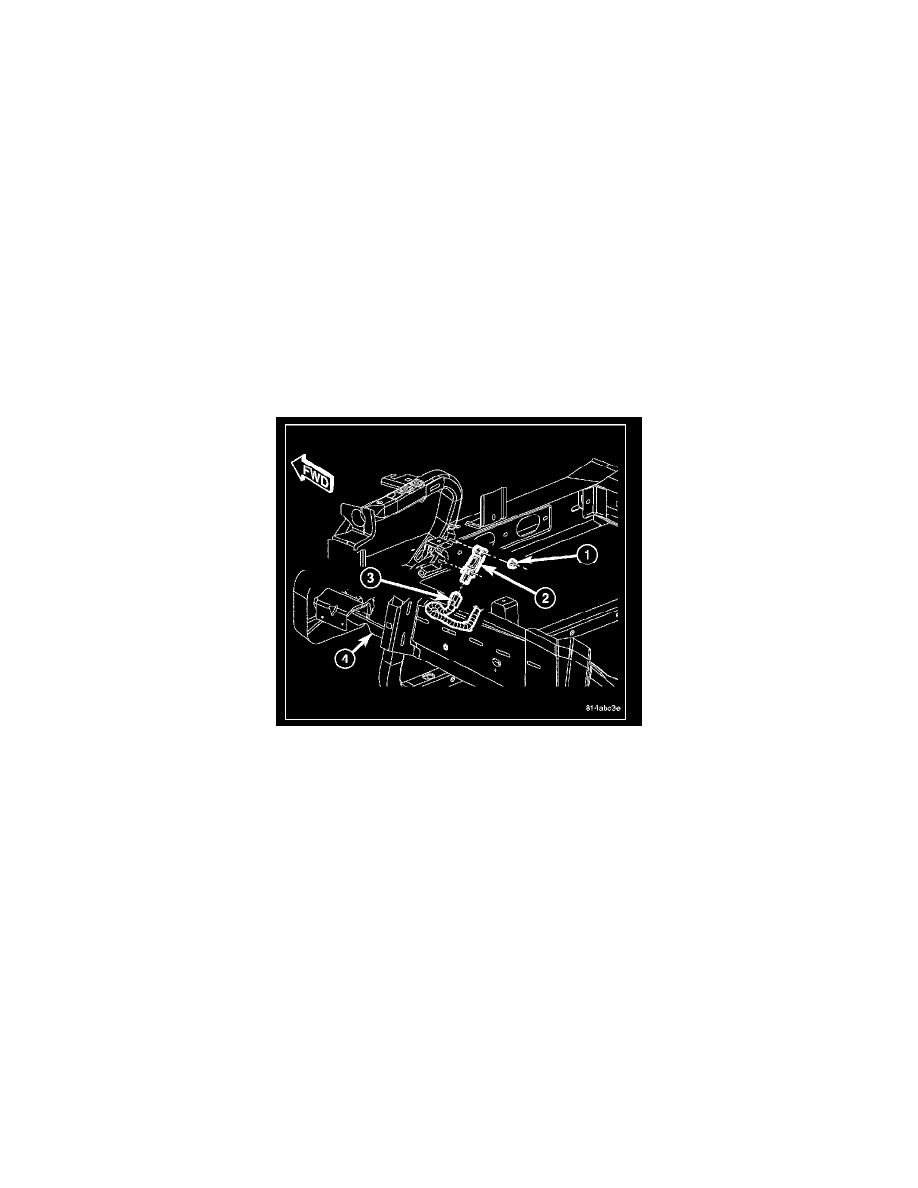 Impact Sensor: Service and Repair
Front
FRONT
WARNING:
-
TO AVOID PERSONAL INJURY OR DEATH, ON VEHICLES EQUIPPED WITH AIRBAGS, DISABLE THE SUPPLEMENTAL
RESTRAINT SYSTEM BEFORE ATTEMPTING ANY STEERING WHEEL, STEERING COLUMN, AIRBAG, OCCUPANT
CLASSIFICATION SYSTEM, SEAT BELT TENSIONER, IMPACT SENSOR, OR INSTRUMENT PANEL COMPONENT
DIAGNOSIS OR SERVICE. DISCONNECT AND ISOLATE THE BATTERY NEGATIVE (GROUND) CABLE, THEN WAIT TWO
MINUTES FOR THE SYSTEM CAPACITOR TO DISCHARGE BEFORE PERFORMING FURTHER DIAGNOSIS OR SERVICE.
THIS IS THE ONLY SURE WAY TO DISABLE THE SUPPLEMENTAL RESTRAINT SYSTEM. FAILURE TO TAKE THE PROPER
PRECAUTIONS COULD RESULT IN ACCIDENTAL AIRBAG DEPLOYMENT.
-
TO AVOID PERSONAL INJURY OR DEATH, NEVER STRIKE OR DROP THE FRONT IMPACT SENSOR, AS IT CAN DAMAGE
THE IMPACT SENSOR OR AFFECT ITS CALIBRATION. THE FRONT IMPACT SENSOR ENABLES THE SYSTEM TO DEPLOY
THE FRONT SUPPLEMENTAL RESTRAINTS. IF AN IMPACT SENSOR IS ACCIDENTALLY DROPPED DURING SERVICE,
THE SENSOR MUST BE SCRAPPED AND REPLACED WITH A NEW UNIT. FAILURE TO OBSERVE THIS WARNING COULD
RESULT IN ACCIDENTAL, INCOMPLETE, OR IMPROPER FRONT SUPPLEMENTAL RESTRAINT DEPLOYMENT.
NOTE:  The front and side impact sensors are interchangeable.
REMOVAL
1. Disconnect and isolate the battery negative cable. Wait two minutes for the system capacitor to discharge before further service.
2. Disconnect the headlamp and dash wire harness connector (3) from the right or left front impact sensor (2) connector receptacle.
3. Remove the two nuts (1) that secure the sensor to the studs on the back of the right or left radiator support vertical member.
4. Remove the right or left front impact sensor from the engine compartment.
INSTALLATION
< PREV PAGE
NEXT PAGE >