< PREV PAGE
NEXT PAGE >
Commander 4WD V8-4.7L VIN N (2006)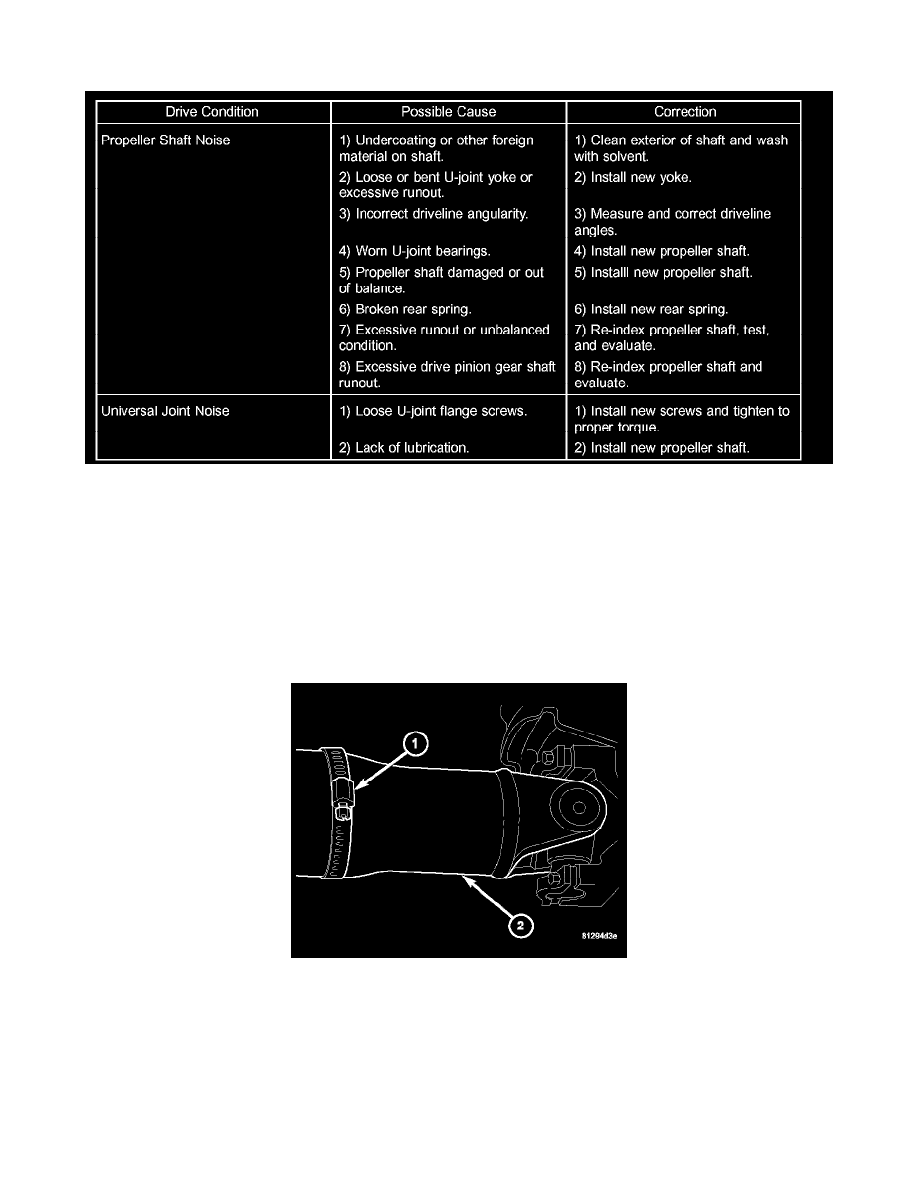 Drive/Propeller Shaft: Testing and Inspection
VIBRATION
DRIVELINE VIBRATION
Tires that are out-of-round, or wheels that are not balanced, will cause a low frequency vibration. 
Brake rotors that are unbalanced will cause a harsh, low frequency vibration. 
Driveline vibration can also result from loose or damaged engine mounts. 
Propeller shaft vibration increases as the vehicle speed is increased. A vibration that occurs within a specific speed range is not usually caused by a
propeller shaft being unbalanced. Defective universal joints, or an incorrect propeller shaft angle, are usually the cause of such a vibration.
BALANCE
NOTE: Removing and re-indexing the propeller shaft 900 rear axle 450 transcase or front axle relative to the yoke may eliminate some vibrations.
If propeller shaft is suspected of being unbalanced, it can be verified with the following procedure:
1. Raise the vehicle.
2. Clean all the foreign material from the propeller shaft and the universal joints.
3. Inspect the propeller shaft for missing balance weights, broken welds, and bent areas.
4. Inspect the universal joints to ensure that they are not worn, are properly installed, and are correctly aligned with the shaft.
5. Check the universal joint flange screws torque.
6. Remove the wheels and tires. Install the wheel lug nuts to retain the brake drums or rotors.
7. Mark and number the shaft six inches from the yoke end at four positions 90° or 45° apart depending on flange.
8. Run and accelerate the vehicle until vibration occurs. Note the intensity and speed the vibration occurred. Stop the engine.
9. Install a screw clamp (1) at position 1.
< PREV PAGE
NEXT PAGE >