< PREV PAGE
NEXT PAGE >
Commander 4WD V8-4.7L VIN N (2006)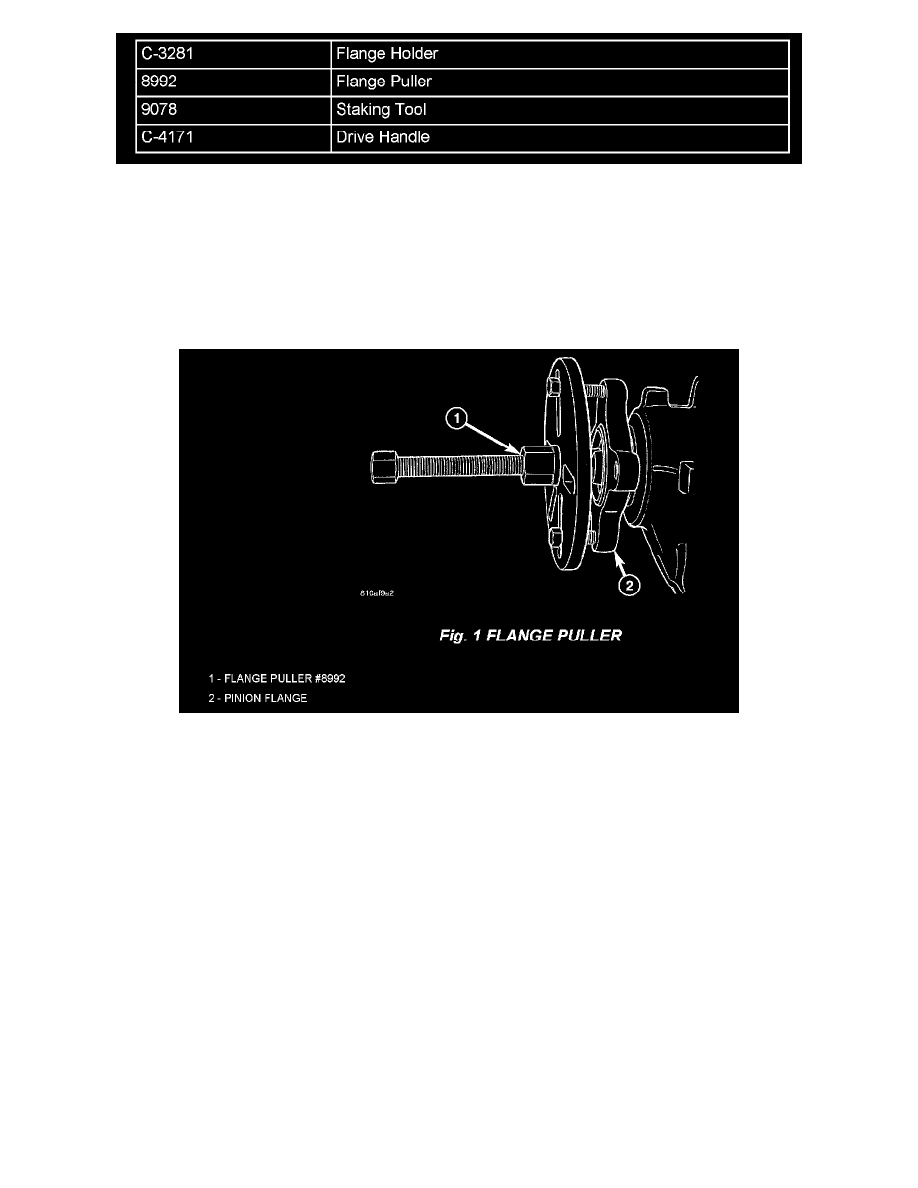 SPECIAL TOOLS/EQUIPMENT REQUIRED:
REPAIR PROCEDURE:
CAUTION:
Mark the propeller shaft in relation to the transmission and axle flanges prior to removal.
1.
Remove propeller shaft: refer to the detailed removal procedures available in DealerCONNECT > TechCONNECT under: Service Info > 3 - 
DIFFERENTIAL & DRIVELINE > PROPELLER SHAFT > REMOVAL
2.
Using Special tools C-3281 and 8992, remove the transmission output shaft nut and remove the flange (Fig. 1).
3.
Is your vehicle one of the following vehicle/engine configurations?
a.
Yes >>> Proceed to Step # 4.
b.
No >>> Proceed to Step # 5.
-
2005 LX 5.7L built prior to August 18, 2004?
-
2005 LX6.1L or WK 3.7L built prior to June 22, 2005?
-
2006 LX 3.5L built prior to June 22, 2005?
4.
Replace output flange with corresponding part number in Parts Table above.
5.
Clean the splines on the output shaft and the output flange and apply a thin coating of MOPAR Stud N' Bearing Mount Adhesive, p/n 04318031 or
equivalent, to the splines of the output flange.
6.
Install the flange and tighten the nut to 200 Nm (150 ft. lbs.).
7.
Stake the nut using 9078 staking tool and C-4171 drive handle.
8.
Install propeller shaft: refer to the detailed installation procedures available in DealerCONNECT > TechCONNECT under: Service Info > 3 - 
< PREV PAGE
NEXT PAGE >