< PREV PAGE
NEXT PAGE >
Commander 4WD V8-4.7L VIN N (2006)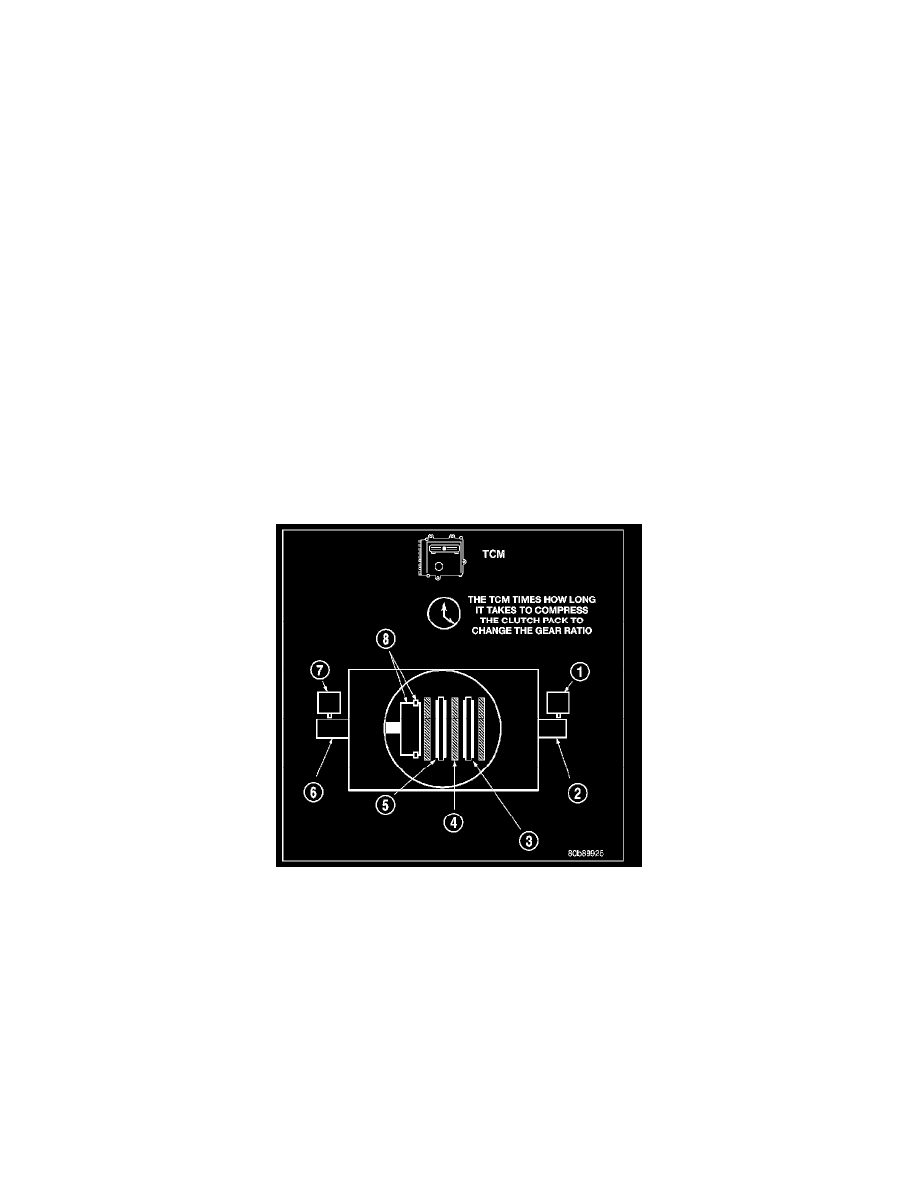 Some examples of TCM indirect outputs are:
-
Transmission Temperature (to PCM)
-
PRNDL Position (to BCM)
In addition to monitoring inputs and controlling outputs, the TCM has other important responsibilities and functions:
-
Storing and maintaining Clutch Volume Indexes (CVI)
-
Storing and selecting appropriate Shift Schedules
-
System self-diagnostics
-
Diagnostic capabilities (with scan tool)
NOTE:  If the TCM has been replaced, the "Quick Learn Procedure" must be performed.
BATTERY FEED
A fused, direct battery feed to the TCM is used for continuous power. This battery voltage is necessary to retain adaptive learn values in the TCM's
RAM (Random Access Memory). When the battery (B+) is disconnected, this memory is lost. When the battery (B+) is restored, this memory loss is
detected by the TCM and a Diagnostic Trouble Code (DTC) is set.
CLUTCH VOLUME INDEXES (CVI)
An important function of the TCM is to monitor Clutch Volume Indexes (CVI). CVIs represent the volume of fluid needed to compress a clutch pack.
The TCM monitors gear ratio changes by monitoring the Input and Output Speed Sensors. The Input, or Turbine Speed Sensor sends an electrical signal
to the TCM that represents input shaft rpm. The Output Speed Sensor provides the TCM with output shaft speed information.
By comparing the two inputs, the TCM can determine transmission gear position. This is important to the CVI calculation because the TCM determines
CVIs by monitoring how long it takes for a gear change to occur.
Gear ratios can be determined by using the DRBIII(R) Scan Tool and reading the Input/Output Speed Sensor values in the "Monitors" display. Gear ratio
can be obtained by dividing the Input Speed Sensor value by the Output Speed Sensor value.
The gear ratio changes as clutches are applied and released. By monitoring the length of time it takes for the gear ratio to change following a shift
request, the TCM can determine the volume of fluid used to apply or release a friction element.
The volume of transmission fluid needed to apply the friction elements are continuously updated for adaptive controls. As friction material wears, the
volume of fluid need to apply the element increases.
< PREV PAGE
NEXT PAGE >