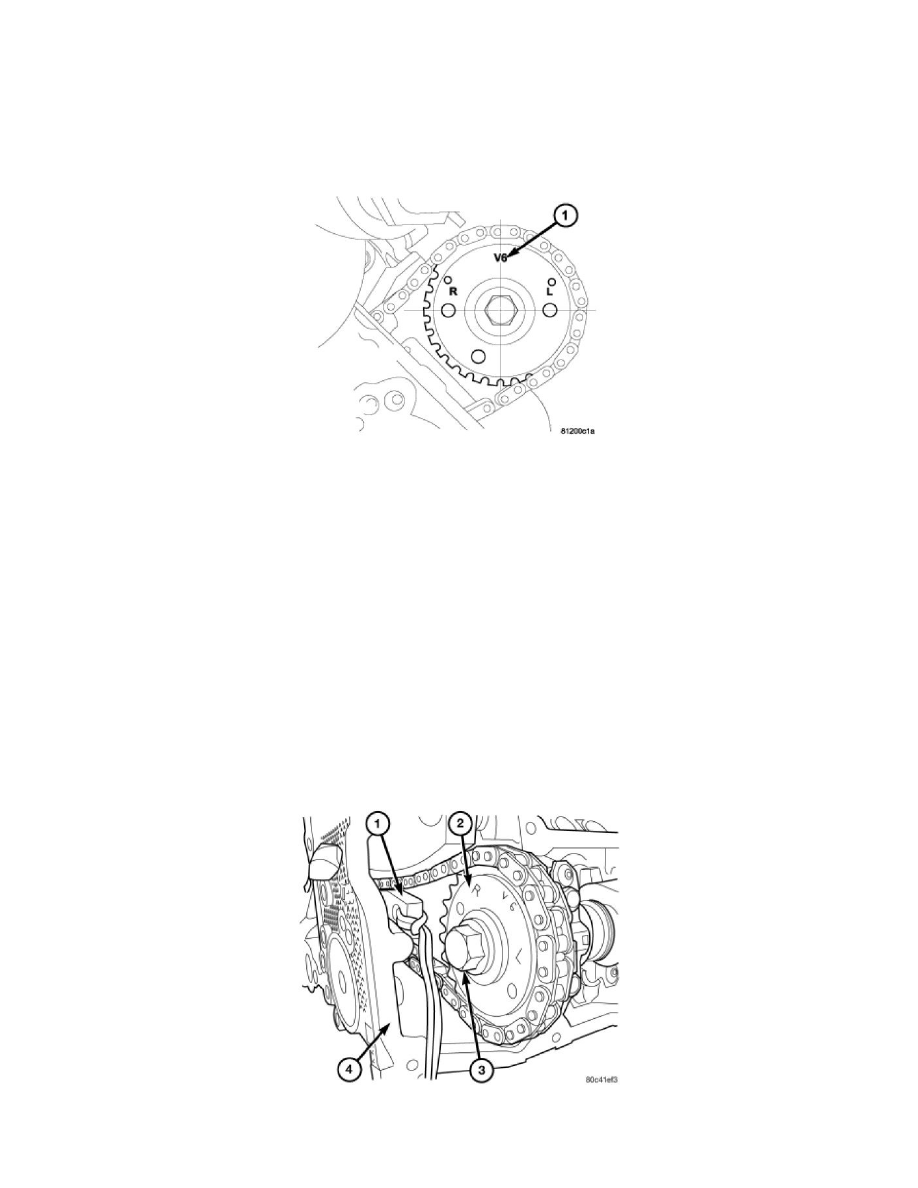 Camshaft: Service and Repair
Camshaft - Removal
Camshaft - Left
CAMSHAFT - LEFT
CAUTION: When the timing chain is removed and the cylinder heads are still installed, DO NOT forcefully rotate the camshafts or crankshaft
independently of each other. Severe valve and/or piston damage can occur.
CAUTION: When removing the cam sprocket, timing chains or camshaft, Failure to use Wedge Locking Tool 8379 will result in hydraulic
tensioner ratchet over extension, requiring timing chain cover removal to reset the tensioner ratchet.
1. Remove cylinder head coverSee: Cylinder Head Assembly/Valve Cover/Service and Repair/Cylinder Head Cover - Removal.
2. Set engine to TDC cylinder No. 1, camshaft sprocket V6 marks (1) at the 12 o'clock position.
3. Mark one link on the secondary timing chain on both sides of the V6 mark on the camshaft sprocket to aid in installation.
CAUTION: Do not hold or pry on the camshaft target wheel (Located on the right side camshaft sprocket) for any reason, Severe damage
will occur to the target wheel resulting in a vehicle no start condition.
4. Loosen but DO NOT remove the camshaft sprocket retaining bolt. Leave the bolt snug against the sprocket.
NOTE: The timing chain tensioners must be secured prior to removing the camshaft sprockets. Failure to secure tensioners will allow the
tensioners to extend, requiring timing chain cover removal in order to reset tensioners.
CAUTION: Do not force the wedge past the narrowest point between the chain strands. Damage to the tensioners may occur.
5. Position Wedge Locking Tool 8379 (1) between the timing chain strands, tap the tool to securely wedge the timing chain against the tensioner arm
and guide.