< PREV PAGE
NEXT PAGE >
Grand Cherokee 2WD V6-3.7L (2008)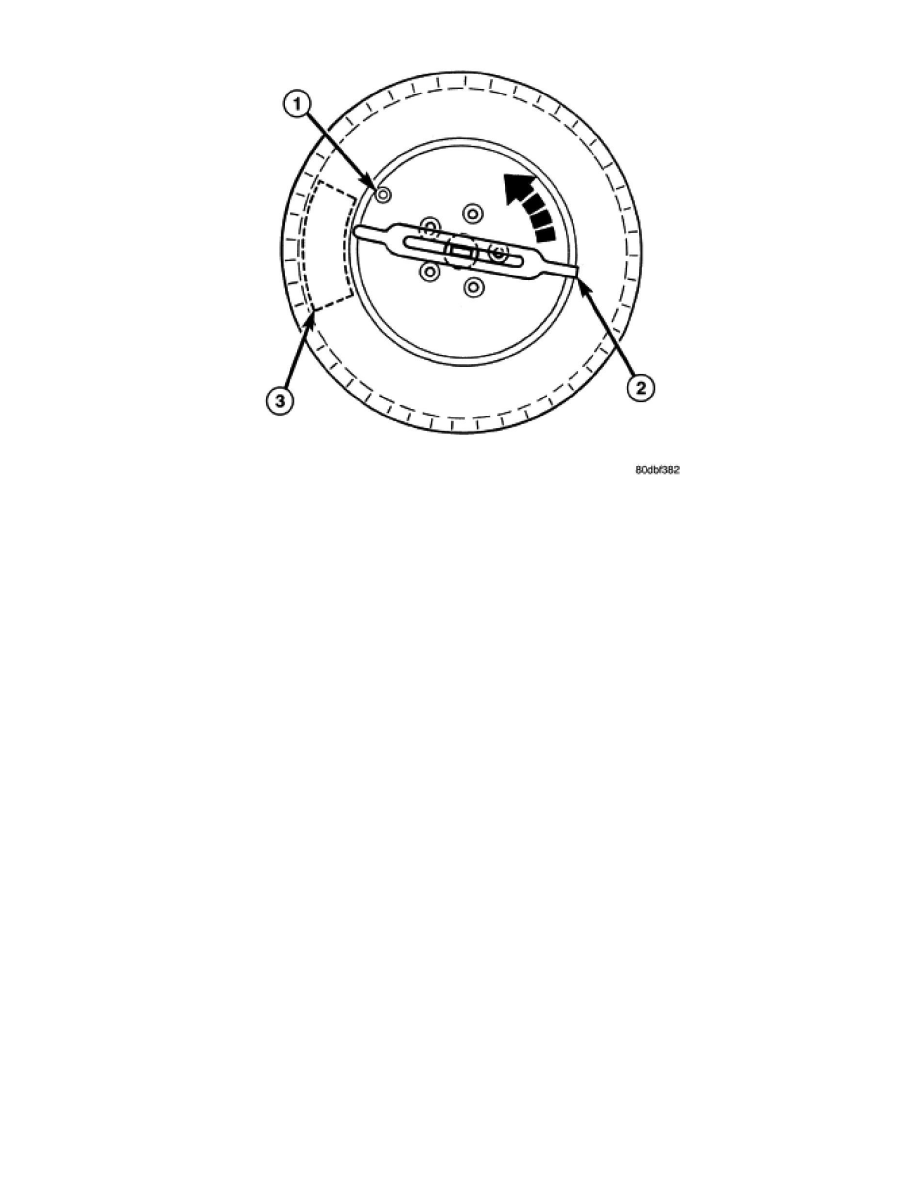 Rotating Tool Tire Changers - Position the wheel on the changer so that the sensor valve stem (1) is located approximately 180° clockwise from the
installation end of the mounting/dismounting tool (2) once the tool is mounted for tire installation. Make sure the sensor is clear of the lower bead
breaker area (3) to avoid damaging the sensor when the breaker rises. Rotate the tool (2) in a counterclockwise direction to mount the tire. Use this
procedure on both the upper and lower tire beads.
6. Adjust air pressure to that listed on Tire Inflation Pressure Label (Placard) provided with vehicle (usually applied to driver's side B-pillar). Make
sure original style  valve stem cap is securely installed to keep moisture out of sensor.
7. Install tire and wheel assembly on vehicle See: Service and Repair/Removal and Replacement.
8. Lower vehicle.
9. If the vehicle has been stationary for more then 20 minutes, drive the vehicle for a minimum of 10 minutes while maintaining a continuous speed
above 15 mph (24 km/h). During this time, the system will learn the new sensor ID.
NOTE: If a sensor cannot be trained, refer to appropriate diagnostic information.
SPARE TIRE SENSOR REPLACEMENT
NOTE: When the spare tire sensor is replaced on vehicles equipped with a Tire Pressure Monitoring System (TPMS) and a full-sized matching
spare tire and wheel assembly, a diagnostic scan tool MUST be used to run a routine that will program the new pressure sensor ID into the
Wireless Ignition Node (WIN), commonly referred to as the Wireless Control Module (WCM). Please copy the ID number off of the new
pressure sensor before installing it into the spare tire. Then follow the programming steps outlined in the diagnostic scan tool for: "Program
Spare Tire Sensor ID" under Miscellaneous Functions for the Wireless Ignition Node (WIN) menu item as appropriate. If a TPM-RKE
Analyzer special tool is available, put the new spare tire pressure sensor into "Park" mode. If a TPM-RKE Analyzer special tool is not
available, rotate the spare tire with one of the road tires.
< PREV PAGE
NEXT PAGE >