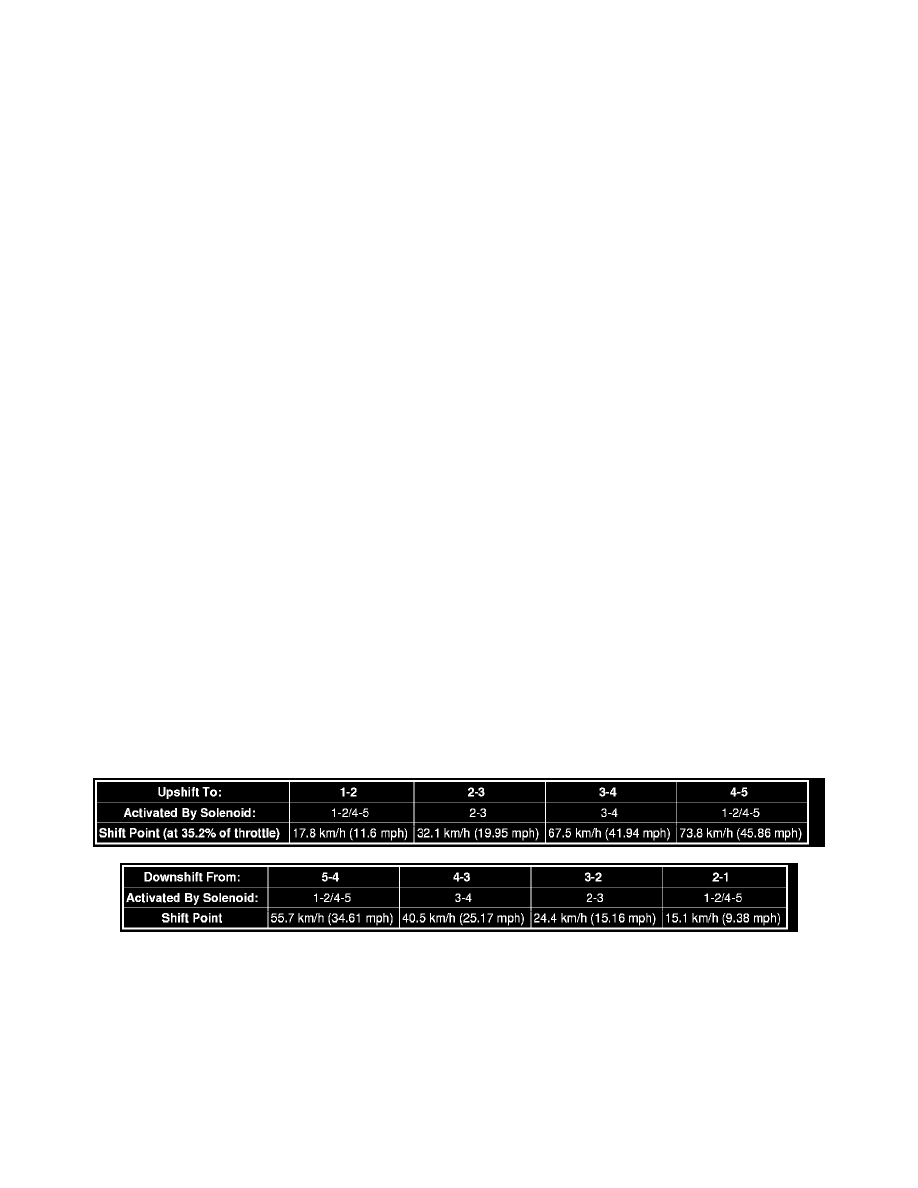 Starter Interlock
The TCM monitors a contact switch wired in series with the transmission temperature sensor to determine PARK and NEUTRAL positions. The contact
switch is open in PARK and NEUTRAL. The TCM senses transmission temperature as high (switch supply voltage), confirming switch status as open.
The TCM then broadcasts a message over CAN bus to confirm switch status. The PCM receives this information and allows operation of the starter
circuit.
N2 and N3 Speed Sensors
The N2 and N3 Input Speed Sensors are two Hall-effect speed sensors that are mounted internally in the transmission and are used by the TCM to
calculate the transmission's input speed. Since the input speed cannot be measured directly, two of the drive elements are measured. Two input speed
sensors were required because both drive elements are not active in all gears.
CAN C Bus Indirect Input Signals
A 2.5-volt bias (operating voltage) is present on the CAN C bus any time the ignition switch is in the RUN position. Both the TCM and the ABS apply
this bias. On this vehicle, the CAN C bus is used for module data exchange only. The indirect inputs used on the NAG1 electronic control system are:
-
Wheel Speed Sensors.
-
Transfer Case Switch Status.
-
Brake Switch.
-
Engine RPM.
-
Engine Temperature.
-
Cruise Control Status.
-
Gear Limit Request.
-
Throttle Position - 0% at idle, 100% at WOT. If open, TCM assumes idle (0% throttle opening).
-
Odometer Mileage
-
Maximum Effective Torque.
-
Engine in Limp-In Mode/Mileage Where DTC Was Set.
SHIFT SCHEDULES
The basic shift schedule includes up and downshifts for all five gears. The TCM adapts the shift program according to driving style, accelerator pedal
position and deviation of vehicle speed. Influencing factors are:
-
Road Conditions.
-
Incline, Decline and Altitude.
-
Trailer Operation, Loading.
-
Engine Coolant Temperature.
-
Cruise Control Operation.
-
Sporty Driving Style.
-
Low and High ATF Temperature.
DOWNSHIFT SAFETY
Selector lever downshifts are not performed if inadmissible high engine RPM is sensed.
ADAPTATION
To equalize tolerances and wear, an automatic adaptation takes place for:
-
Shift Time.
-
Clutch Filling Time.
-
Clutch Filling Pressure.