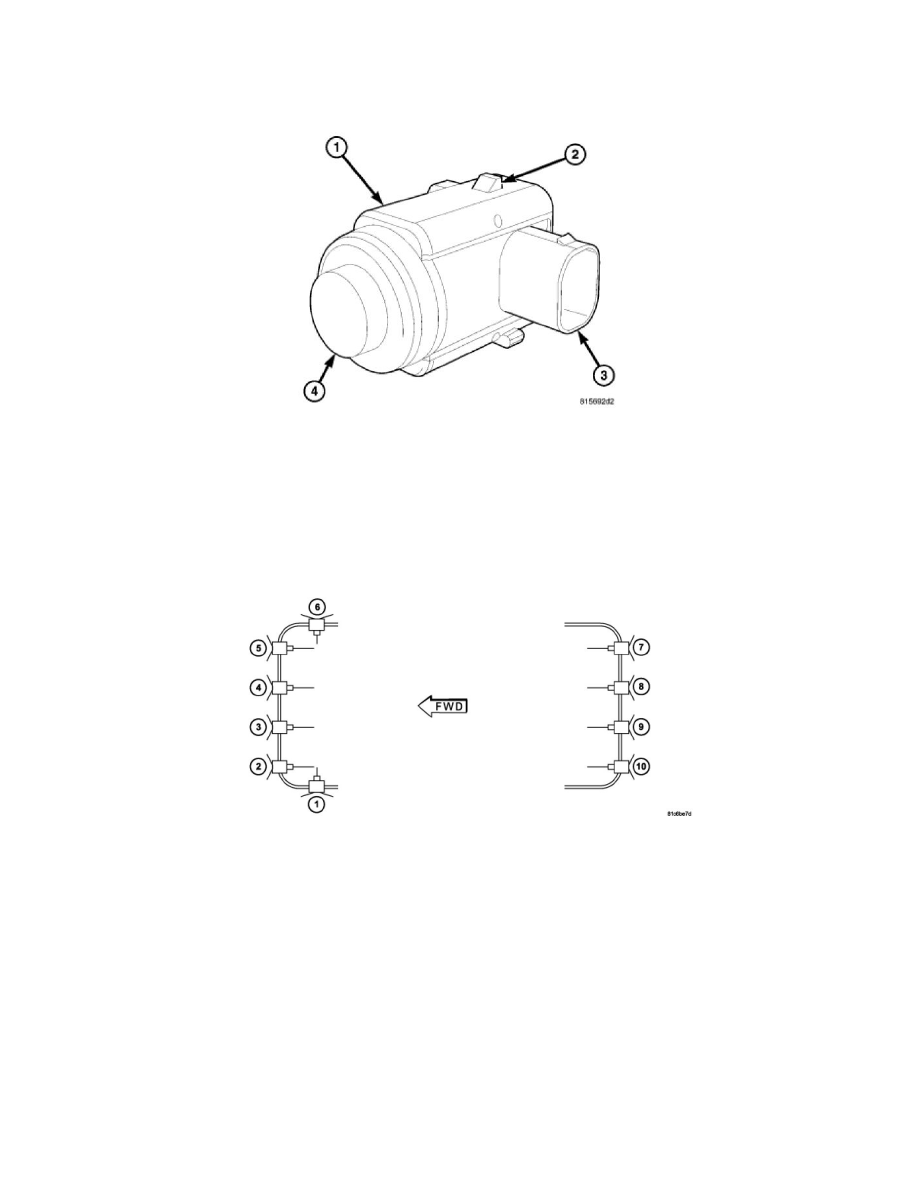 Parking Assist Distance Sensor: Description and Operation
Park Assist Sensor - Description
DESCRIPTION
Vehicles equipped with the rear park assist system have four park assist sensors (1) installed on the rear bumper fascia. Vehicles with the front park assist
system have six additional sensors installed on the front bumper fascia. Only the membrane (4) of each sensor is visible through a hole in the outer
vertical surface of the fascia. The remainder of each sensor including the sensor mounting bracket, the sensor spacer and the sensor wiring connection is
concealed behind the fascia. A sensor wire harness behind the fascia connects the sensors to the vehicle electrical system.
Each of the sensors is identical in construction and is interchangeable. The electronic circuitry and a communication chip for each sensor is enclosed and
protected within the molded black plastic sensor housing. The housing includes an integral connector receptacle (3) and two integral mounting tabs (2).
The sensor membrane extends from the surface of the sensor housing, and is either black or is finished to match the outer surface of the fascia or fascia
molding.
The numbering system for the park assist sensors allows for up to ten sensors on the vehicle, six front and four rear. The sensors are numbered in a
clockwise manner starting at the left front bumper. The left front sensor (if equipped with front park assist) is the number 1 sensor. The numbering
continues in a clockwise direction around the vehicle, so the left rear sensor is the number 10 sensor.
A resilient O-ring spacer around the circumference of the membrane isolates the membrane from the openings in the fascia or the fascia molding. Each
sensor is snapped into its own dedicated molded plastic mounting bracket. Each rear mounting bracket has integral mounting tabs that snap into openings
in the horizontal tabs of the molding that extend through slots to the back side of the rear fascia. The front mounting brackets are heat-staked to the back
side of the front fascia.
The park assist sensors cannot be adjusted or repaired. If ineffective or damaged they must be replaced. The sensors, the spacers and the four rear sensor
mounting brackets are each available for individual service replacement.