Intrusion Module - Description|Page 8 >
Patriot 4WD L4-2.4L (2009)
Relays and Modules
Relays and Modules - Accessories and Optional Equipment
Alarm Module, (Vehicle Antitheft)
Component Information
Description and Operation
Intrusion Module - Description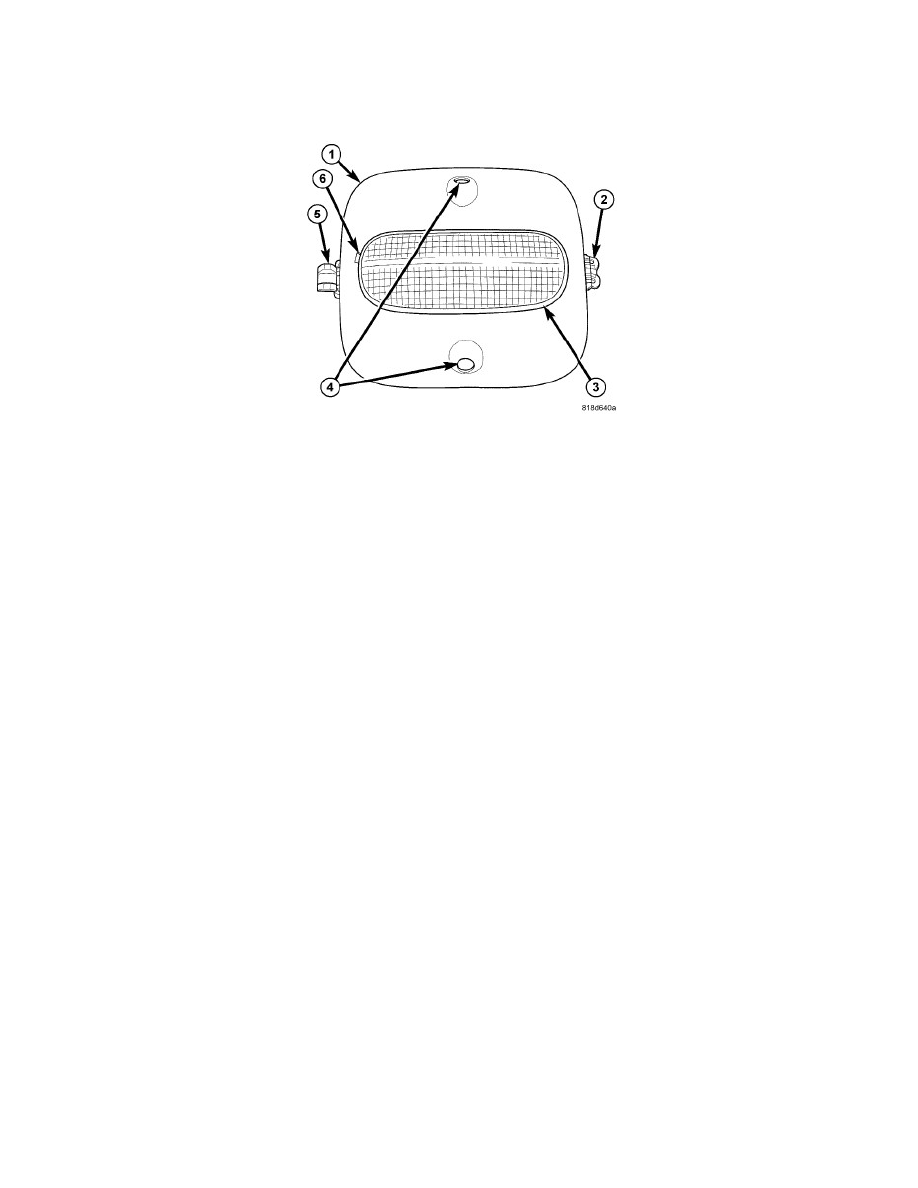 Alarm Module: Description and Operation
Intrusion Module - Description
DESCRIPTION
An Intrusion Transceiver Module (ITM) is part of the export premium version of the Vehicle Theft Alarm (VTA) in the Vehicle Theft Security System
(VTSS). The export premium version of the VTA is only available in vehicles built for certain markets, where the additional features offered by this
system are required. The ITM is integral to the rear dome lamp housing (1) located in the passenger compartment, on the lower surface of the headliner
near the center of the vehicle. The ITM is designed to provide interior motion detection, and serve as an interface between the ElectroMechanical
Instrument Cluster (EMIC) (also known as the Cab Compartment Node/CCN) and the alarm siren module.
The ITM is concealed within the dome lamp housing. Only the black grilled openings (4) for the ITM ultrasonic transmitter and receiver are visible on
the outside of the housing, one each ahead and behind the dome lamp lens (3). The entire module is secured to the headliner by a fixed retainer (5)
integral to the left side of the housing and a hinged retainer (2) on the right side that is integral to the dome lamp lens. A notch (6) in the housing at the
left edge of the lens affords access for service removal.
Concealed within the housing is the electronic circuitry of the ITM which includes a microprocessor, and the ultrasonic transmit and receive transducers.
A molded plastic connector receptacle on the circuit board is connected to the vehicle electrical system by a dedicated take out and connector of the
headliner wire harness that is integral to the headliner.
The ITM unit cannot be adjusted or repaired and, if ineffective or damaged, it must be replaced. The dome lamp lens and bulb are available for separate
service replacement.
Relays and Modules
Relays and Modules - Accessories and Optional Equipment
Alarm Module, (Vehicle Antitheft)
Component Information
Description and Operation
Intrusion Module - Description
Intrusion Module - Description|Page 8 >