< PREV PAGE
NEXT PAGE >
TD5 Defender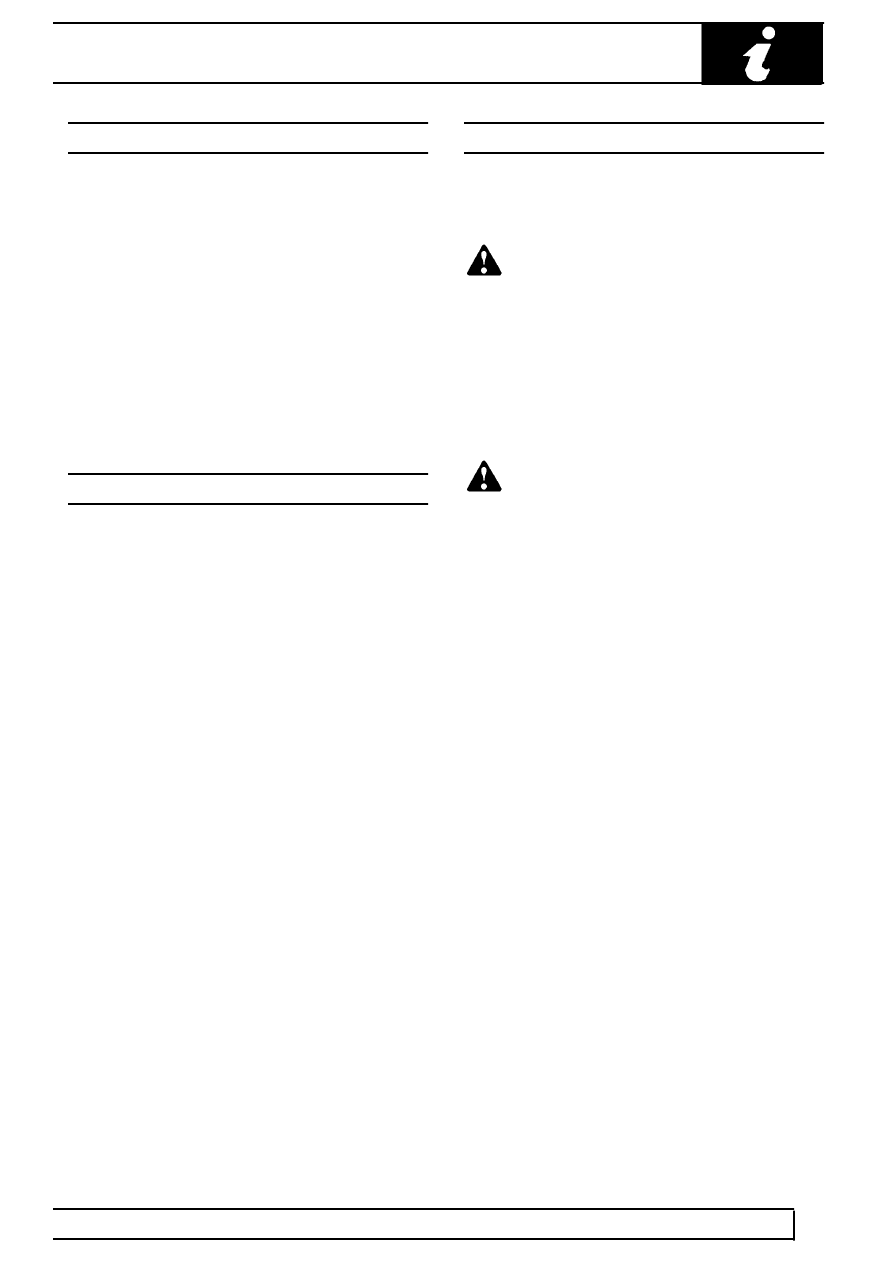 GENERAL FITTING REMINDERS
1
INFORMATION
GENERAL FITTING REMINDERS
WORKSHOP SAFETY IS YOUR RESPONSIBILITY!
The suggestions, cautions and warnings in the
section are intended to serve as reminders for
trained and experienced mechanics. This manual
is not a definitive guide to automotive mechanics
or workshop safety.
Shop equipment, shop environment, and the use
and disposal of solvents, fluids, and chemicals
are subject to government regulations which are
intended to provide a level of safety. It is your
responsibility to know and comply with such
regulations.
PRECAUTIONS AGAINST DAMAGE
1. Always fit covers to protect fenders before
commencing work in engine compartment.
2. Cover seats and carpets, wear clean overalls
and wash hands or wear gloves before working
inside vehicle.
3. Avoid spilling hydraulic fluid or battery acid on
paint work. Wash off with water immediately if
this occurs. Use Polythene sheets to protect
carpets and seats.
4. Always use a recommended Service Tool where
specified.
5. Protect temporarily exposed screw threads by
replacing nuts or fitting plastic caps.
SAFETY PRECAUTIONS
1. Whenever possible, use a lift when working
beneath vehicle, in preference to jacking. Chock
wheels as well as applying parking brake.
WARNING: Do not use a pit when
removing fuel system components.
2. Never rely on a jack alone to support vehicle.
Use axle stands carefully placed at jacking
points to provide rigid support.
3. Ensure that a suitable form of fire extinguisher is
conveniently located.
4. Check that any lifting equipment used has
adequate capacity and is fully serviceable.
5. Disconnect battery.
WARNING: Do not disconnect any pipes in
air conditioning system, unless trained
and instructed to do so. A refrigerant is
used which can cause blindness if allowed to
contact eyes.
6. Ensure that adequate ventilation is provided
when volatile degreasing agents are being used.
7. Do not apply heat in an attempt to free stiff
fixings; as well as causing damage to protective
coatings, there is a risk of damage to electronic
equipment and brake linings from stray heat.
< PREV PAGE
NEXT PAGE >