< PREV PAGE
NEXT PAGE >
Discovery II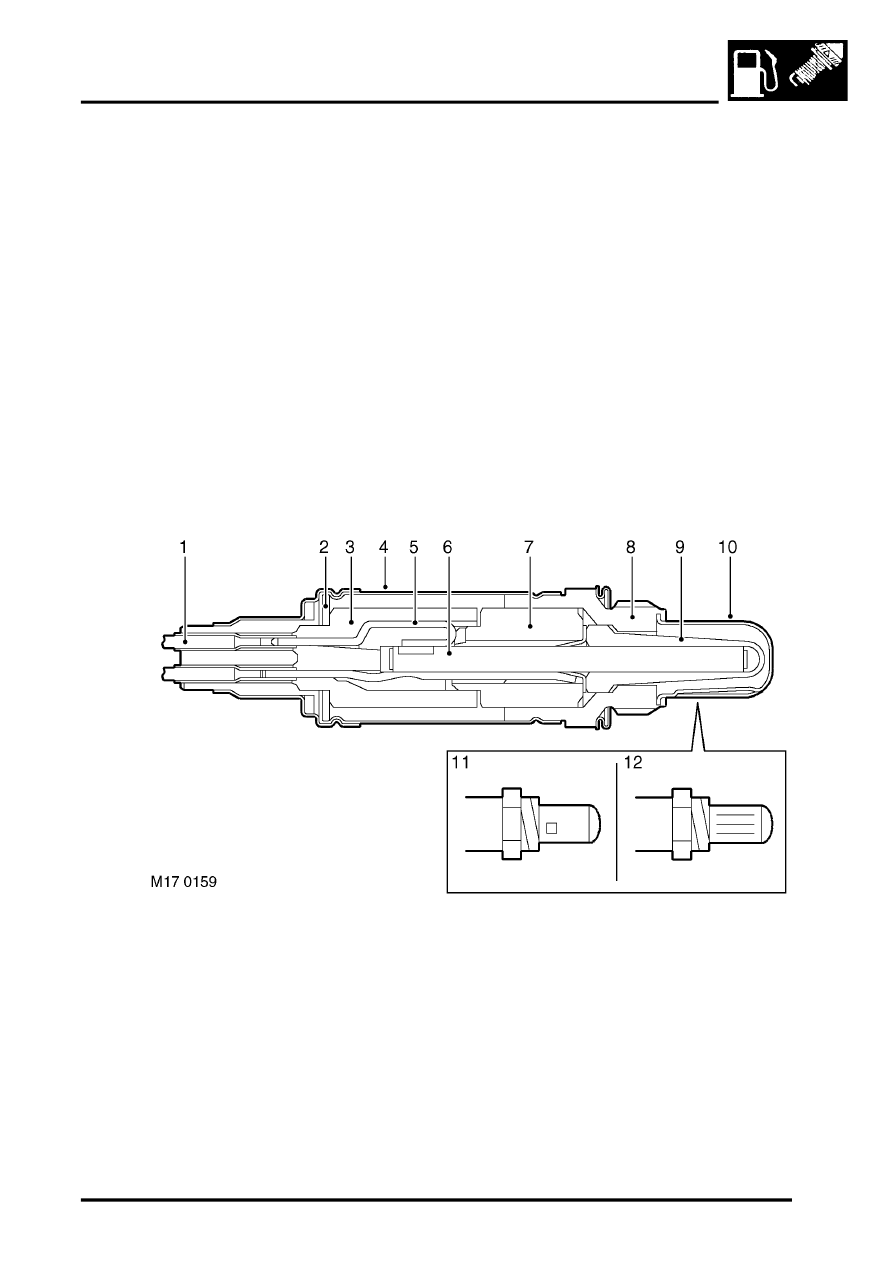 EMISSION CONTROL - V8
DESCRIPTION AND OPERATION 17-2-13
Catalytic converters for NAS low emission vehicles (LEVs) from 2000MY have active constituents of 
palladium and rhodium only. The active constituents are 14PD: 1Rh and the palladium coating is used to 
oxidise the carbon monoxide and hydrocarbons in the exhaust gas.
The metallic coating of platinum and palladium oxidize the carbon monoxide and hydrocarbons and convert them into 
water (H
2
O) and carbon dioxide (CO
2
). The coating of rhodium removes the oxygen from nitrogen oxide (NO
x
) and 
converts it into nitrogen (N
2
).
CAUTION: Catalytic converters contain ceramic material, which is very fragile. Avoid heavy impacts on the 
converter casing.
Downstream of the catalytic converters, the exhaust front pipes merge into a single pipe terminating at a flange joint 
which connects to the exhaust intermediate pipe. 
WARNING: To prevent personal injury from a hot exhaust system, do not attempt to disconnect any 
components until the exhaust system has cooled down.
CAUTION: Serious damage to the catalytic converter will occur if leaded fuel is used. The fuel tank filler neck 
is designed to accommodate only unleaded fuel pump nozzles.
CAUTION: Serious damage to the engine may occur if a lower octane number fuel than recommended is used. 
Serious damage to the catalytic converter will occur if leaded fuel is used.
Heated Oxygen Sensor (HO2S)
1 Connection cable
2 Disc spring
3 Ceramic support tube
4 Protective sleeve
5 Clamp connection for heating element
6 Heating element
7 Contact element
8 Sensor housing
9 Active sensor ceramic
10 Protective tube
11 Post-catalytic converter sensor 
NAS spec. only)
12 Pre-catalytic converter sensor
The heated oxygen sensor is an integral part of the exhaust emission control system and is used in conjunction with 
the catalytic converters and the engine management control unit to ensure that the air:fuel mixture ratio stays around 
the stoichiometric point of 
λ
 = 1, where the catalytic converters are most effective. Combinations of four (NAS only) 
or two heated lambda sensors are used in the exhaust system dependent on market legislation.
< PREV PAGE
NEXT PAGE >