< PREV PAGE
NEXT PAGE >
300Tdi Discovery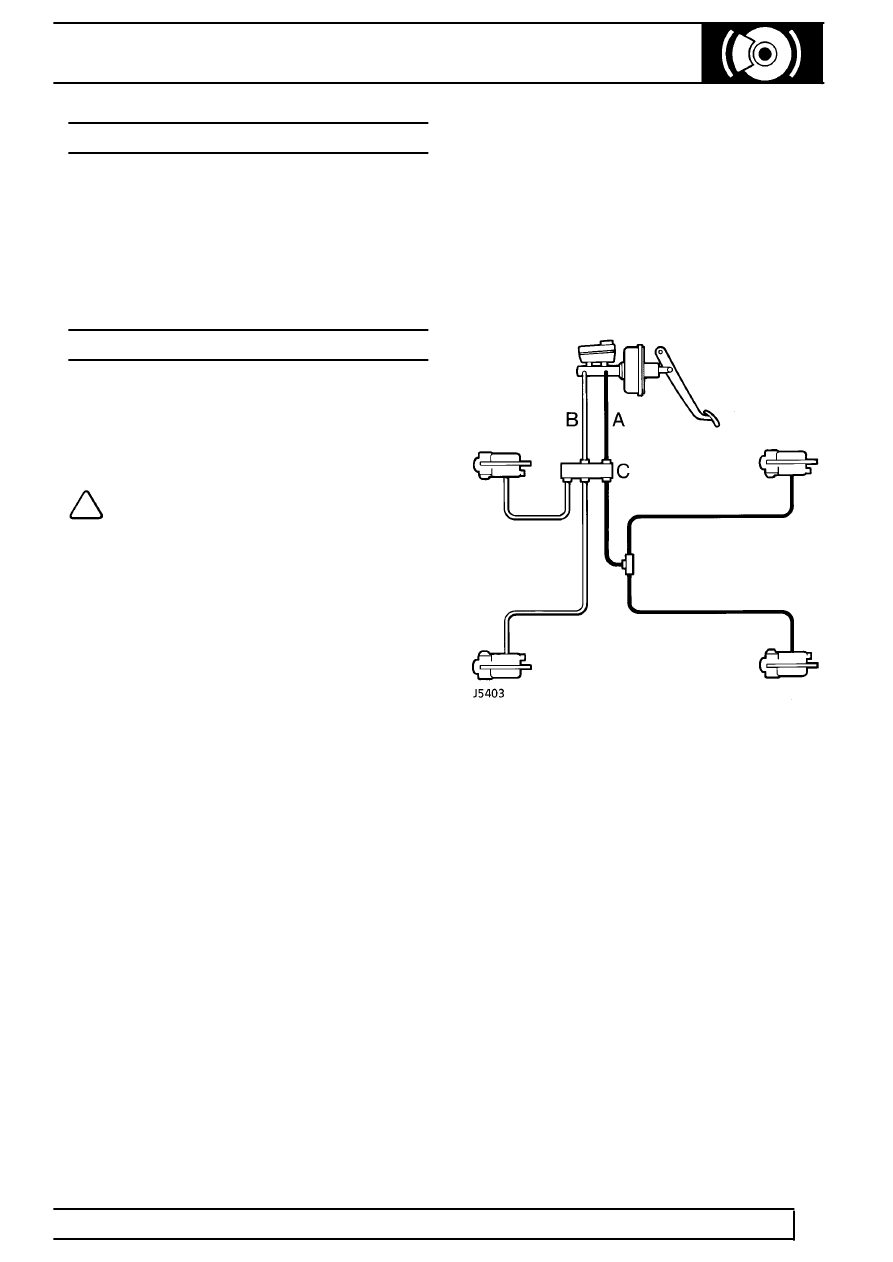 BRAKES
1
DESCRIPTION AND OPERATION
BRAKES
Discovery vehicles have servo assisted brake
systems and the option of an anti-lock brake system.
Information in this section refers to components
relevant to both brake systems. Where the system
components are different they are referred to as ABS
or NON ABS
BRAKE SYSTEM NON ABS
Description
The servo assisted hydraulic braking system is the
dual line type, incorporating primary and secondary
hydraulic circuits.
NOTE: References made to primary or
secondary do not imply main service
brakes or emergency brakes but denote
hydraulic line identification.
The brake pedal is connected to a vacuum assisted
mechanical servo which in turn operates a tandem
master cylinder. The front disc brake calipers each
house four pistons, these pistons are fed by the
secondary hydraulic circuit. The rear disc brake
calipers each house two pistons, these are fed by the
primary hydraulic circuit via a pressure reducing valve.
A brake fluid level switch is incorporated into the
reservoir cap assembly, the switch will immediately
illuminate a warning light in the instrument binnacle
indicating low fluid or sudden fluid loss.
The brake fluid reservoir is divided, the section closest
to the servo feeds the primary circuit and the section
furthest from the servo feeds the secondary circuit.
Under normal operating conditions both the primary
and secondary circuits operate simultaneously on
brake pedal application. In the event of a failure in the
primary circuit the secondary circuit will still function. If
the secondary circuit fails the primary circuit will still
function. The brake pedal travel will be longer in the
event of a half system failure.
If the servo should fail, both hydraulic circuits will still
function but would require greater pedal effort due to
the lack of vacuum assistance. The hand operated
parking brake acts on a brake drum at the rear of the
transfer gearbox and is completely independent of the
hydraulic circuits.
Hydraulic circuit non ABS
Key
A = Primary hydraulic circuit
B = Secondary hydraulic circuit
C = Pressure reducing valve
< PREV PAGE
NEXT PAGE >