< PREV PAGE
NEXT PAGE >
L322 Range Rover System Description and Operation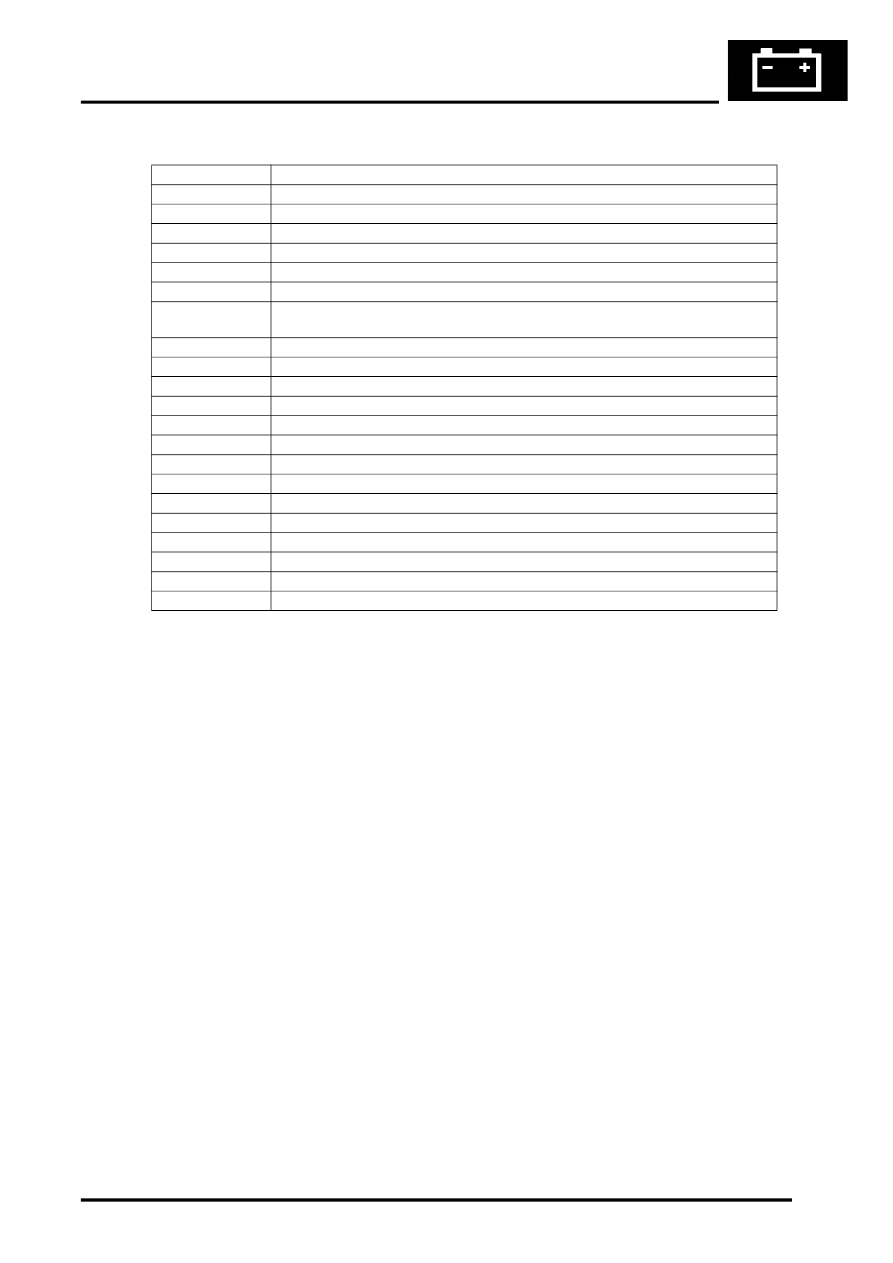 INSTRUMENTS
DESCRIPTION AND OPERATION
88-25
There are 21 test and reset functions available as shown in the following table:
Pressing the check control button moves the display to the next function in the sequence. When a selected function 
is reached, pressing the trip reset button enters the test function details.
All test functions, with the exception of tests No's. 1 and 2, are locked after the instrument pack is reset and must be 
unlocked using test No. 19. This locking feature is intended to make instrument pack test functions difficult for 
unauthorised persons to access. Refer to function test No. 19 for further details.
Once in the test function, scrolling through the tests sequentially is performed by pressing the check control button on 
the instrument pack. When a locked test function is encountered, pressing the trip reset button displays test No. 19 
LOCK : ON to allow quick unlocking of the function.
In all markets, the text displayed in the message centre for the test functions is in German only.
The instrument pack test can be exited by turning the ignition off or by holding the check control button depressed for 
more than 2.5 seconds.
Test Function No.1 – Instrument Pack Identification
l
Test function 1 is not locked and can be accessed immediately. Pressing the trip reset button scrolls through the 
following individual information relating to instrument pack identification.
l
'FGNSTNR: AB12345' – Vehicle Identification Number (VIN).
l
'K: 4571' – Speedometer K Index (displayed in pulses per km or mile).
l
'BMWTNR: 8373541' – Instrument pack identification number.
l
'CI: 10 DI: 03 BI: 07' – Coding, diagnostics and bus index reference numbers.
l
'DAT: 47/01:' – Date of manufacture week/year.
l
'HW: 03 SW: 500/500' – Hardware/Software numbers.
l
'ZYL: 6 M:3 S: 425' – Engine data (cylinders, engine factor, fuel supply system slope).
l
'CAN: 01 AEND:23' – CAN and change index.
Test Number
Function Description
01
Instrument pack identification
02
System test
03
Service interval indicator data
04
Momentary fuel consumption values - l/100km and l/hour
05
Range consumption and range momentary value
06
Tank content values and display value
07
Momentary values for engine coolant temperature, engine speed and ambient 
temperature
08
Momentary values for effective and displayed speed in km/h
09
Battery voltage supply to instrument pack display in volts
10
Read country code
11
Read units display for on-board computer, clock and ambient temperature
12
Average speed for arrival time calculation and momentary arrival value
13
Activation of the chime signals
14
Read self diagnostic error bytes
15
Display of input/output port status
16
Momentary value for engine oil temperature in 
°
C
17
Minute counter for last radio controlled clock reception
18
Dimming parameters
19
Locking and unlocking of test functions
20
Entry of a correction factor for fuel consumption
21
Instrument pack reset
< PREV PAGE
NEXT PAGE >