< PREV PAGE
NEXT PAGE >
LR2 (LF) L6-3.2L (2008)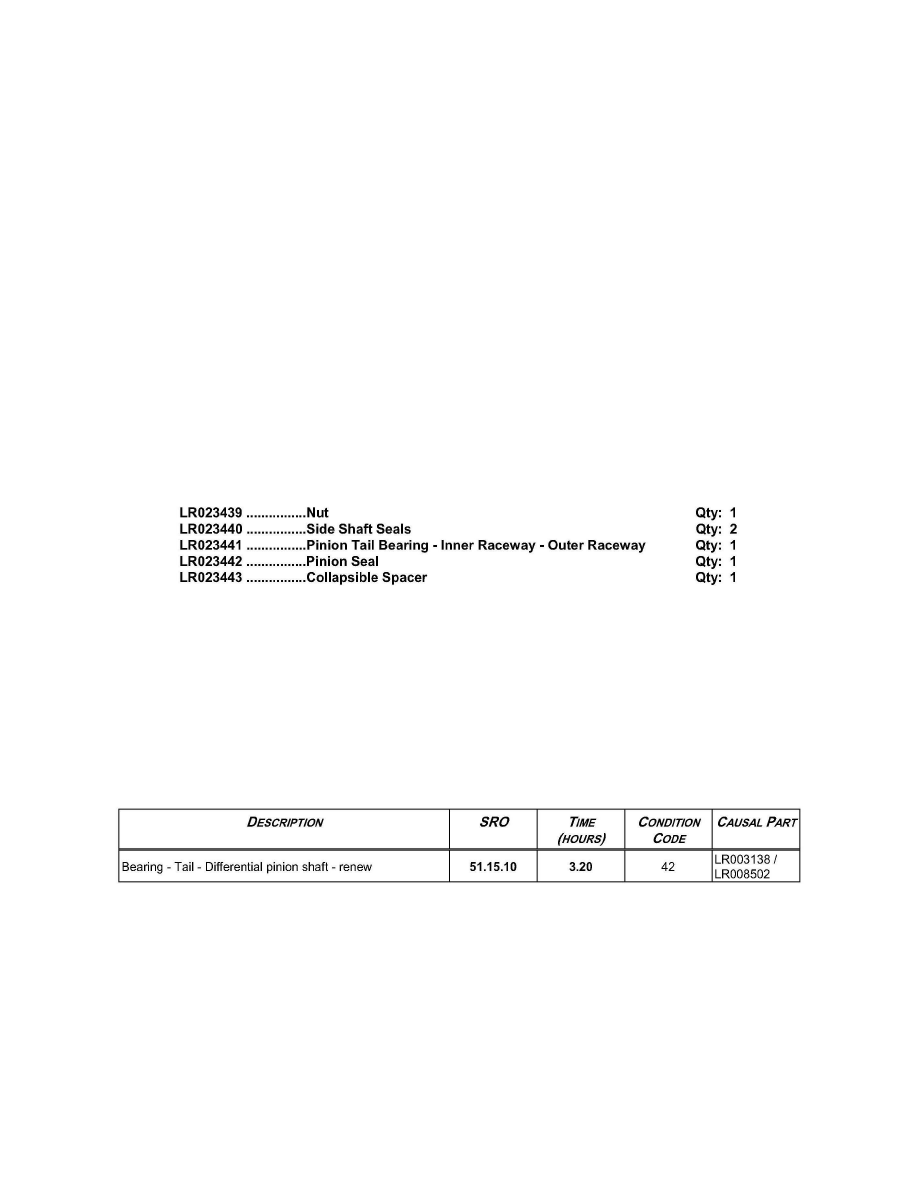 Pinion Bearing: Technical Service Bulletins
Drivetrain - Rear Differential Service Repair Info.
No: LTB00342 (ISSUE 1)
18 FEB 2011
SECTION: 205
Rear Differential - Lower Level Service Repair
AFFECTED VEHICLE RANGE:
LR2 (LF)
VIN: 8H000212 - Onwards
Model Year: 2008 - Onwards
CONDITION SUMMARY:
Situation:
A lower level service repair is now available in the event of certain rear differential concerns; such as excessive humming noise, rumble, or a
high-pitched whine. This may be caused by deterioration of the pinion tail bearing. It is no longer necessary to replace the complete rear differential
assembly.
Action:
In the event of a customer concern of the above, refer to the Repair Procedure outlined below to replace the rear differential pinion tail bearing.
PARTS:
TOOLS:
Refer to Workshop Manual for any required special tools
WARRANTY:
NOTE:
Repair procedures are under constant review, and therefore times are subject to change; those quoted here must be taken as guidance only.
Always refer to DDW to obtain the latest repair time.
DDW requires the use of causal part numbers. Labor only claims must show the causal part number with a quantity of zero.
Normal Warranty policies and procedures apply
REPAIR PROCEDURE
REPLACE REAR DIFFERENTIAL PINION TAIL BEARING
1. Refer to Workshop Manual, section 205-02: Rear Drive Axle / Differential, and replace the rear differential pinion tail bearing.
< PREV PAGE
NEXT PAGE >