< PREV PAGE
NEXT PAGE >
LR3 (LA) V8-4394cc 4.4L (2005)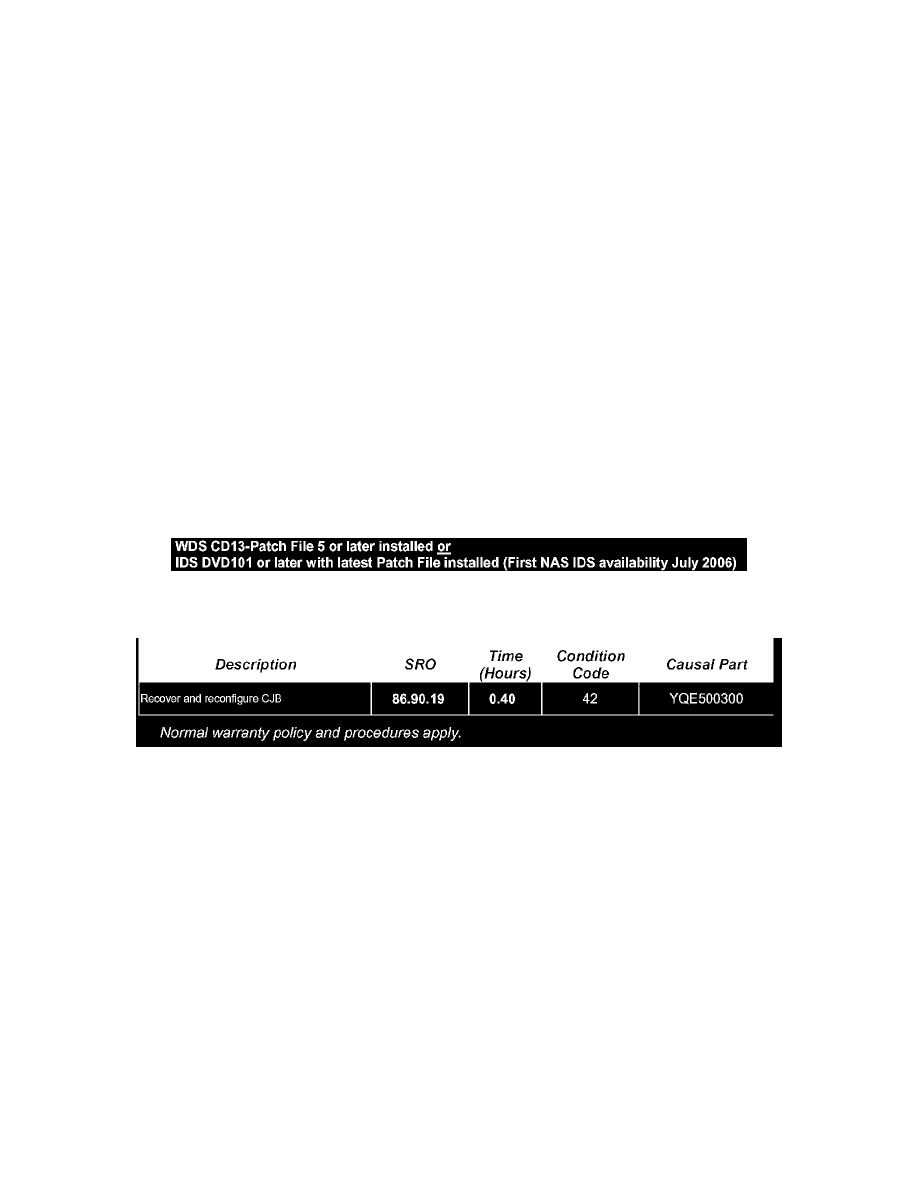 Body Control Module: All Technical Service Bulletins
Body Control Module - Aborted CJB Software Update
No.: LA418-002
Issue: 1
Date: July 03, 2006
SECTION: 418-00
Recovery from Aborted CJB Software Update
AFFECTED VEHICLE RANGE:
LR3 (LA)
VIN: 5A000360 onwards
CONDITION SUMMARY:
Situation: 
This bulletin is being issued to provide a procedure to recover from a failed control module software update and prevent the need to replace the Central
Junction Box (CJB).
When replacing or updating a CJB it is necessary to update the control module software. During software update it is possible for the CJB to become
locked and rendered unusable if the battery voltage drops below the required level or the diagnostic connection is mistakenly disconnected.
Action: 
Should a control module software update failure occur in relation to the CJB, refer to the Repair Procedure detailed in this bulletin to restore
communication to the CJB and complete the software update.
TOOLS 
      
WARRANTY:
NOTE:
Repair procedures are under constant review, and therefore times are subject to change; those quoted here must be taken as guidance only. Always
refer to DDW to obtain the latest repair time.
DDW requires the use of causal part numbers. Labor only claims must show the causal part number with a quantity of zero.
REPAIR PROCEDURE
RESTORE COMMUNICATION TO CJB AND COMPLETE SOFTWARE UPDATE
1.
Ensure the CJB (containing the failed download) is installed to the vehicle and all electrical connectors are in place.
CAUTION:
A Midtronics PSC-550 Vehicle Power Supply must be connected to the vehicle battery during diagnosis and module configuration.
The diagnostic lead must be correctly secured to prevent accidental disconnection during the software update.
2.
Connect the Midtronics PSC-550 power supply to the vehicle battery.
3.
Connect diagnostic equipment to the vehicle and begin a WDS or IDS session.
< PREV PAGE
NEXT PAGE >