< PREV PAGE
NEXT PAGE >
LR3 (LA) V8-4394cc 4.4L (2005)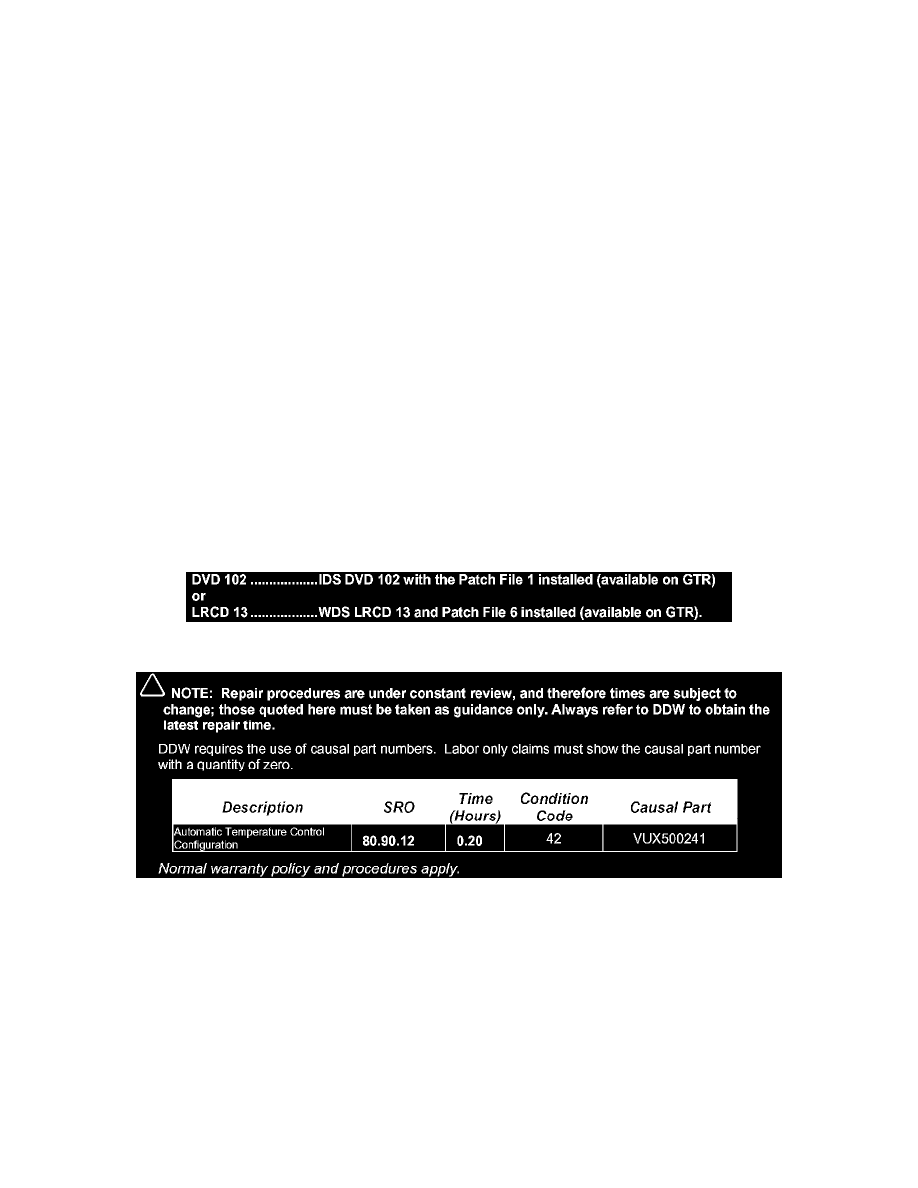 Control Module HVAC: All Technical Service Bulletins
A/C - 'Temperature' Messages Displayed
No.: LA415-005
Issue: 1
Date: August 15, 2006
SECTION: 415-00 - AUDIO SYSTEM
Infotainment 'Temperature' Message(s) Displayed
AFFECTED VEHICLE RANGE:
LR3 (LA)
VIN: ALL
CONDITION SUMMARY:
Situation: 
A customer may report a concern that a message 'temperature shutdown', 'CD over temperature' or 'system over temperature' is displayed by the
infotainment system and that the unit no longer functions.
If a high heating system temperature is selected in combination with a low fan speed, the temperature build up in the central area behind the center dash
can lead to the infotainment system shutting itself down to protect the electrical circuits. This is a feature for the protection of the system.
Action: 
New heating system control software has been developed to redistribute the airflow at these settings to avoid this problem. Should a customer express
concern regarding the above, refer to the Service Procedure detailed in this bulletin to update the control software to the latest configuration.
TOOLS
WARRANTY
REPAIR PROCEDURE
DOWNLOAD LATEST HEATING AND VENTILATION SOFTWARE TUNE
1.
If WDS CD13 (Patch File 6 or later) or IDS DVD102 (Patch File 1 or later) is installed and being used, go to step 6.
NOTE:
A software patch installation help file located on GTR provides instructions for the patch file installation process and could take up to six
minutes to download depending on connection speed. For information on how to confirm that the patch file has been correctly installed onto
WDS/IDS, refer to the applicable Patch Process Help File located in GTR. Global Technical Reference (GTR) lookup sequence is as follows:
GTR Home > NAS > Diagnostics/LA - Discovery 3/LR3/2006 > Patch Files > "Patch Process Help File - T4WDS or Patch Process Help File -
IDS" link.
< PREV PAGE
NEXT PAGE >