< PREV PAGE
NEXT PAGE >
Range Rover (LM) V8-5.0L SC (2010)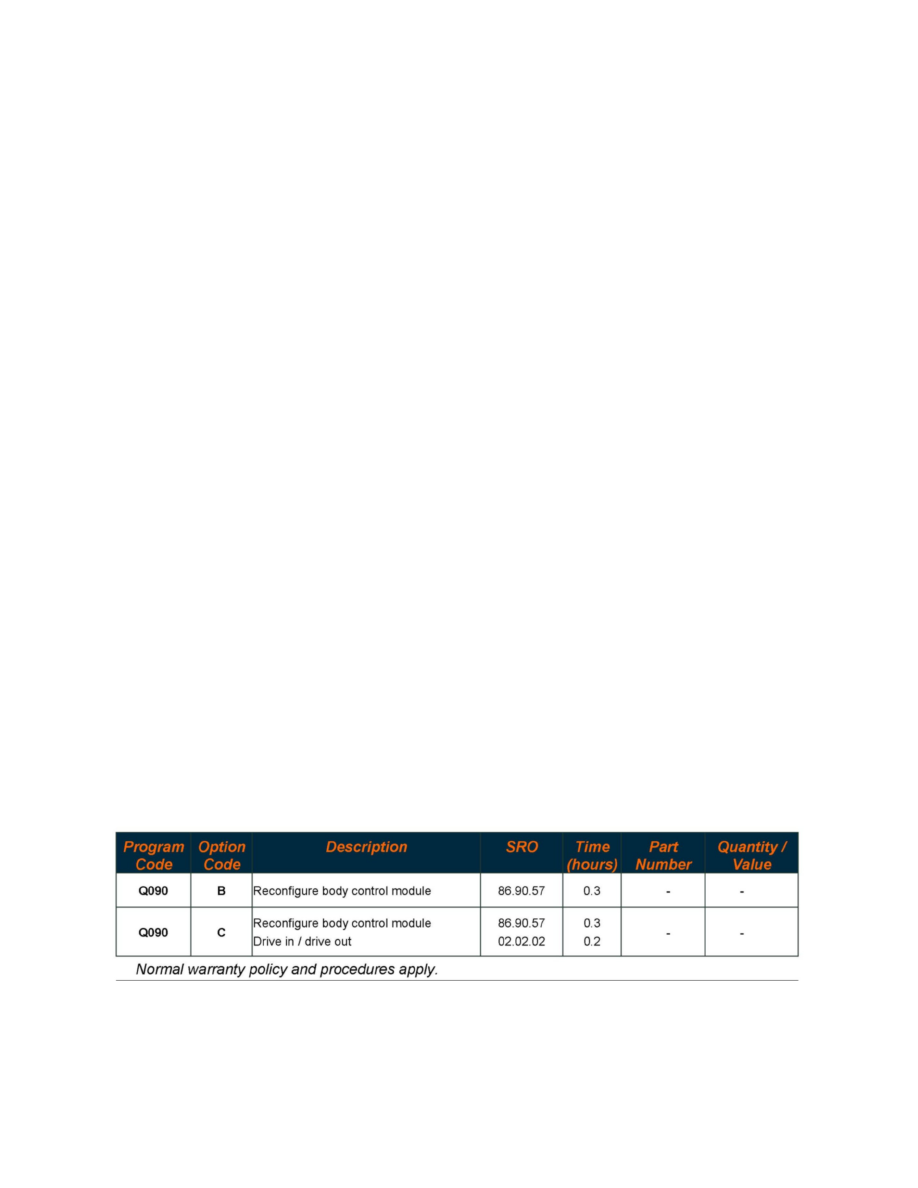 Body Control Module: Recalls
Campaign - Body Control Module Reconfiguration
No: Q090
Issue: 1
Date: 03 DEC 2009
THIS SERVICE ACTION IS VALID FOR A LIMITED TIME ONLY AND WILL EXPIRE 30 NOVEMBER 2011
SECTION: 418
SERVICE ACTION: Body Control Module Reconfiguration
AFFECTED VEHICLE RANGE:
Range Rover (LM)
VIN: AA302697 - AA317013
Model Year: 2010
CONDITION SUMMARY:
Situation: 
A limited number of 2010 model year Range Rover vehicles may experience a flat battery; this may lead to an engine no-start condition. If a door is
opened the vehicle electrical systems are powered for 15 minutes with an approximate 12 Amp current draw for this period. During certain scenarios
(such as loading / unloading the vehicle) the current drawn could deplete the battery to a level that cannot ensure an engine start. Example: if the battery
is at 60% capacity (State of Charge) and the vehicle loading / unloading period lasts one hour (opening and closing doors during this time), then it is
unlikely the engine will start.
Action: 
Retailers are required to HOLD all affected vehicles in the above VIN range that are in their control and refrain from releasing the vehicles for new or
used vehicle sale pending completion of the rework action detailed in this Technical Bulletin. Vehicles must not be released until successful
reconfiguration of the Body Control Module (BCM). Affected vehicles in the hands of owners should be repaired at the next available opportunity. At
the time of customer appointment, ensure that all outstanding service campaigns for each individual vehicle are identified and allocate sufficient time and
resources to complete all campaigns. For cars in Retailer inventory, this Service Action should be performed in conjunction with the vehicle
Pre-Delivery Inspection (PDI).
PARTS:
No parts necessary
TOOLS:
IDS with IDS-DVD119_V8.03 or later and Calibration File 20 or later
Midtronics PSC-550 Vehicle Power Supply
WARRANTY:
NOTE:
Always check DDW to verify that the vehicle is affected by this Service Action prior to undertaking any repairs. Repair procedures are under constant
review, and therefore times are subject to change; those quoted here must be taken as guidance only. Always refer to DDW to obtain the latest repair
time.
Warranty claims should be submitted quoting the Program Code 'Q090' together with the relevant Option Code. The Option Codes that contain drive in /
< PREV PAGE
NEXT PAGE >