< PREV PAGE
NEXT PAGE >
Range Rover (LM) V8-5.0L SC (2010)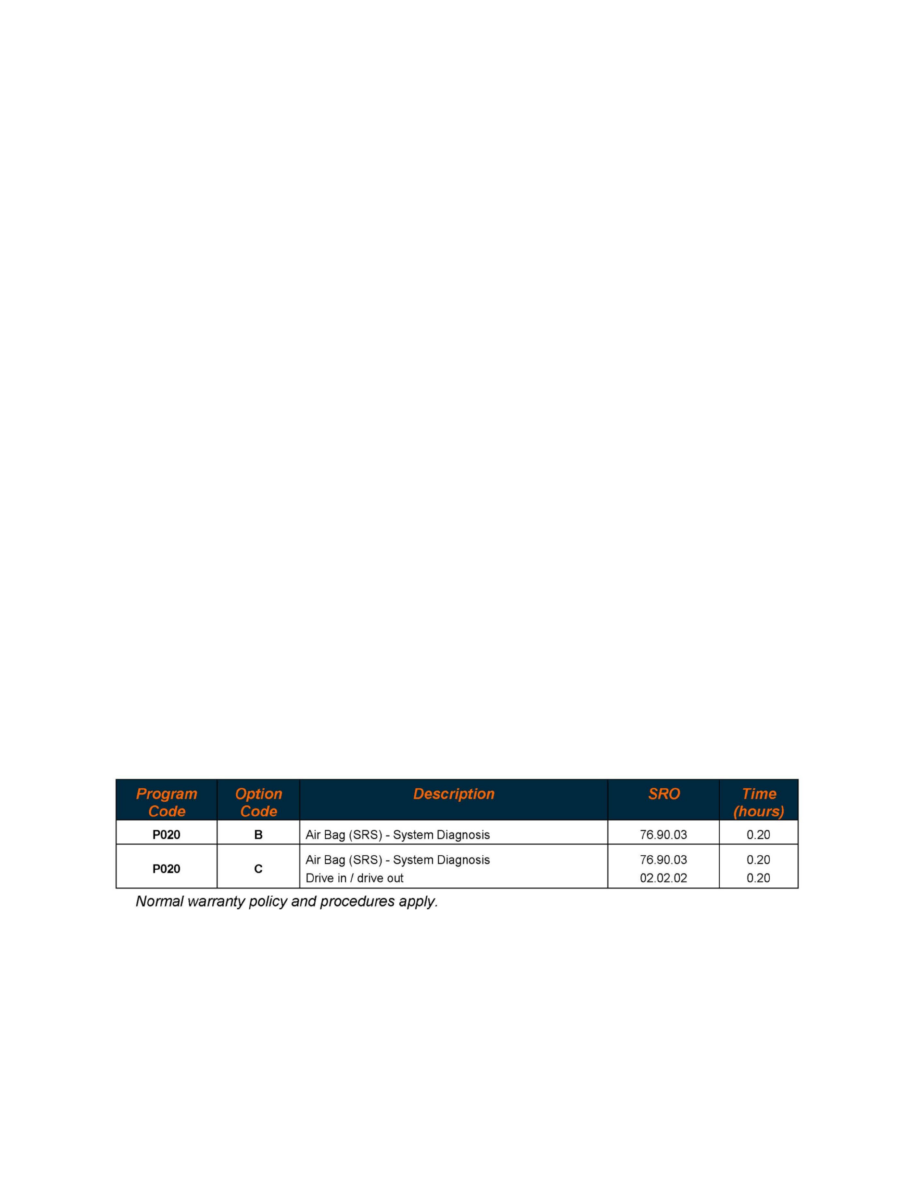 Air Bag Control Module: All Technical Service Bulletins
Recall - Restraint Control Module Software Update
No: P020
Issue: 1
Date: 23 DEC 2009
SECTION: 501
SAFETY RECALL: Supplementary Restraints System Warning Light
AFFECTED VEHICLE RANGE:
Range Rover (LM)
VIN: AA304426 - AA315894
Model Year: 2010
CONDITION SUMMARY:
Situation: 
A concern has been identified with the Supplementary Restraint System (SRS) passenger airbag which may be disabled as a result of a temporary loss of
communication through the High Speed Controller- Area Network (HS CAN) between the passenger Occupant Classification System (OCS) and
Restraints Control Module (RCM). The loss of communication will lead to Diagnostic Trouble Code (DTC) U0154-00 being set in the RCM along with
continuous illumination of the SRS warning lamp on the instrument cluster and the illumination of the 'Pass Air Bag Off' lamp in the overhead console.
The condition may clear on subsequent ignition cycles.
Action: 
Retailers are required to HOLD all affected new vehicles in your control and withhold them from onward distribution pending completion of the Repair
Procedure outlined below. Vehicles must not be released until successful reconfiguration of the Restraints Control Module (RCM). Affected vehicles in
the hands of owners should be repaired at the next available opportunity. At the time of customer appointment, ensure that all outstanding service
campaigns for each individual vehicle are identified and allocate sufficient time and resources to complete all campaigns. For cars in Retailer inventory,
this Recall action should be performed in conjunction with the vehicle Pre-Delivery Inspection (PDI).
PARTS:
No parts necessary
TOOLS:
IDS with IDS-DVD119_V8.06 or later and Calibration File 22 or later
Midtronics PSC-550 Vehicle Power Supply
WARRANTY:
NOTE:
Always check DDW to verify that the vehicle is affected by this Recall action or any other Service Action prior to undertaking any repairs as some
vehicles will have been repaired under Update Prior to Sale UPS4109-2b.
NOTE:
Repair procedures are under constant review, and therefore times are subject to change; those quoted here must be taken as guidance only. Always refer
to DDW to obtain the latest repair time.
Warranty claims should be submitted quoting the Program Code 'P020' together with the relevant Option Code. The Option Codes that contain drive in /
< PREV PAGE
NEXT PAGE >