< PREV PAGE
NEXT PAGE >
Range Rover (LP) V8-4.6L (2001)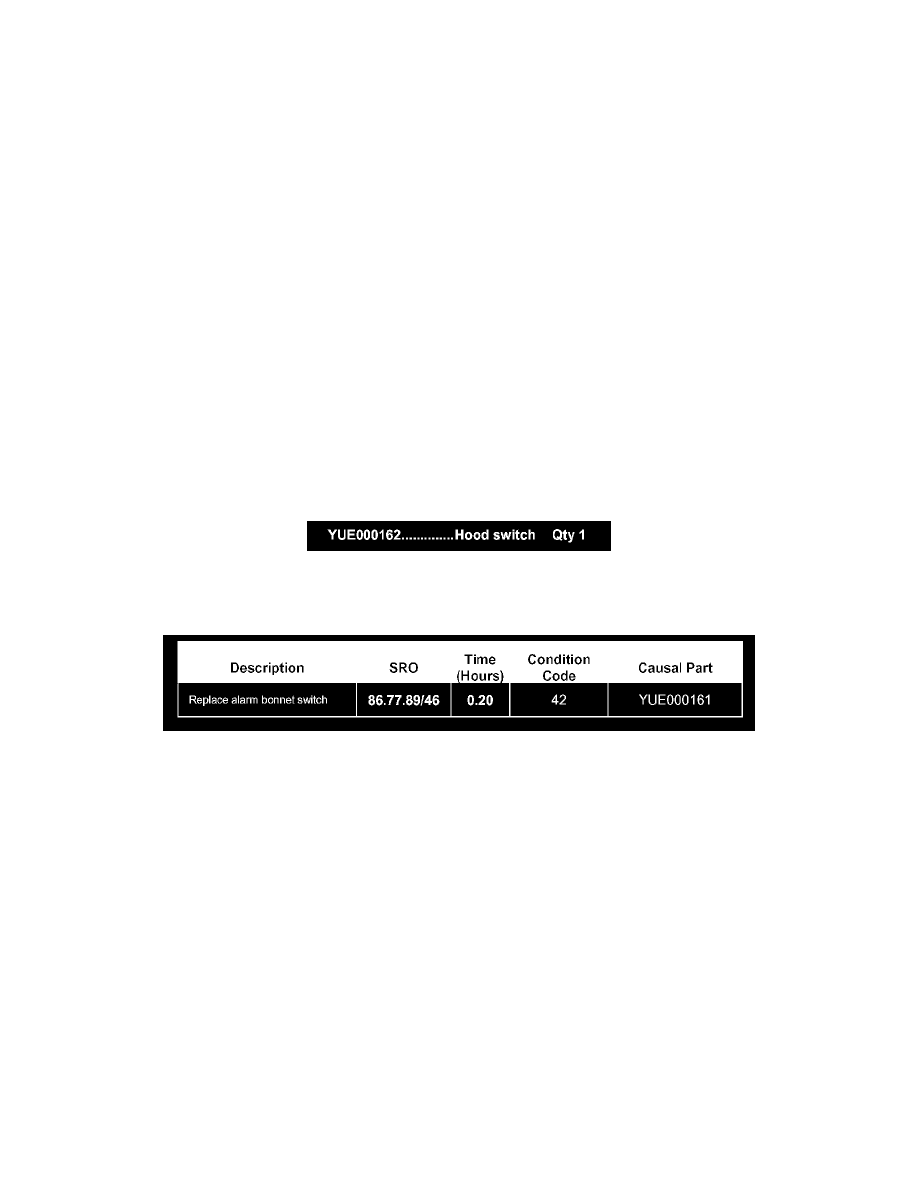 Hood Sensor/Switch (For Alarm): Customer Interest
Antitheft System - False Alarm/'Bonnet Open' Message
No: 86/08/04/NAS
FGN LM419
Ref:
Issue: 1
Date: 20 December 2004
Hood Alarm Switch Sensitivity
AFFECTED VEHICLE RANGE:
New Range Rover (LM)
All
SITUATION:
FALSE ALARM ACTIVATION AND/OR "BONNET OPEN" MESSAGE DISPLAYED
Build tolerances in the hood and hood switch can allow the switch contacts to close. This causes the alarm to see a hood-open condition that in turn
activates the vehicle security alarm. The customer may also see a "bonnet open" message displayed on the message center.
RESOLUTION:
INVESTIGATE HOOD SWITCH FUNCTION
Should a customer complain of unexplained alarm messages or activation, follow the procedure in this TIB to confirm that the hood switch triggered the
alarm activation. If indicated replace the switch.
PARTS INFORMATION:
DDW WARRANTY CLAIMS:
DDW requires the use of causal part numbers. Labor only claims must show the causal part number with a quantity of zero.
Normal warranty policy and procedures apply. 
Material allowance is included in labor operation.
REPAIR PROCEDURE
INVESTIGATE ALARM TRIGGER CAUSE AND REPLACE SWITCH IF INDICATED
NOTE:
The battery must be capable of maintaining a full charge during this process which is expected to take 15-18 minutes total.
1.
Verify the battery is fully charged (12.6 V or greater).
2.
Connect a battery charger set on a low amp current charge to maintain battery state during this process.
3.
Connect 14 to the vehicle and load disc "Range Rover 14" or a later version.
4.
Begin a new diagnostic session.
NOTE:
For each alarm trigger the following data is displayed:
< PREV PAGE
NEXT PAGE >