< PREV PAGE
NEXT PAGE >
CL 55 AMG (215.373) V8-5.5L (113.982) (2001)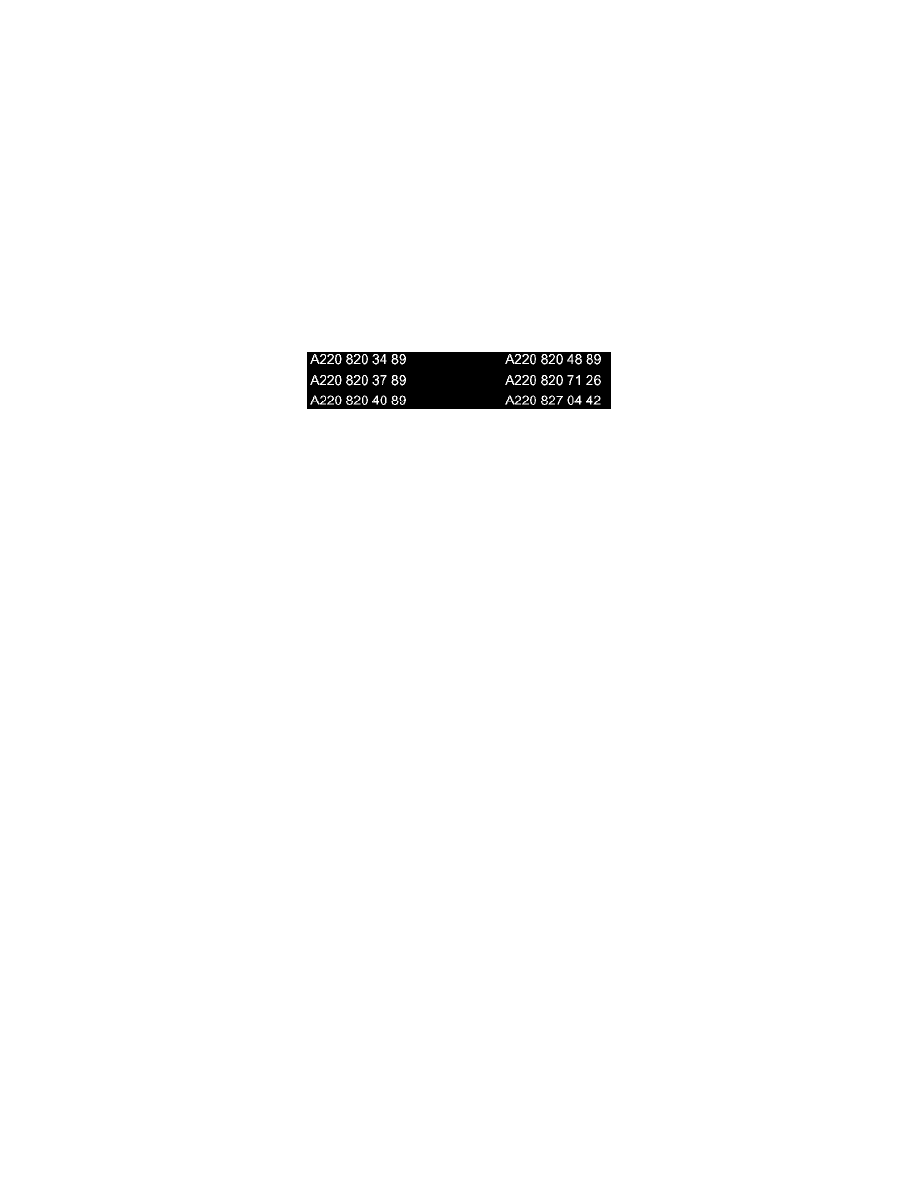 Navigation Module: All Technical Service Bulletins
COMAND(R) - Control Head Repeatedly Ejects CD's
Date: May 2, 2006
Order No.: P-B-82.85/497
Supersedes:
Group: 82
SUBJECT: 
Model 215.373/374/375/376/378 
Model 220.170/173/174/175/176/178/183/184
Model Year 2001 to 2003, Equipped with Bosch 2.5 COMAND
Head Unit Repeatedly Ejecting Navigation or Audio CDs/Message "Please load NAVI-CD model DX" Is Displayed on the Head Unit
If you receive customer reports in the above model vehicles (equipped with BOSCH COMAND 2.5) of the head unit repeatedly ejecting CDs, the head
unit software needs to be updated using COMAND Update CD S-2786-06A. This applies to the head unit part numbers shown and software version
23/03.
In certain cases, when the user ejects the Navigation CD version 2004 or 2004/2005 from the COMAND and then inserts an Audio CD, it may occur that
the COMAND keeps ejecting the CD and the following message "Please load NAVI-CD model DX" appears in the display. Turning the ignition OFF
then back ON allowing the D2B and CAN buses to sleep does not remedy this issue.
Follow the steps below to update COMAND 2.5 Software
Note:
Connect a battery charger and turn ignition, COMAND Head Unit and all consumers OFF and remove the key. The software update process
lasts about 50 minutes. Read over the procedure before starting to familiarize yourself with it.
1.
Press "PWR" to turn ON the COMAND unit and eject navigation CD-ROM (if installed)
2.
Press "PWR" to turn OFF the COMAND and wait a minimum of 15 seconds
3.
Press and hold both "*" and "#" keys, while continuing to hold the keys down, turn ON COMAND by pressing the PWR button
4.
Head unit will display the message - "Service Download from CD"
5.
Insert update CD-ROM
Note:
Dates of the current and new software will appear, ensure that "new" software date is actually more current than the one being replaced. If not,
abort the process by selecting CANCEL.
In some cases, the CD-ROM ejects itself even though the date of software is newer, just reinsert CD-ROM and continue procedure. Do not
leave the update CD in the customer's vehicle.
6.
Using the cursor knob, select "START HEAD UNIT" (this should already be selected by default) then press the knob again to initiate the
download process.
7.
When the update process is complete, the screen will display "SW-Download Successful"
8.
Press the rotary knob to accept the message and complete the update process. COMAND will return to radio mode.
9.
Eject the update CD-ROM and insert a Navigation CD-ROM to ensure proper operation of the COMAND.
10.
Verify that all modes of COMAND are functioning normally by removing the Navigation CD and inserting an Audio CD.
< PREV PAGE
NEXT PAGE >