< PREV PAGE
NEXT PAGE >
CLK 350 Cabriolet (209.456) V6-3.5L (272.960) (2006)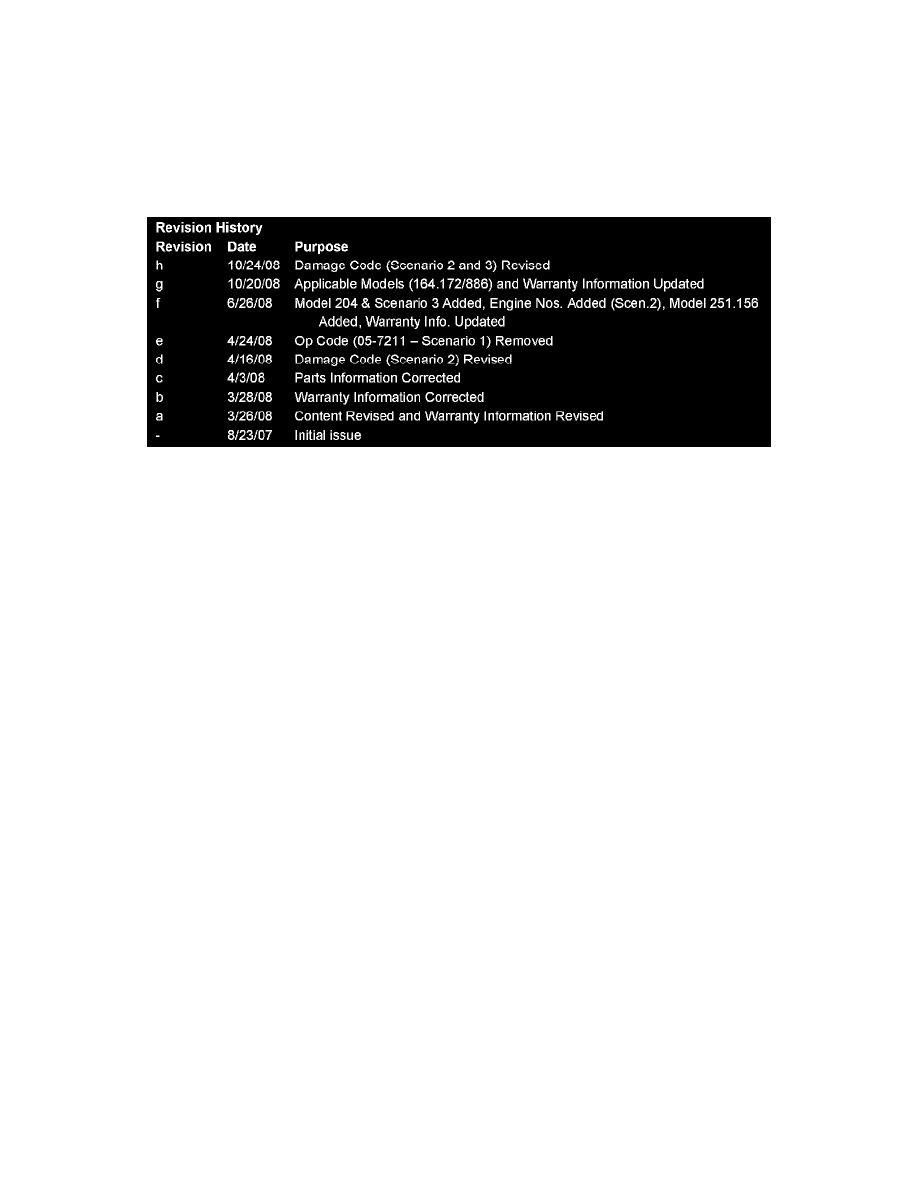 Variable Valve Timing Actuator: Customer Interest
Engine - MIL ON/Multiple Camshaft Codes Set
DTB
Date: 
October 24, 2008
Order No.: 
S-B-03.30/08h
Supersedes: 
S-B-03.30/08g dated October 20, 2008
Group: 
03
SUBJECT: Model 164.172/186/871/886
Model 171.454/456
Model 203.052/054/056/087/092
Model 204.054/056/081
Model 209.356/372/456/472
Model 211.056/072/087/090/256/287
Model 216.371
Model 219.372
Model 221.171/186
Model 230.471
Model 251.156/165
Equipped with M272 or M273 Engine
Check Engine Light On / Fault Codes 0059, 0060, 0063, 0064, 0271, 0272, 0275, 0276, 1200 and/or 1208 Stored in ME-SFI Control
Module / Camshaft Adjustment Solenoid Leaking Oil
If you receive customer reports of the check engine light being illuminated and the following fault code scenario is found in the above model vehicles,
follow the applicable procedure below to resolve.
Fault Code Scenario 1: DTC 1200 and/or 1208 are stored in ME-SFI control module. The fault codes are recorded as current and stored in the fault
memory. When the fault memory is erased and the engine is restarted, the fault codes reoccur immediately. This is due to the positioning of the camshafts
of the right cylinder bank relative to the crankshaft being impaired by a worn sprocket on the balance shaft on engine M272 or by a worn guide (idler)
gear for the timing chain on engine M273.
Applicable Models (Not Applicable to Model 204): Equipped with M272 Engine Up to Serial No. 2729..30 468993 or M273 Engine Up to Serial No.
2739..30 088611
Procedure 1:
a. Perform a visual inspection for wear of teeth on sprocket of balance shaft (M272) or of guide (idler) gear for timing chain (M273) by removing the
timing case cover on the engine.
NOTE:  When inspecting the component, refer to Figure 1 for an example of a damaged gear.
< PREV PAGE
NEXT PAGE >