Locks - Lock Service Packages Available|Page 8963 >
< Locks - Lock Service Packages Available|Page 8961
Sable V6-183 3.0L DOHC VIN S MFI (1997)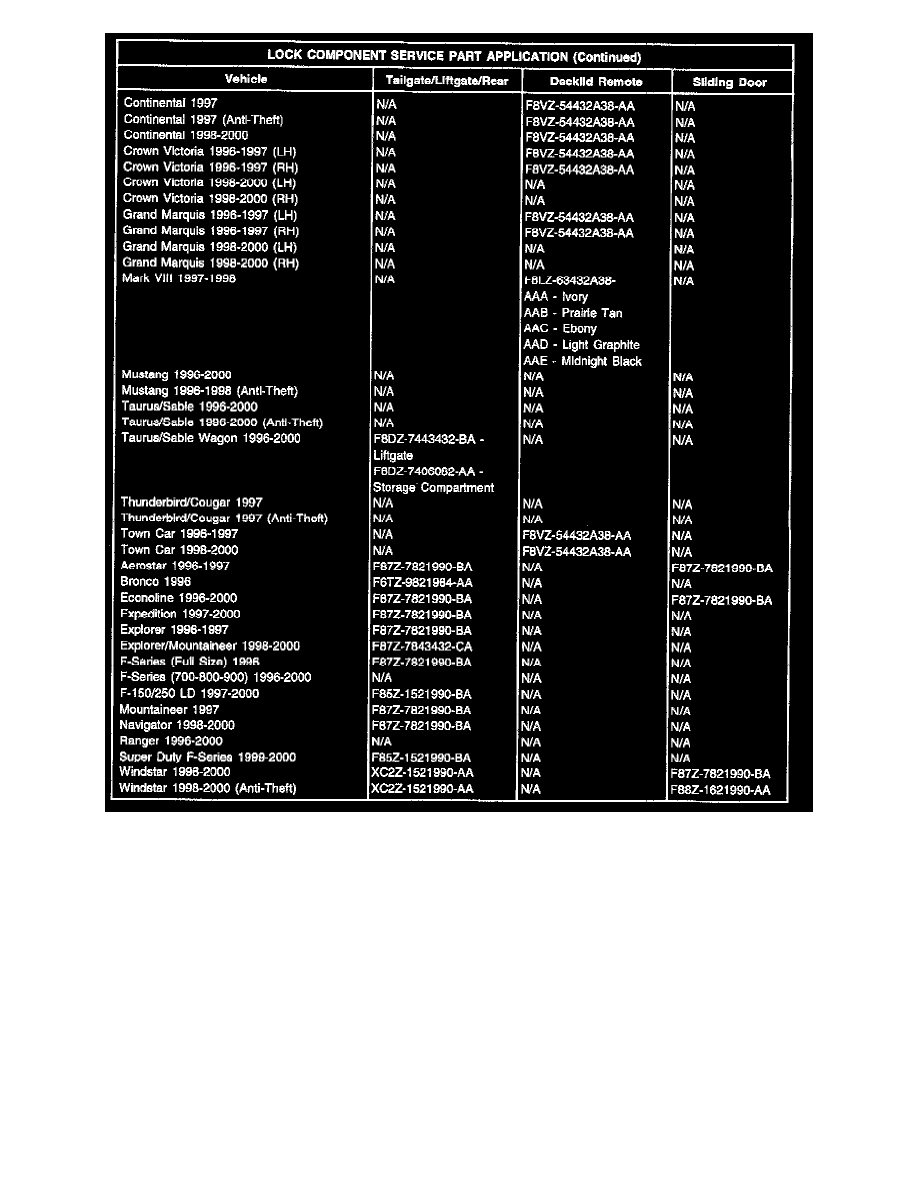 This TSB article is being republished in its entirety to include vehicles, update model years, and include a Lock Lever Kit Application Chart.
ISSUE
The current door, decklid, ignition, and stowage locks cannot be serviced individually. Current lock repair practice is to replace the entire lock set
(-22050-) when one (1) or more locks must be replaced. The release of this TSB and associated parts will allow replacement of any individual
malfunctioning lock (i.e., door lock, ignition lock, decklid lock, etc.) instead of replacing the entire lockset. This TSB only applies to the 8-bit locks
introduced in 1996. The 10-bit lock is not affected.
ACTION
Lock service packages have been released that contain all the necessary components to re-pin a new lock cylinder to the customer's current key code. It
allows the service community to replace the individual lock cylinder on a given vehicle rather than replace the entire lockset. For removal and
installation procedures for all lock cylinders, refer to the following Service Procedure for details.
NOTE
MOST MODELS BUILT DURING THE 1996 MODEL YEAR HAVE BOTH THE 10-BIT AND 8-BIT LOCKS ON THEM. CHECK THE
BUILD DATE OF THE VEHICLE TO ENSURE THE USE OF THE CORRECT STYLE OF LOCK WHEN SERVICING ANY LOCK ON A
1996 VEHICLE. THE 10-BIT LOCKS ARE NOT AFFECTED BY THIS TSB AND MUST BE SERVICED BY REPLACING THE COMPLETE
LOCK SET. THE TWO STYLES ARE NOT INTERCHANGEABLE.
Locks - Lock Service Packages Available|Page 8963 >
< Locks - Lock Service Packages Available|Page 8961