NEXT PAGE >
< PREV PAGE
Sable V6-183 3.0L DOHC VIN S MFI (1997)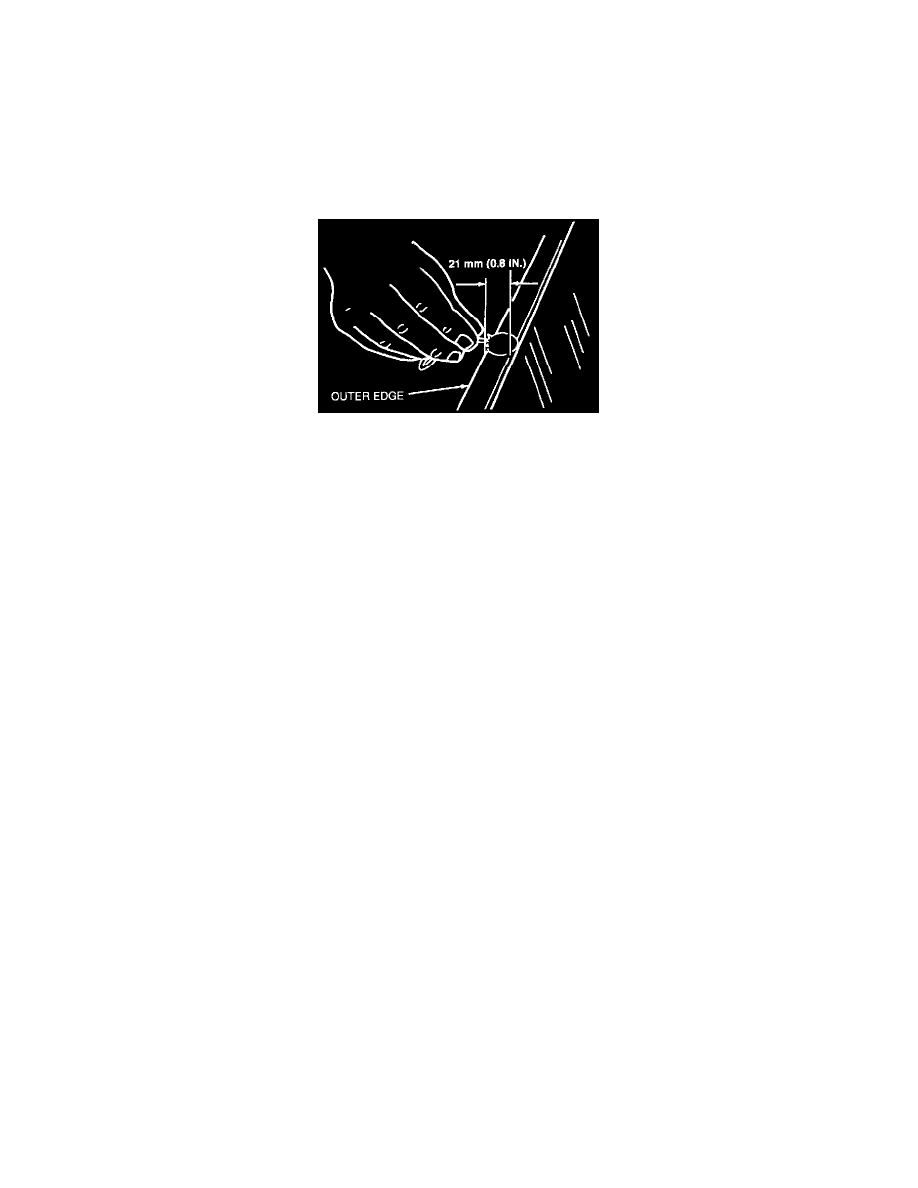 NOTE:  Wipe off Urethane Glass Wipe WSB-M5B280-C2 or equivalent immediately after application because it flash-dries. Prep application
must be applied twice.
5. Properly align windshield glass to body.
a. Make sure windshield glass stops are in place at bottom of windshield glass opening. Place windshield glass into opening. Center it top and
bottom, side to side.
b. Using masking tape or crayon, make alignment marks at points on four sides of both windshield glass and window opening.
6. Remove windshield glass and moulding assemblies from vehicle and place it back on work table.
7. Thoroughly shake and stir Urethane Glass Primer WSB-M2G314-B or equivalent to make sure of uniform pigment mixing.
8. Using a clean wool applicator, apply primer to inside glass edge 21 mm (0.8 inch) wide along top and sides and 70 mm (2.75 inch) wide along
bottom.
NOTE:  Allow a minimum of five minutes for glass primer to dry.
9. Apply an even bead of Urethane Adhesive WSB-M2G316-B or equivalent around entire sheet metal pinch weld next to windshield moulding
retaining leg. The bead should be triangular in shape, 16 mm (0.625 inch) high and 8 mm (0.33 inch) at base. Apply a double bead of urethane
along the cowl top and the bottom of windshield opening.
NOTE: 
-
Leave a door window slightly open until adhesive is cured.
-
Apply new urethane on top of existing material on pinch weld.
10. Install windshield glass onto vehicle, taking care to align marks on windshield glass to marks on body. This must be done before adhesive skins
over.
11. Remove spacer and install headliner, windshield wiper arms, blades, visors and interior garnish moulding.
12. Install inside rear view mirror.
13. Check installation for air and water leaks in urethane seal.
CAUTION: 
-
Use only urethane for service of air and water leaks in urethane set windshield.
-
When replacing urethane installed glass parts, do not drive the vehicle until the urethane has cured. At temperatures above 13°C (55°F) and
relative humidities above 50%, adequate cure time is typically 12 to 24 hours (less at higher temperatures and lower humidities). See detailed
instructions provided by the urethane manufacturer. Inadequate or improper curing can adversely affect the retention of the windshield.
NEXT PAGE >
< PREV PAGE