< PREV PAGE
NEXT PAGE >
300ZX Coupe V6-2960cc DOHC (VG30DE) (1994)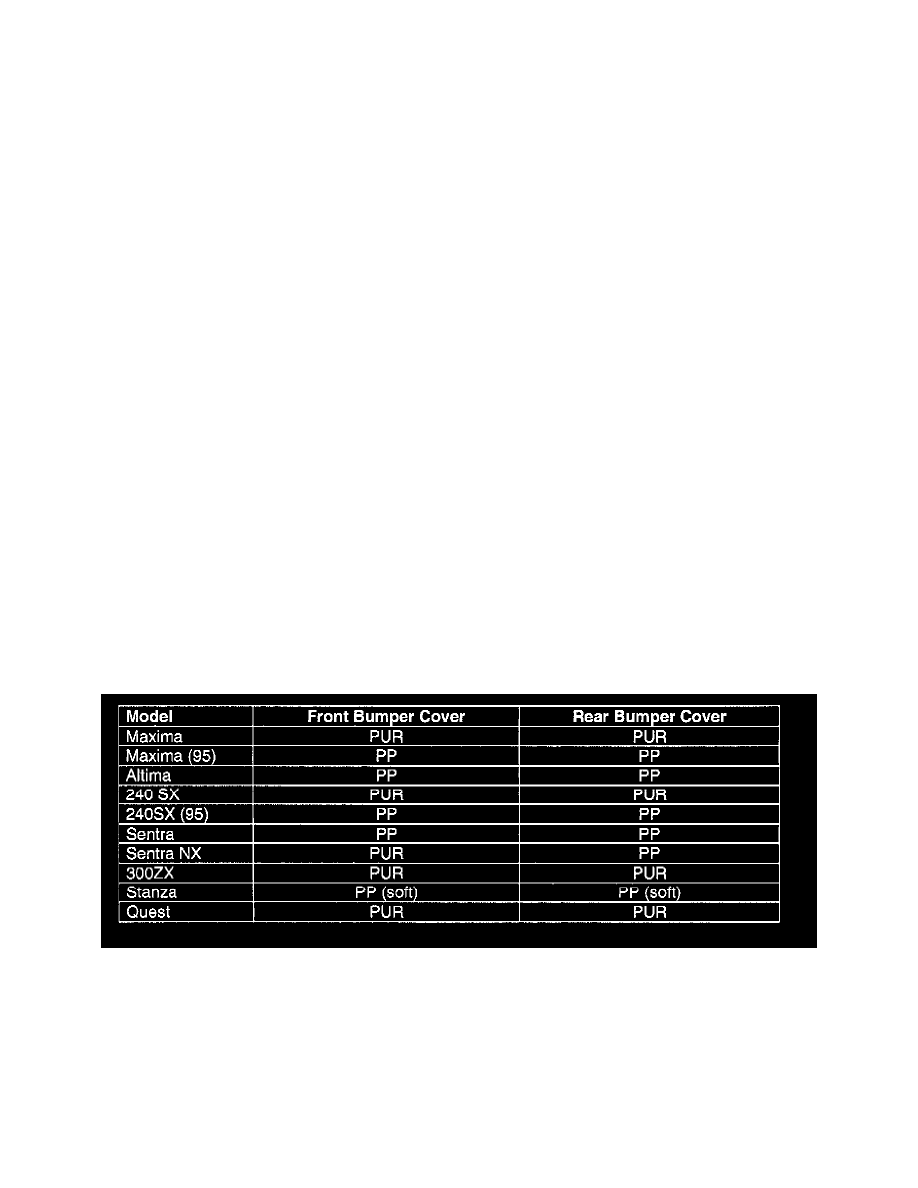 Technical Service Bulletin # PI94-003
Date: 940920
Plastic Bumper - Refinishing Techniques
Classification:
PI94-003
Reference:
Date:
September 20, 1994
BUMPER REFINISHING TECHNIQUES
APPLIED VEHICLE(S):
Maxima, Altima, 240SX, Sentra, Sentra NX, 3OOZX, Stanza, Quest
SERVICE INFORMATION
This bulletin describes proper plastic bumper cover refinishing, with specific paint manufacturer procedures and materials. (For information on repairing
bumpers refer to NTB92-043.)
When refinishing replacement plastic bumper covers, it is important to use the appropriate products for the material you are refinishing. If the plastic
component is not properly cleaned and prepped, the paint may not adhere. The bumper covers contain mold release agents which must be removed prior
to painting. This is normally accomplished by the following preparation procedure:
Service Procedure
Plastic Bumper Cover Preparation
1.
Clean the surface with appropriate prep material
2.
Abrade the surface using materials recommended by your paint supplier
3.
Clean the surface with appropriate prep material
4.
Apply appropriate sealer/primer
The mold release agent can be brought to the surface by tempering the plastic at 140°F for 45 minutes. Allow the bumper cover to cool completely
before cleaning.
The chart indicates which cover, polyurethane (PUR) or polypropylene (PP), is used on each model.
The bumper cover can be identified by the letters PUR or PP stamped on the back of the cover.
< PREV PAGE
NEXT PAGE >