Steering/Suspension - Pull Or Drift Diagnostics|Page 4941 >
< Diagram Information and Instructions|Page 4931
300ZX Coupe V6-2960cc DOHC (VG30DE) (1994)
Steering and Suspension
Alignment
System Information
Technical Service Bulletins
All Technical Service Bulletins for Alignment:
08-097D
Apr
11
Steering/Suspension - Pull Or Drift Diagnostics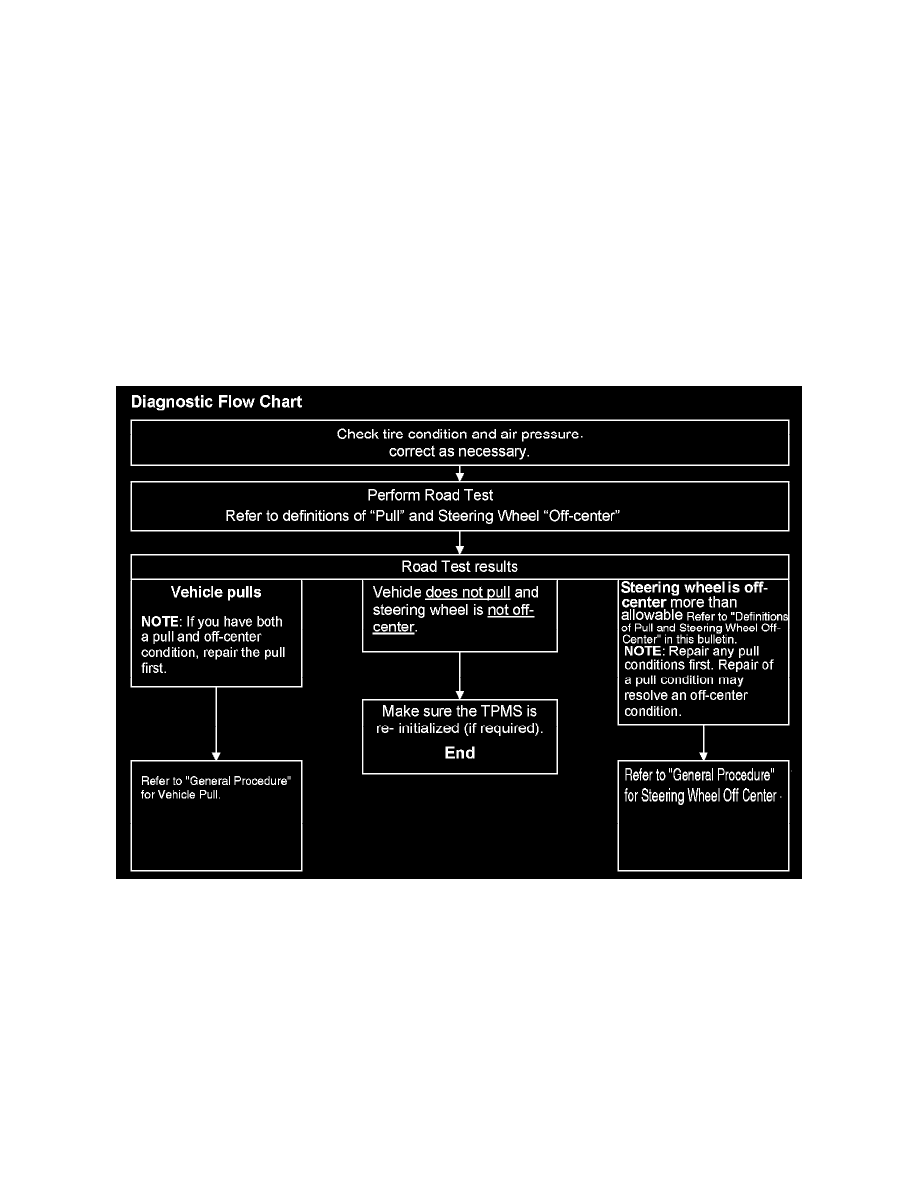 Alignment: All Technical Service Bulletins
Steering/Suspension - Pull Or Drift Diagnostics
Classification: ST08-001D
Reference: NTB08-097D
Date: April 26, 2011
DIAGNOSIS OF VEHICLE PULL (DRIFT) AND STEERING WHEEL OFF CENTER
This bulletin has been amended. Changes have been made to the off-center specification. The off-center specifications for NV vehicles is 4 mm or less.
Please discard previous versions of this bulletin.
APPLIED VEHICLES: All Nissan - except GT-R
SERVICE INFORMATION
If a customers reports their "vehicle pulls" or the "steering wheel is off-center," use the Diagnostic Flow Chart below and the other information in this
bulletin to diagnose and correct the issue.
Diagnostic Flow Chart
Road Test
Determine if the vehicle has a pull or steering wheel off-center issue that requires repair.
IMPORTANT:
^ If the vehicle has any tire issues, such as:
>
Tires that are different sizes (except when specified from the factory)
>
Significant difference in the amount of wear between any of the tires
>
Any other tire irregularity or damage to any tire
Steering and Suspension
Alignment
System Information
Technical Service Bulletins
All Technical Service Bulletins for Alignment:
08-097D
Apr
11
Steering/Suspension - Pull Or Drift Diagnostics
Steering/Suspension - Pull Or Drift Diagnostics|Page 4941 >
< Diagram Information and Instructions|Page 4931